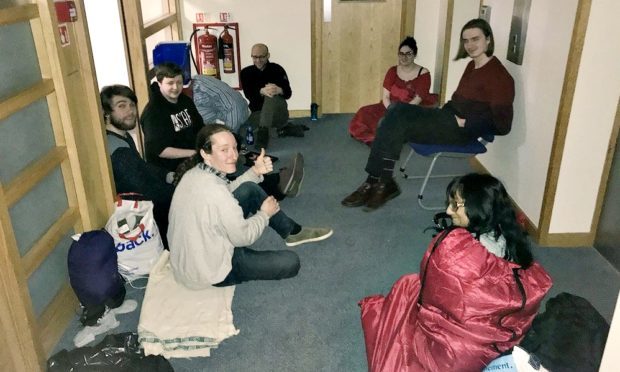 Dundee University students stormed the Tower building and occupied it overnight in a protest against changes to their lecturers' pensions.
Around 40 students gathered outside the building from 12pm on Monday as crunch talks between Universities UK and Dundee University's top brass took place inside.
They held a protest and a rally around the campus, followed by the occupation of the building.
WE ARE IN OCCUPATION!
Statement to follow. pic.twitter.com/izr7asQfns

— Dundee Student Left (@StudentLeftDee) March 12, 2018
Academics have been taking industrial action since late February amid a bitter row over plans to end the defined benefit of the Universities Superannuation Scheme (USS) pension.
Stella Rooney, a second year art student and member of the Students' Representative Council, said: "We are here to lobby the university vice-chancellor and Universities UK, to reverse the stance on the pension dispute.
"We are prepared to stay in the building for as long as it takes."
A Dundee University spokesman said it wants the pension scheme to be "sustainable" and the principal had been happy to meet the students and discuss the issues involved.
Good morning from the occupation! #NoCapitulation pic.twitter.com/3veNQkGAMk

— Dundee Student Left (@StudentLeftDee) March 13, 2018
For more, see Tuesday's Courier