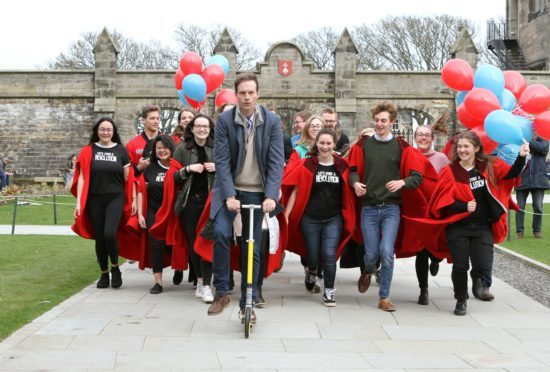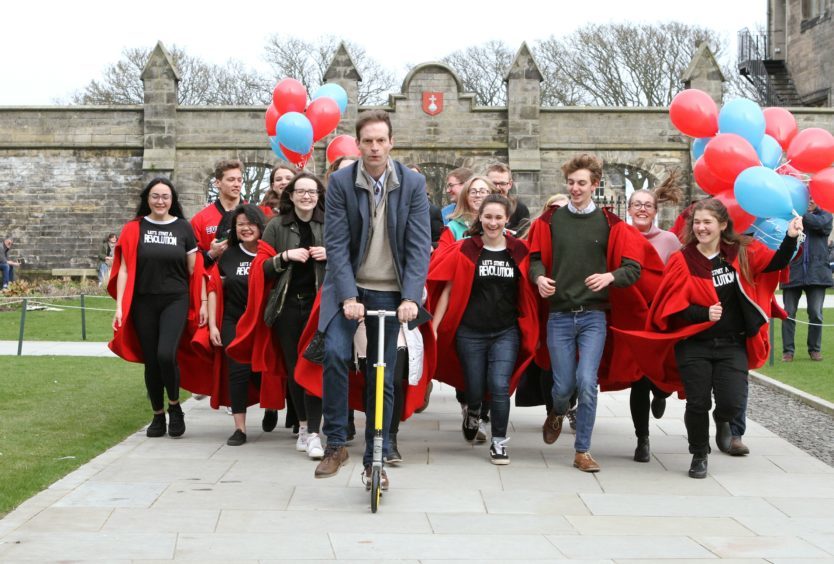 A scooter was the somewhat unusual choice for incoming St Andrews University Rector  Srdja Popovic on Wednesday as he took part in the traditional 'student drag' ahead of his formal installation on Friday.
Students joined the new rector on a day-long tour of student halls and local hostelries in a day of celebration, which included a procession through the town.
Previous entrances have seen rectors arrive in a vintage car, an ice-cream cart and a horse, but, as 45-year-old Mr Popovic explained, a scooter was a sensible choice this time around.
"This is the first time I've been on a scooter," he admitted.
"I came here invited by the students, I campaigned based on what the students wanted in the manifesto, and you have this tradition where you come here in a vehicle of your choice.
"For me, it wasn't a tough choice because part of our campaign was making this place more cycleable and greener so I wanted to avoid a combustion engine by any means.
"I know this is Scotland, the land of James Watt, but I wanted to say 'no cars' which left us with three choices: bike, which I can't really ride; horse, which I can ride but it can look super pretentious; or a scooter.
"So I said 'okay', if I can survive it!
"We had a rector's committee meeting and we spent much of it going round and round."
Mr Popovic was appointed rector in November for an initial three-year term and is the founder and executive director of the Center for Applied Non-violent Actions and Strategies (CANVAS), a non-profit organisation based in Belgrade, Serbia, that aims to teach the use of non-violence to make a change.
His formal installation will take place in the Younger Hall on Friday afternoon, and Mr Popovic has been impressed with what he has seen so far.
"It's going to be super interesting," he added.
"This is a brilliant place and I'm amazed by the students I've met.
"I think the main value of St Andrews is its students and this is what we are trying to do – make use of their amazing skills to make this a more student friendly place in future.
"What I'm really qualified in doing is empowering people, and that's really what I'm trying to do here."
Since 1858, the Rector has been elected by the students.
Mr Popovic follows in the footsteps of a long list of illustrious former Rectors, including authors J M Barrie and Rudyard Kipling, Monty Python founding member John Cleese and Catherine Stihler MEP.
In addition to being President of the University Court, the highest governing body of the University, the Rector also plays an informal, pastoral role for students.