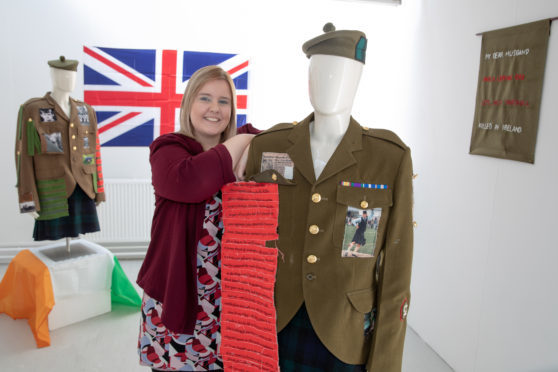 Kiera Marshall's art, she says, has regularly intertwined with her Dundee family's military history.
Her great-grandfather, a paratrooper, was killed in action during the Second World War, while her father served in the Gordon Highlanders and, latterly, The Black Watch, surviving tours of Afghanistan and Iraq.
She spent her formative years living on bases in Germany and Northern Ireland, becoming acutely aware of the short yet colourful life of her grandfather Jack, who was killed by a sniper's bullet in Belfast more than four decades ago.
Now, graduating with honours in art and philosophy from Dundee University's Duncan of Jordanstone College of Art and Design, she will showcase her family's history and the affect it has had locally by combining newspaper clippings from archived copies of The Courier and military clothing and banners.
"I have always been inspired by my family's military background," she said.
"When I was researching, I was looking for more than just stories of what happened to my grandfather when he was killed, I wanted to know the sort of man he was from those who knew him."
Kiera struck up conversations, using social media and the internet, to connect with Lance Corporal Marshall's colleagues who toured with him in Belfast and elsewhere before he was killed.
"Part of my work has been inspired by old military banners. I used one phrase, 'Killed in Ireland' on one, which is inscribed on his tombstone.
"On another, using the same style, I used 'He was a good dancer', which is how one of his friends described him."
Kiera worked with her father, himself a master tailor, who helped source material to make sure the uniforms were as accurate as possible.
Using articles detailing her grandfather's time in Belfast – clippings which notified the people of Dundee of his death, as well as those updating the community about her father's decision to serve his country – she has modified the jackets, creating something unique for public display.
Kiera said her work is not meant to serve as any political statement, but a reflection on the effect conflict can have on individuals and communities almost half a century after they have happened.
She said: "There were more than 3,000 deaths during the troubles, on all sides.
"I do not intend for this project to be a political statement, it is a reflection on history using the conflict as context, but not the subject."
Kiera's work will go on display to the public on May 18, during the annual art school degree show on Perth Road.
Entry to the show is free and the exhibits will be on show until Sunday May 27.