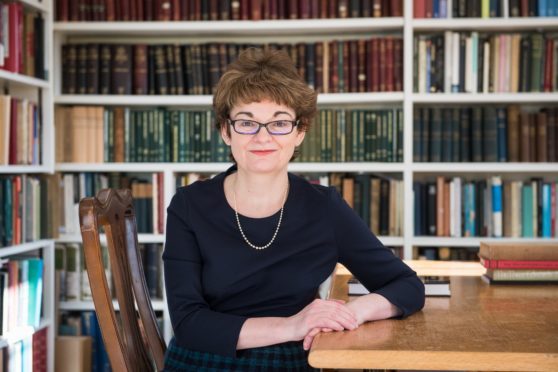 A curb on student numbers and communication with townspeople over issues such as housing will be at the heart of St Andrews University's strategy for the next five years.
Principal, Professor Sally Mapstone made the pledge as she delivered the St Andrews Preservation Trust's annual lecture on Thursday night.
She said the university would gradually increase student numbers to around 10,000 over the next decade, 1,000 more than at present, but would resist far faster expansion – despite St Andrews having an average of 10 applicants for each place.
Recognising the recent furore over the number of HMOs (houses in multiple occupation) in St Andrews, Prof Mapstone said the university would place "social responsibility" at the front of its plans for the first time in its 600 years.
"Local community relations are given specific emphasis in this part of the strategy as we recognise that our day-to-day activities and plans for the future have a profound impact on our neighbours," she said.
"We want to communicate promptly and transparently with our stakeholders and partners, listen to ideas, and be willing to adapt where there is evidence that we can improve our proposals and practices."
She said her team would work to ensure "wherever possible that the provision of services to students and staff has a wider positive impact on the broader population of St Andrews, especially the provision of new student accommodation to lessen the demand on private housing in St Andrews and North-East Fife".
Prof Mapstone said the university had long acted to ensure students coming to St Andrews did not change the character of the town.
---
>> Keep up to date with the latest news with The Courier newsletter
---
"Almost half of current students are accommodated in University Halls of Residence, so not in private rentals or houses of multiple occupation (HMOs), and the proportion of our students that the university takes responsibility for housing is the highest for any university in the UK by a considerable margin," she added.
The strategy up to 2023 and beyond is due to be signed off within weeks.
Prof Mapstone promised it would take an "incredibly responsible, long-term and engaged approach" to change.
Regarding student numbers, she told the audience: "Put simply the University of St Andrews succeeds today because it is a small university in a small town.
"Our size allows us to offer something unique to our students which they value and to attract researchers of exceptional quality here from around the world.
"It is not in our own intellectual or business interest to grow further than we are already committed and I want this to be common knowledge."
Prof Mapstone also revealed that the university's financial performance is strong with an income of just over £250 million last year, up 9.1% on the previous academic year, but she admitted times remain "challenging".
"To survive and to flourish and to continue to compete as a major global institution we have to be creative, and entrepreneurial, where it makes sense to be so and where it speaks to our nature and our values," she noted.
"This summer we concluded the university's 600th anniversary campaign in which we had set ourselves the target of raising £100 million, which we have achieved.
"But as soon as one campaign closes, another has quietly to start. We will not achieve what we have planned for our staff, students, and estate, without very significant further fundraising."
Prof Mapstone also quoted figures which suggest that for every £1 of public money received from the Scottish Funding Council, the university was able to leverage almost another £5 from other sources and have an impact on the economy overall of £12.
"The fact that we are simply so important to the economic prosperity of this town and our region does not give us, in my strong view, any sense of entitlement," she continued.
"We are part of a community and part of the town's history. But we do want that community to recognise and appreciate the significance of what we contribute and what is involved in crafting that contribution."