St Andrews students protest against out-of-hours GP cover proposals
By
Claire Warrender
November 21 2018, 8.18am
Updated: November 21 2018, 8.35am
St Andrews University students have staged an emergency protest against controversial moves to centralise Fife's out-of-hours GP services.
Around a dozen students armed with placards and loud hailers gathered outside the Victoria Hospital in Kirkcaldy on Tuesday amid continuing fears lives would be put at risk if the St Andrews service was closed.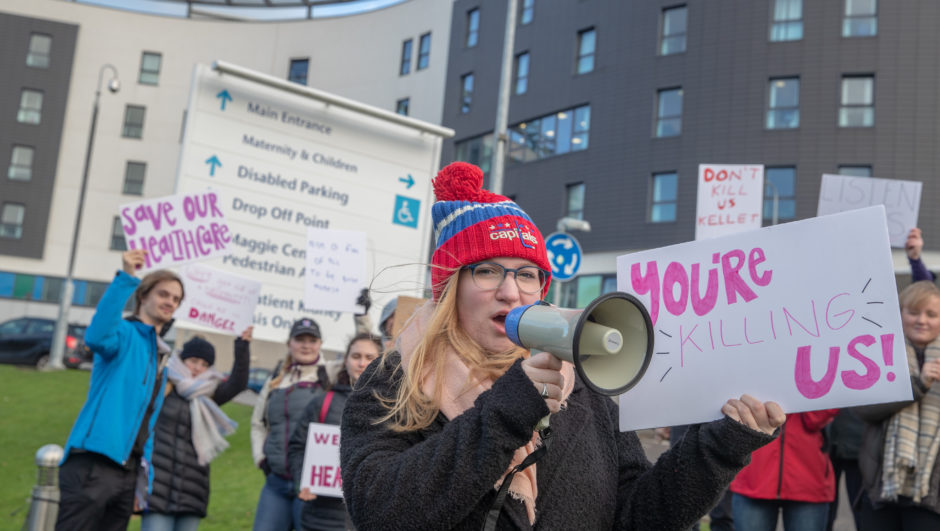 Nick Farrer, director of wellbeing with St Andrews Students Association, said the association's representative council had passed a motion condemning the proposal amid mounting concern.
"The plans present a very grave and serious threat to all students in St Andrews and all our neighbours in the East Neuk at large and we can't just stand back and watch it happen," he said.
---
---
Fife Health and Social Care Partnership wants to close out-of-hours services in St Andrews, Glenrothes and possibly Dunfermline and centralise them either at Victoria Hospital only or at both Victoria and Queen Margaret Hospital in Dunfermline.
Patients in north east Fife also have the option to attend out-of-hours clinics in Dundee.
The partnership claims the move is the only safe and viable option amid a shortage of GPs and nurses available to run the service in four centres.
It said the current configuration was unsustainable in the long term.
The results of a public consultation will be considered next month before a final decision is made.
Mr Farrer said he and his fellow students believed the consultation to be flawed.
"The fact there was no option considered to keep out-of-hours services in St Andrews was pretty abysmal," he said.
"We are asking for the option to keep GP services at St Andrews Community Hospital."
The students were joined by East Neuk Liberal Democrat councillor Bill Porteous, who said he continued to believe the partnership's proposal to be wrong.
"I'm proud to be standing with the St Andrews students today," he said.
"The proposal is not providing the healthcare required for all north east Fife people, students and tourists."
Green MSP Mark Ruskell also backed the protest and called for more use of nurses, pharmacists and paramedics to help retain services in north east Fife.
"We're not going to solve problems with GP recruitment any time soon but we can use the GPs we do have more wisely," he said.
"Better connectivity and new technologies means doctors can work centrally but direct a whole team of healthcare staff across Fife to help deliver care locally to those that need it the most."