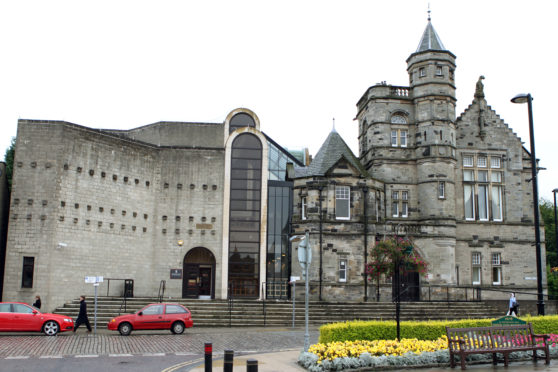 A former St Andrews University student fell asleep behind the wheel of a car before careering straight over a raised roundabout.
Julia Rieg has been found guilty of dangerous driving following the November 2017 accident which took place at the Cameronbridge Roundabout on the A915 Standing Stane Road.
The 22-year-old economic and psychology student had been driving for three hours after dropping a friend off at Edinburgh Airport before the crash.
After being freed from the wrecked Volkswagen vehicle, Rieg told police officers: "I think I fell asleep".
She denied the charge against her during a trial at Kirkcaldy Sheriff Court and said she had no recollection of approaching the roundabout or the collision itself.
Witness Tracey Hutchison, who was driving in the area at the time, told the court she had seen Rieg's vehicle veering left and right across the road before she entered the roundabout.
She added: "I stopped at the junction to the roundabout. I thought that person is going to be lucky to be alive so I called 999 for an ambulance and the police."
She told how the car had mounted the roundabout, which was around a brick or two high, before driving through a road sign and over the other side.
The trial was told that the car had come to a rest in a cluster of trees next to the carriageway before Rieg was freed from the wreck.
Miss Hutchison added: "The driver came out of the other side of the car, which would be our passenger side.
"She had scrapes on her hands but seemed to have walked out of it, surprisingly, after the way she had driven straight over it and stopped in the trees. I thought she could have killed herself."
Giving evidence, Rieg, who is originally from Germany but now lives in London, told the trial she did not recall feeling tired before the accident and had taken a 20 minute rest at the airport.
She added she had been driving for five years and had never fallen asleep behind the wheel before, including during her two stints working at Mercedes Benz in Germany.
Her defence lawyer Lora Apostolova told the court that her client believed her antidepressants may have made her sleepy – despite never experiencing side effects.
But Sheriff Jamie Gilchrist QC said no medical evidence had been provided to prove special circumstances in defence of Rieg falling asleep behind the wheel.
He found her guilty of dangerous driving and fined her £550. She has also been banned from driving for 12 months and ordered to sit the extended driving test.