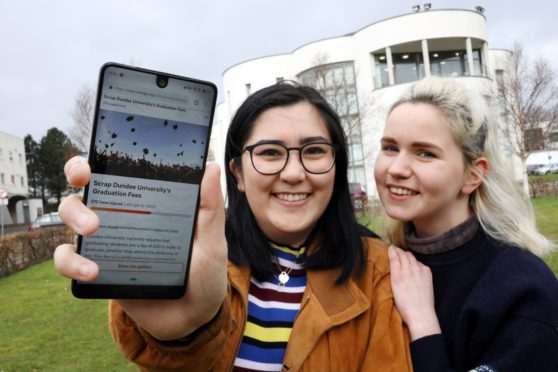 Students are calling on Dundee University to scrap its "discriminatory" graduation fees.
Six hundred students are backing a campaign led by 23-year-olds Misa Elliot and Hope Murphy, both architecture masters students at the university, who launched a petition last week.
The pair want the £40 fee, which must be paid before a student can officially graduate from the institution, to be scrapped.
They are part of a growing national campaign calling for all universities to ditch the demand.
NUS Scotland has published an open letter to all college and university principles urging them to ensure every student is '"free to graduate".
Both Aberdeen University and Strathclyde University have scrapped their charges, with Robert Gordon University in Aberdeen following suit last week.
Misa and Hope, who met in first year five years ago, say scrapping the practice would be good for all students.
Misa said: "We started it after seeing the NUS Scotland campaign and other universities scrapping the charge. If it's being removed elsewhere then why not here?
"It seems like an attack on our achievements.
"It's discriminatory. It could be the difference between going to your graduation or not going.
"Some people just can't afford it.
"It can add up to as much as £225, with everything on top of the fee to graduate such as robes, which can be expensive.
Hope added: "You just have to pay them — you have no choice.
"You can't actually officially graduate until you have.
"We're just going to keep sharing the campaign and get the message out. We've had a lot of support from students across social media.
"We think the university should both scrap the fee for 2019 graduates and refund those who have already paid last year."
NUS Scotland President Liam McCabe gave his full backing to the pair's petition.
He said: "It is incredible to see the reaction to our 'Free to Graduate' campaign.
"I am delighted that students at the University of Dundee are throwing their weight behind the national campaign to remove these unjustifiable charges.
"Students across the country are sending a collective and resounding message that time is firmly up on graduation fees."
A spokesperson for Dundee University said: "We are aware of the petition and will consider it in due course.
"Any discussion with students on the matter will be channelled via our Students' Association."