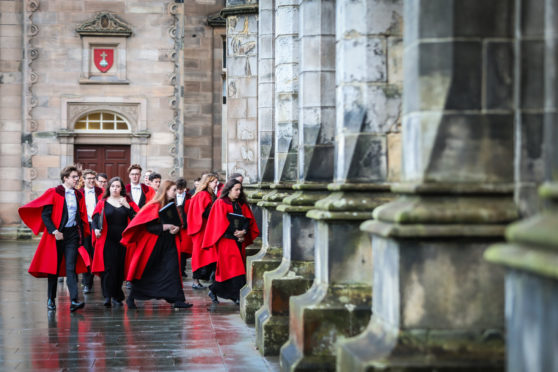 A legal battle over St Andrews University's iconic red gown has begun.
The six-centuries-old institution has raised an action at the Court of Session against a London company selling an "inferior" version.
A procedural hearing took place in the Edinburgh court before judge Lord Doherty on Friday, with arguments for both sides to be heard over two days in June.
Under the name Churchill Gowns, Student Gowns Limited is selling ceremonial robes on its website for £99, £60 less than those from the university shop.
The company says the undergraduate robes are made to university specification but that it is "not affiliated with and does not represent this institution in any way".
But the university claims the products were advertised in way which suggested they were endorsed by or associated with the university.
Students at most universities wear gowns only on graduation day but the red robes of St Andrews are worn to formal events and the traditional Sunday pier walks.
Although new gowns from the university shop cost £159, they can also be bought second-hand, raising funds for student support services.
A university spokesperson previously said discussions with Churchill Gowns failed the reach agreement and the action was necessary to protect the integrity of the official St Andrews gown.
Its lawyers are seeking an interdict to stop the company "passing off its gowns as those of, or authorised by the defender".
Churchill Gowns previously argued participation in ancient traditions should not be the reserve of those who could afford to pay a premium and accused the university of going to extreme lengths to protect profits.
It denies any wrong doing.