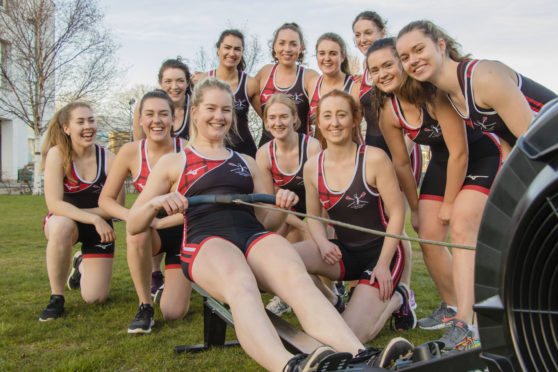 A team of University of Dundee students have smashed a Guinness World Record on tonight as they raised money for two Dundee charities.
The team of student rowers from Dundee University Boat Club had set their sights on smashing the record for 'Distance rowed by 12 females on a single indoor machine within the period of 24 hours'.
The effort, which kicked off at 8pm on Thursday, March 28, at the university's Campus Green, was also part of a fundraising project to help purchase essential equipment and to support the Dundee Women's Rape and Sexual Abuse Centre and to support Dundee mental health charity Feeling Good.
In order to row a record-breaking distance, the ladies had to cover more than 250,000 metres within the 24 hours.
But the team blew the existing record out the water, racking up over 340,000 metres when the final whistle went at 8pm on Friday night.
The previous record was broken with six hours to go, and it was Katie Canniford who took the team over the 250km mark at 2pm on Friday.
Combined with the club's annual ergathon helped raise over £1,700, which will be split between the two charities.
Club captain-in-waiting Matthew Simpson has heralded the team, branding their efforts as a "fantastic achievement".
He said: "We set a new record of 344,389 metres which is absolutely fantastic. It's a great end to our season and puts us in really good steadings for the Scottish Championships in June.
"This is a huge amount of money and it's going to two super local charities that the girls picked.
"We've just been named Club of the Year for the second year in a row by the University Sports Union, so this really rounds off a great season for us."