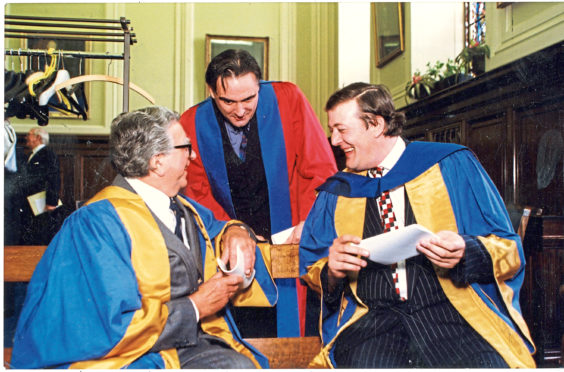 It's hard to imagine in this time of streaming and television on demand, but there was a period where the only place to be on a Friday night was Channel 4.
The channel, which had started just a few years before, was home to US comedy imports like Cheers and Roseanne as well as homegrown offerings such as Absolutely and The Word, a show as awful as it was unmissable, particularly when it came to musical performances.
But perhaps the jewel in Channel 4's crown was Whose Line Is It Anyway?, the improvisational game show that made stars out of Paul Merton, Josie Lawrence and former Dundee University rector Tony Slattery as well as a host of other comedians and performers.
Like all improvisational comedy it could be hit and miss, but judicious editing meant what we saw at home was more of the former than the latter.
Slattery was among the funniest performers and it's worth a quick check on YouTube to see him at his finest.
In a game called authors, where the contestants have to tell the story in the style of a chosen writer, Slattery retells Jack And The Beanstalk in the inimitable style of Naked Dead author William Burroughs.
Slattery stares down the camera and, in just 30 seconds, manages to turn the fairytale into a deranged fantasy worthy of Burroughs himself.
It's surprising to remember a time when humour could be aimed at an audience's appreciation of the quirks and addictions of crotchety Beat authors rather than the mean-spirited put downs that most panel shows settle for these days and it's that version of Slattery  – young, whip-smart, fearless and funny – that remained in the public memory, at least until this week.
An interview with The Guardian saw the 59-year-old re-emerge into the spotlight detailing, with the same lack of self-consciousness he displays when performing, his battles with bipolar disorder, drug and alcohol abuse and even the alleged abuse he suffered at the hands of a priest as a child.
In Dundee, Slattery is perhaps best remembered, and not altogether fondly, for his time as rector of the university.
Elected in 1998 after Stephen Fry stood down, Slattery's time representing students is best-known for the fact he was rarely here.
However, it's now clear that his time as rector coincided with a devastating mental breakdown as well as his addiction to drink and drugs. His absences may have been disappointing at the time but it's clear they were symptoms of illness rather than disregard.
Slattery, or course, is not the first talent to wash away his talent through drink and drugs. Libertines frontman Pete Doherty was back doing the rounds this week promoting his new band's album. Still addicted to heroin and, seemingly, the myth of the drug-addled artist, he remains a tragi-comic figure. He was hospitalised this week after what was described by one newspaper as a "strange hedgehog encounter".
For those of us who grew up at a time when the highlight of the week was tuning in to Whose Line Is it Anway? the deterioration of Tony Slattery is heartbreaking.
But the outpouring of support for him, after all these years, suggests there may be something of a happy ending. Clearly, the actor and comedian will battle demons for the rest of his life, but it may just be the realisation that there is still huge public affection for him that stops them from dragging him down any further.
Collins the comeback kid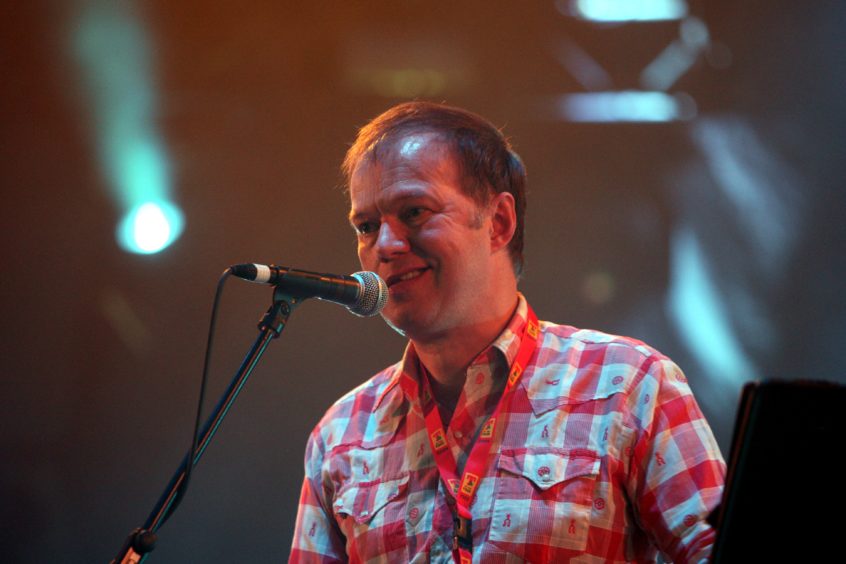 Another artist who has had to fight their way back is former Dundee lad and Orange Juice singer Edwyn Collins.
He suffered two brain haemorrhages in 2005. Not only did he nearly die, he also developed a condition called aphasia that makes it difficult to understand or interpret language.
Despite the severity of his condition he battled back and continues to release new music and tour.
Indeed, his appearance at T in the Park in 2009 was one of the most emotional moments the festival ever enjoyed. I can't have been the only one to "get something in my eye" when he took to the stage.
Another one bites the dust
Funerals are tough enough without having to listen to Bohemian Rhapsody, the Queen song that is apparently Scots' top choice for music to be played at their funeral.
Amusing as it may be to think of mourners patiently enduring the wait for the headbanging bit, surely there are better songs to have playing as your loved ones say their final farewells?
At the very least, it would be more considerate to opt for something a little shorter than Queen's epic.
Just because you no longer have places to be, doesn't mean everyone else is in the same boat yet…