IN PICTURES: This is your chance to see secrets of Fife's Wemyss Caves
By
Neil Henderson
July 12 2019, 12.02pm
Updated: July 12 2019, 12.07pm
An archaeological dig aiming at bringing us a better understanding of our Pictish ancestors in Fife is under way at the historic Wemyss Caves.
The ambitious six-day project involves the excavation of two caves at the site widely regarded by experts as the birthplace of Pictish art.
It's the first dig of its size to take place at the caves in 15 years, since Channel Four television's Time Team crew, headed by presenter Tony Robinson, came to Fife.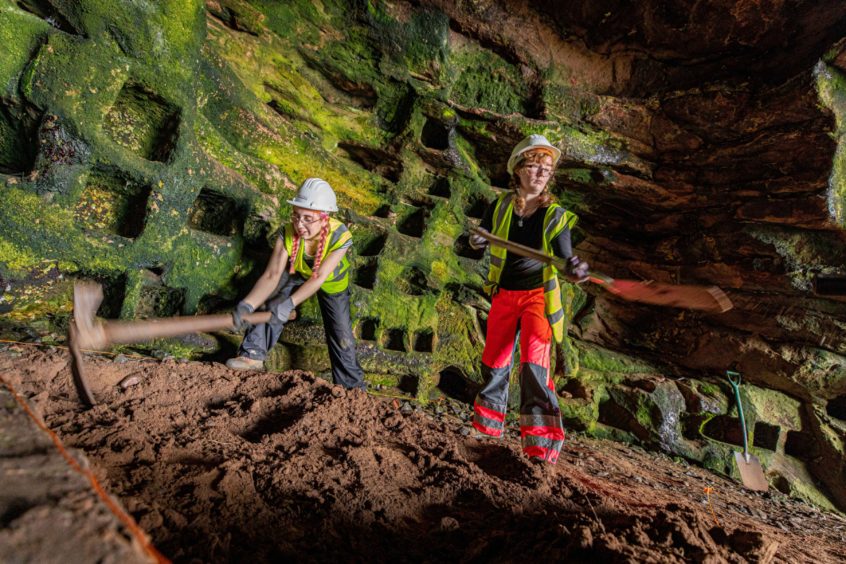 Now the volunteers from the Save the Wemyss Ancient Caves Society (SWACS), working in partnership with St Andrews University-based research and conservation charity the Scape Trust, are hoping for similar success to that experienced in 2004.
This time experts will focus on two particular areas within the network – Doo and Court caves.
Plans include forming a trench to investigate the Doo Cave in the hope of finding out more about the rare medieval pigeon house.
The floor of the Court Cave will also be looked at with a view to developing an accessible path to allow visitors to experience its panel of Pictish carvings, regarded as some of the most historically significant to exist.
Excavation of Pictish carvings to take place at ancient Wemyss Caves
Joanna Hambly, from the archaeological team at St Andrews University, said the dig represented a rare chance for experts to delve further in the hidden past of the caves to discover more about the people who once frequented them more than 1,500 years ago.
She said: "Because the caves are designated as a Scheduled Monument we have to be granted permission from the Scottish Government to carry out any excavation work, so it's an exciting week for us that we hope will throw up some interesting new finds.
"Previous finds from 2004 have been analysed by Aberdeen University and carbon dated to around 240 to 400 AD.
"We are aiming to excavated to that similar level in the hope of finding firm evidence of how our Pictish ancestor's used these caves."
Because of the cramped conditions and the delicate nature of the dig, the excavation is limited to a 12-strong team which will work the two cave areas until Tuesday.
As part of a week-long programme of events at the caves, the public will also be given access to watch the dig in progress with a special Dig the Picts open day with free guided tours.
Tours leave from the Wemyss Caves Museum in the Terras Hall, The Haugh, East Wemyss, at 12.30pm and 2pm.