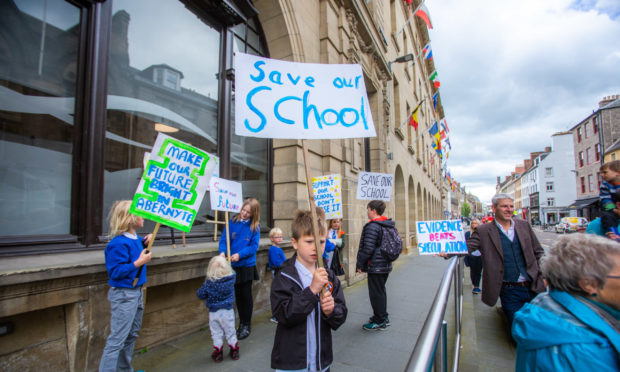 A Tayside primary school has escaped the axe until reviewers have analysed the case, following Perth and Kinross Council's failure to stop the Scottish Government from probing the closure.
Last week, Lady Wise announced Holyrood Ministers were not breaching legislation by calling in the closure of Abernyte Primary in the Carse of Gowrie school.
The local authority had felt the Scottish Government should not have intervened and challenged the case in the Court of Session. The full extent of the legal fees Perth and Kinross Council will be forced to pay is still being calculated.
The School Closure Review Panel will analyse the decision and are expected to come to a conclusion in a months.
Pupils from Abernyte were expecting to be transferred to Inchture Primary after the summer but a decision may not be made until after the start of the new term in August.
The school's parent council and local councillors are calling for a 12-month delay  but the council said any date will be determined after the review.
Parent council chairman Gerard McGoldrick would eventually like the decision to be brought back to the lifelong learning committee but is backing a postponement in the interim.
While this measure could prevent potential disruption to pupils,  Mr McGoldrick says keeping youngsters in their own village would also help with social distancing.
"This court decision is wonderful news and not entirely unexpected.
"The call-in process could take at least another seven weeks. By the end of that it could be into the new term.
"Social distancing will need to be in place for some time and it seems entirely sensible. There're a lot of elderly people here.
"Abernyte is an asset to help other schools. It's reasonable to extend for a year for less crowding issues."
His views are shared by ward councillor Alasdair Bailey, who said: "I welcome this judgement which means that the work of the School Closures Review panel can resume.
"I am now calling for the July closure date to be formally deferred by at least a year to give certainty to the children, parents and staff at this otherwise very uncertain time."
Carse of Gowrie councillor Beth Pover added: "I am keen that the council give serious consideration, as soon as possible, to postpone any potential closure of Abernyte Primary in order that the school can carry on with their work without any undue time pressures.
"It is unfair to pupils, staff and parents that uncertainty continues so close to the end of the school term."
The local authority said the review panel's decision "will inform the timing of any potential closure."
A council spokesperson said: "We will provide the School Closure Review Panel with all relevant information in relation to Abernyte Primary School and will await their decision.
"That outcome will inform the timing of any potential closure."