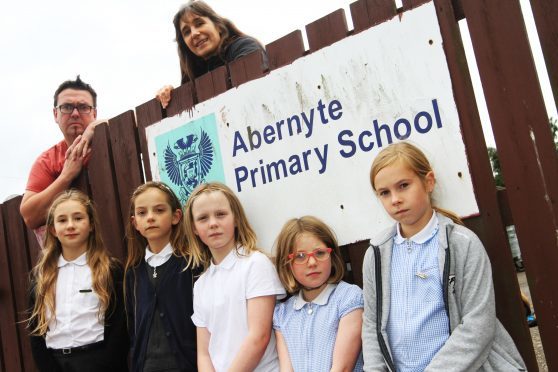 The parent council of a Tayside primary school which is under threat of closure has issued a late appeal to increase the school roll.
Councillors will make the call on the future of Abernyte Primary School in the Carse of Gowrie, which currently has eight pupils, later this month following a review of the school's financial viability.
The school is expecting a roll of at least 12 after the summer as its campaign to grow its roll is proving a success.
A decision on the building's future will be made by the council's lifelong learning committee after months of analysis undertaken as part of the local authority's school estates review.
So far, Balhousie Primary School in Perth and Blairingone Primary in Kinross-shire have been given closure dates as part of the review, as well as some mothballed schools.
Should Abernyte be axed by the council as part of the cost-cutting exercise, pupils will have to travel to the recently refurbished Inchture Primary just over three miles away, where 216 pupils already attend.
Two public meetings were held in November, allowing parents and members of the community to air their views on the decision.
The school's parent council are now asking for parents considering the school to register an interest in enrolling their children before the decision is finalised on Wednesday, May 22.
The parent council believes that a larger school roll would make the school more financially sustainable, and strengthen its case for staying open.
A spokesperson said: "Abernyte Primary School, our hidden gem, is under threat of closure.
"Despite the threat of closure, the school continues to grow: two new boys joined in January and four P1s will start next term.
"Abernyte is a great wee school with a young, dynamic headteacher, fantastic outdoor spaces, and a friendly learning environment offering a more tailored educational experience.
"The school provides kids in the Carse a different option and we believe its closure would not only be a great loss to Abernyte, but to all our communities.
"A number of parents have expressed an interest in sending their kids to Abernyte should the school remain open.
"If you would consider doing this for your own kids, please get in touch as soon as possible.
"If we can demonstrate a growing school roll, we stand a far greater chance of keeping the school open.
"The vote is likely to be very close, so your support could make a big difference."
Anyone with an interest can email the parent council at abernyteparentcouncil@gmail.com