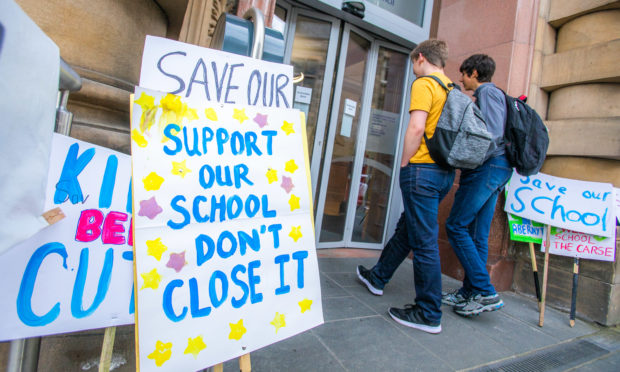 An appeal to save a rural Perthshire primary school has ground to a halt as Perth and Kinross Council has mounted a legal challenge against the Scottish Government over its decision to call in the closure.
The local authority made the decision to close Abernyte Primary in May this year but the school's parent council was unsatisfied with the reasons given and asked Scottish Ministers to examine the closure.
Ministers referred the decision to the School Closure Review Panel and a panel convened in July, with a decision on whether to overturn the closure to be made by September 17.
The review into the decision has been put on hold as the local authority has begun legal proceedings to defend their decision.
A Scottish Government spokesperson confirmed: "A petition for judicial review has been raised by Perth and Kinross Council against the decision by Scottish Ministers to call in the council's proposal to close Abernyte School, and to refer the proposal to the independent School Closures Review Panels.
"An order for interim suspension of the School Closures Review Panels consideration of the decision to close the school was granted by the Court of Session on Tuesday. This order was unopposed by the Scottish Ministers."
Abernyte is only the fourth school closure to be referred to the body since its creation in 2015 but the local authority feels they should never have been involved.
A council spokesperson said: "Having carefully considered the grounds set out by Scottish Ministers for the call-in notice, Perth and Kinross Council is seeking a legal review of the Scottish Ministers' decision to issue a call-in notice.
"The action relates to the respective responsibilities of both Scottish Ministers and Perth and Kinross Council in reaching decisions about the closure of schools."
Amongst those infuriated by the suspension of the appeal is Abernyte parent council chairman Gerard McGoldrick.
He said: "It's disgraceful to see Perth and Kinross Council wasting a tremendous amount of money on lawyers and QCs. That money should be being spent on children's educations.
"This looks like the council are trying to block the process and it appears like they have something to hide."
Carse of Gowrie councillor Alasdair Bailey is concerned as to why the local authority are pursuing legal action.
He said: "I hope that this new development won't lead to an extended period of uncertainty for the children and parents at Abernyte.
"I have asked the leader of the council and the convener of education for further information on what the council's motivations are for using the courts to suspend the work of the School Closures Review Panel."