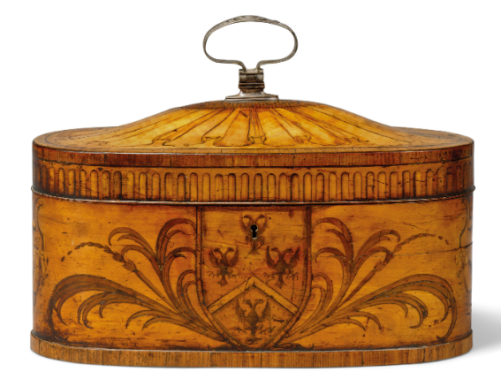 Just before its coronavirus close-down, auctioneers Christie's sold a wonderful Georgian tea caddy for a price that would require a sit-down.
Tea was a precious commodity back in 1770 when this caddy was made by one of England's greatest craftsmen – and the little boxes which contained the leaf for brewing have been saleroom darlings ever since.
By the late 1700s, tea was taken in the coffee houses frequented by the intellectuals and mercantile men of the world. It is no coincidence that Dundee's splendid coffee house (later Winter's the Printer's in Exchange Street) and Perth's Exchange coffee house (now Gillies in George Street) were given prime sites either side of 1800.
Tea, however, was extremely expensive. Only the wealthier classes could afford it. And the lockable caddy protected the precious leaves.
Attributed to the famous London maker Ince & Mayhew, this c1770 tulipwood-banded, satinwood and marquetry tea caddy was once in the collection of the late Lord Perth of Stobhall Castle, on the Tay upstream from Perth.
With a white-metal handle, its domed cover inlaid with a foliate motif and trompe l'oeil fluted frieze, it opened into a divided interior with two rosewood lidded wells. Externally, its carcase was inlaid with flowers, foliage and urns and centred by a coat-of-arms.
The 8½ x 13½ x 6-inch caddy was sold by Christie's in 1996 when part of the Earl of Perth's collection was dispersed. I knew the late Lord Perth, the 17th Earl, and attended that sale. Perhaps his forebear, the 10th Earl, also knew the Perth runaway James Christie who, in 1766, set up the famous auctioneers.
The caddy sold for £4750.
George III tea caddy with Perth connections, £4750 (Christie's).