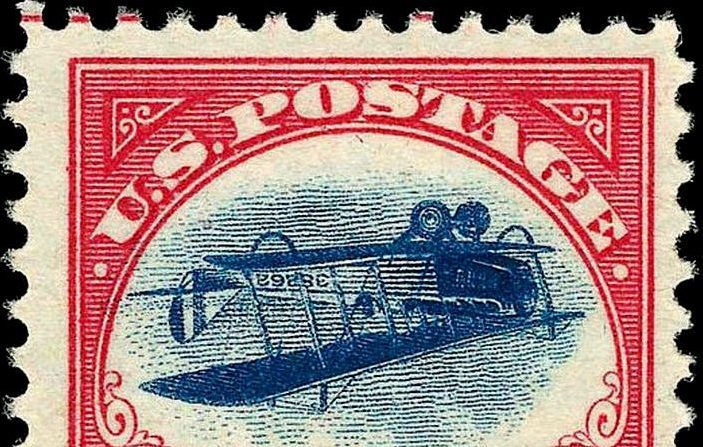 I was able to handle two Jennies when I was younger.
Before you splutter into your corn flakes or lock up your daughters I should explain that they were postage stamps.
The 'Inverted Jenny' is one of the world's rarities and the most famous error in American philately. The stamp was issued in 1918 and shows, in error, a Curtiss aeroplane upside-down in the centre of the design.
The 24-cent was intended as the first US airmail stamp and rushed into production during the week of May 6, 1918, so it would be ready for sale on the 13th, in time for the first airmail deliveries on May 15.
It is likely the design's inversion occurred when a harried worker wrongly fed a sheet into the hand-operated press.
Today they are exceptional rare but, in 2010, in London, American auctioneer Robert A. Siegel allowed me to hold an example in each hand. Oh, did I mention that the two tiny scraps of paper were worth a cool £1 million?
Only one sheet of 100 of the inverted stamps was ever found. In 2007 two singles each achieved just under $1 million, while two years earlier, a block of four was sold by Siegel for $2.7 million.
About six weeks ago the American arm of London auctioneers Spink recovered a long-lost  Inverted Jenny when a consignor from the UK, who had inherited the stamp from his grandfather, delivered it to their auction galleries for sale.
After careful examination the rarity was determined to be position 76 from the sheet of 100 stamps.
This position was the bottom right stamp from the famous McCoy block of four, which was stolen out of its exhibition case in 1955 during the American Philatelic Society convention in Virginia.
After the theft, the block was broken into four singles, and each copy was altered to disguise its appearance, making identification a challenge.
The Jenny is now to return to its rightful owner, the Pennsylvania-based American Philatelic Research Library.
Not only is it one of the world's most celebrated stamps, with appearances in the 1995 film Brewster's Millions and on The Simpsons, it is the subject of one of the most famous thefts in philatelic history.
Three of the four have been recovered…with a million-dollar example still out there.