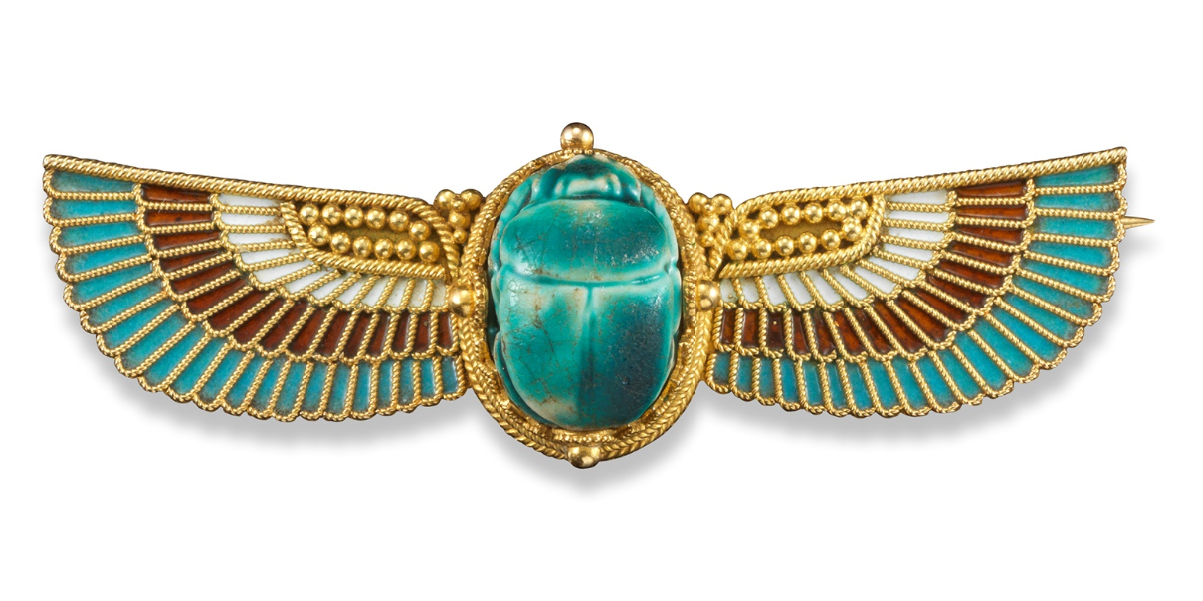 MARGARET ORR was 82 when I interviewed her for The Courier in 1995. I had asked her to cast her mind back to when she was just 10 and had witnessed an event in 1922 that had stunned the world – the opening of the tomb of the boy king Tutankhamun.
Mrs Orr was the daughter of Arthur Mace, one of Lord Carnarvon's expedition to the excavation site at Thebes. It was her father, with Howard Carter, who had broken open the nearly-intact tomb.
"The treasure was lying higgledy-piggledy, just as the tomb-robbers had left it," Mrs Orr told me.
I was reminded of this when a 19th Century 'Egyptian Revival' winged scarab brooch appeared at Woolley & Wallis in Salisbury on January 26.
The scarab part of the brooch was in blue faience and engraved on the reverse with a mask, probably Anubis, the god associated with the afterlife in ancient Egypt.
Its wings were decorated with rows of white, brown and turquoise filigree enamel, with pellet clusters to the upper sections.
The brooch was attributed to Giacinto Melillo (1845-1915), a designer who became the director of the famous Castellani jewellery store in Naples in 1870, aged just 25. It came in a rectangular wooden box with velvet lining, signed 'Giacinto Melillo, Napoli'.
The demand for Egyptian designs boomed after the discovery of Tutankhamun's tomb in 1922, but Egyptian imagery had emerged after Napoleon's early 19th Century campaigns in North Africa, which become a powerful source of inspiration for artists and designers.
The British also adopted Egyptian styling after the 1798 Battle of the Nile, and soon designers were offering opulent Egyptian-inspired brooches, bracelets, amulets and headbands – often in the form of falcons, jackals, scarab beetles and snakes.
Moreover, Egyptian revival jewellery, silver and furniture was often designed to bring luck to the wearer/owner. Scarabs and lotus flowers, representing rebirth and resurrection, were among the most popular motifs. The Eye of Horus symbolised healing and protection. And many objects featured carved hieroglyphics.
Yet Margaret Orr pooh-poohed the global frenzy which followed the discovery of Tutankhamun's tomb. "Oh, yes, I was excited, but at the time I thought the grown-ups had gone over the top," she told me.
The brooch took £2500. Margaret Orr, sadly, passed away in 2000.