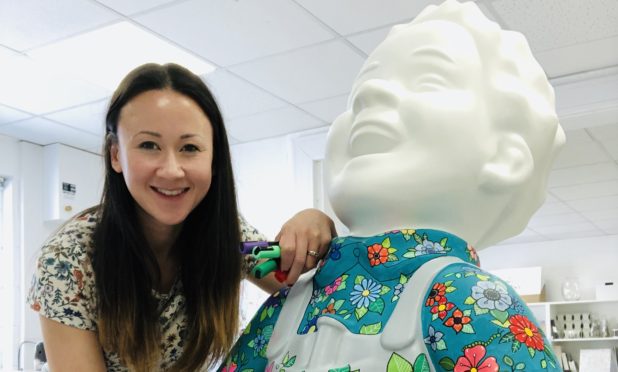 He is adorned with brightly coloured florals and, if you look closely, you'll find lots of hidden surprises – including snails, buzzing bees and butterflies.
He's called Inky Wonderland, designed by colouring book pioneer Johanna Basford, and is one of 200 statues that will form this summer's Oor Wullie's BIG Bucket Trail.
"The design is inspired by my colouring books." said Johanna, 36.
"I wanted to create an Oor Wullie that looked as though he had just escaped from the pages of one of my books!"
Along with 199 statue pals, Johanna's Oor Wullie model will go on show across the country for 11 weeks from June 17 to August 30 before being auctioned off for The Archie Foundation, a charity which supports Tayside Children's Hospital at Ninewells, and children's hospital charities in Glasgow and Edinburgh.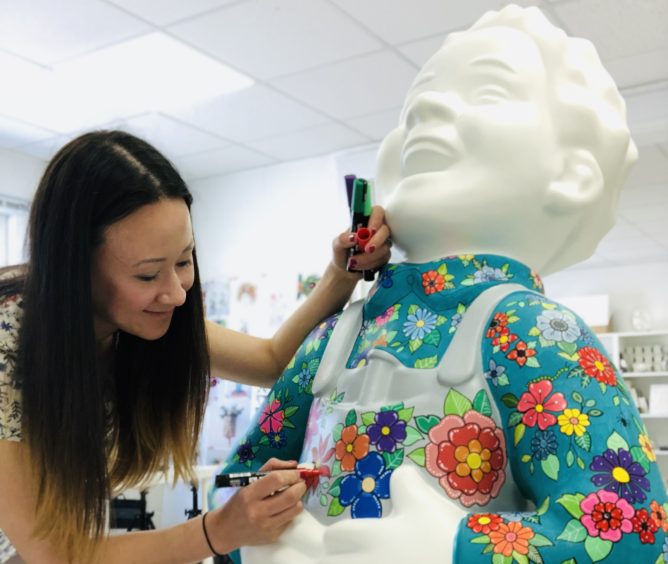 Johanna graduated from Dundee's Duncan of Jordanstone College of Art and Design in 2005 with a degree in Textile Design and a specialisation in screenprinting.
She lived in the city for a further four years, starting her illustration business in Meadow Mill.
She was dubbed the "Queen of Colouring Books" after selling more than 21 million of them worldwide.
When the artist returned to her alma mater last month to see how students' preparations for this year's degree show were going, she revealed that it was during her time at the art school that she discovered her unique stye of intricate hand-drawn florals.
"I loved my time in Dundee," said Johanna. "The creative energy in the city is infectious.
"There's a buzz to Dundee – particularly now with the V&A in town – that makes you feel anything is possible!"
Johanna published her first book, Secret Garden, in 2013 and has gone on to write six more.
As well as drawing her trademark botanical designs on to a statue, she's sponsoring the sculpture, which will be displayed in Aberdeen.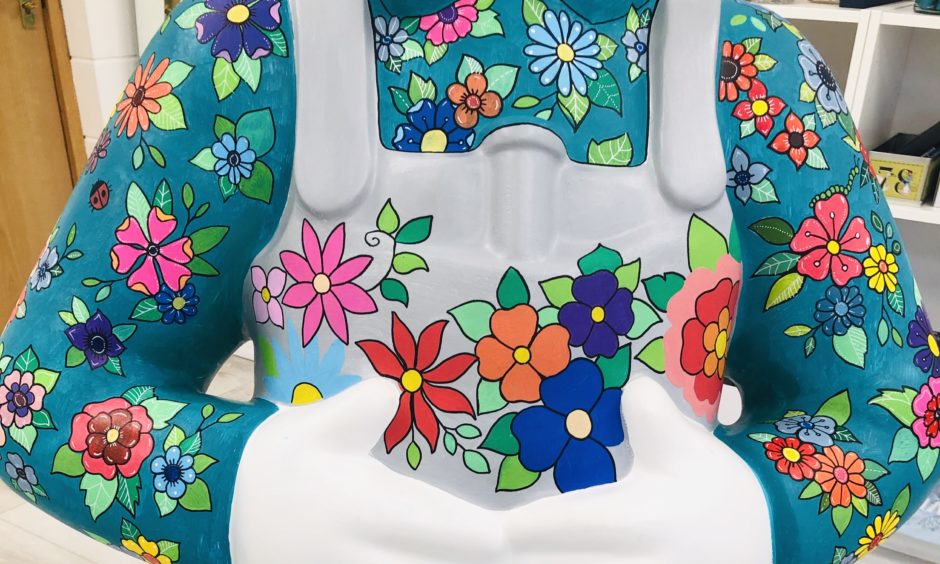 Mum-of-two Johanna said she very nearly turned down the opportunity to be part of the project because she was "super busy" with a book deadline and gearing up for the next one.
"I have two young daughters, so I didn't think I'd have time to take on any more commitments," she admitted.
But when Johanna watched the launch video for the trail, she changed her mind.
"I sobbed my eyes out and immediately sent the organisers an email to say I wanted to help. If, for any reason, my girls did need to go to hospital, I'm so very lucky that organisations like the Archie Foundation exist.
"It's an honour to be part of such a brilliant cause and to help in some small way by drawing pictures and doing a job I love."
Johanna revealed her design was "much trickier" than she thought to create.
"There are about five layers of different paint, pencil sketches and ink on him, as I kept changing my mind, or thinking of a new way to do a bit, so I'd paint over what I'd done already.
"He's got lots of very tricky bits to colour, little nooks and crannies under his arms or round the back of his legs that you usually wouldn't notice.
"I was very conscious that children would be my prime audience and I wanted to make sure that everything they saw was painted well."
David Wood, chief executive of The ARCHIE Foundation, said: "It's really special that a local hero like Johanna has given Scotland's national hero a makeover, and as her designs have such worldwide appeal, we can't wait to see where Inky Wonderland Oor Wullie will finally find a home when he's sold at auction in September."
Johanna, who was born in Aberdeen, now lives in Aberdeenshire with husband James Watt, co-founder of Brewdog, and their two daughters.
WULLIE TRAIL WILL SPAN 700 MILES
A total of 35 hand-painted statues will be displayed in Dundee, with additional statues appearing in Perth, St Andrews and further afield from June 17, as part of a nationwide trail that spans more than 700 miles.
After 11 weeks, Dundee's statues will appear at a farewell gathering in Slessor Gardens. They'll be auctioned off at Dundee Rep on September 17 to raise money for the Archie Foundation, which supports Tayside Children's Hospital at Ninewells.
Each statue has been individually decorated by artists. Some will be interactive – telling jokes, making noises and playing music.
Like the 2016 Oor Wullie Bucket Trail, based in Dundee and which raised £883,000, fans will get the chance to sit next to their favourite statue and take a picture.
The statues, sponsored by local and national businesses and organisations, are currently being stored in a secure location.
The campaign is run in partnership by five organisations – The Archie Foundation,
DC Thomson Media, Wild in Art, Edinburgh Children's Hospital Charity and Glasgow Children's Hospital Charity.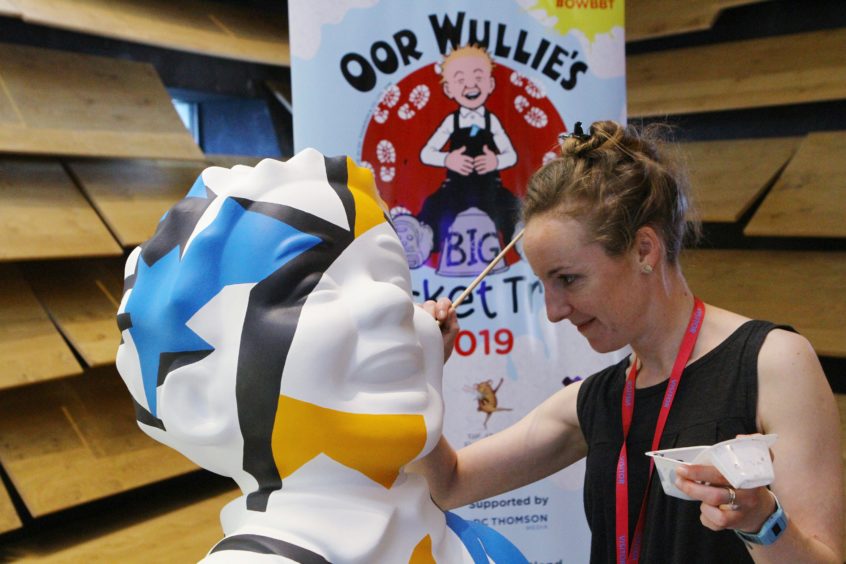 As well as Johanna Basford, other artists contributing to the campaign include internet art sensation Mr Doodle, and Dundee artist Islay Spalding.
KT Tunstall worked with artist Alison Soye on one of the statues.
It features multi-coloured braces like those worn by KT on the cover of her multi-million selling debut album Eye To The Telescope.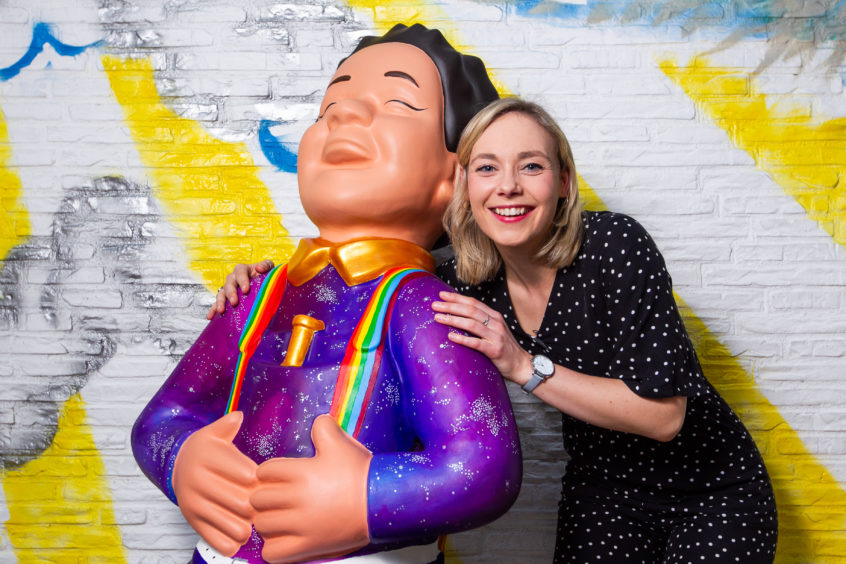 There will be 200 sculptures across Scotland in Dundee, Edinburgh, Glasgow, Aberdeen and Inverness, with farewell events and auctions in each city.
There will also be 350 mini statues, decorated by local schools, youths and community groups, with 27 schools in Dundee taking part. These can be found in libraries and community centres as well as at the farewell events.
An app will be available for members of the public to help them find and collect all of the sculptures, as well as a paper map.
An Oor Wullie's Big Bucket Trail HQ has been set up in the Wellgate, where trail-themed merchandise and sculpture maps are available.
For more details, see archie.org