Michael Alexander speaks to former Perth charity CEO turned full time composer Helen MacKinnon who has established a growing reputation for her sacred choral music in the UK, Europe and Asia.
The coronavirus lockdown has been a productive time for Perth-based composer Helen MacKinnon.
The sudden cessation of the world's crazy pace of life has created a "rare space" for her creative juices to flourish.
She's channelled a lot of lockdown emotions into composing – the grief of losing her grandmother in April, the depth of everything that's going on in the world right now, alongside the hope that there will be a brighter period ahead for us all.
But 18 years after she was told "don't give up the day job", the lockdown has also given Helen the chance to reflect on her decision a few years ago to do just that – giving up her role as chief executive of Perth & Kinross charity PKAVS to concentrate full-time on composing.
"I was born in Dundee, brought up in Kinross, and have spent most of my life working in Tayside," said Helen, 40, looking back on her journey in an interview with The Courier.
"Music was a big part of our family life. My mum is a choir director, my gran taught me classical piano from age five and I learned violin through the Saturday morning music school that ran in Perth in the 80s.
"Childhood was a musical melting pot of experiences and influences.
"I spent many youthful years singing in church choirs and enjoyed a brief affair with traditional fiddle-playing in my teens.
"I also developed an insatiable appetite for film scores from an early age. This has been a big influence on my writing which often has a cinematic style.
"When I was 11, I started song-writing and improvising, which was my first taste for creating music. The piano and I quickly became inseparable and explored new sounds together."
Helen studied for her Bachelor of Music at Glasgow University, specialising in composition with the Scottish composer William Sweeney.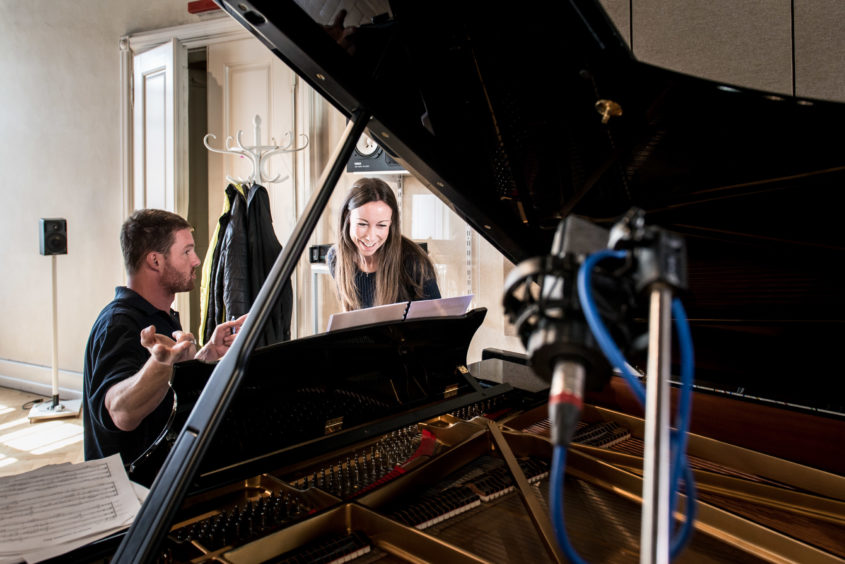 Her most notable compositional work during her studies was Crossing the Domain, a setting of Scottish poet Edwin Morgan's poem From the Domain of Arnheim for female voices and percussion.
When she graduated in 2002 without the first idea of how to go about working as a composer, the only advice she can remember receiving was 'don't give up your day job!'
She took an administrative role with NHS Tayside and then had her first taste of the charity sector in 2004, working for a theatre-in-education company in Dundee called Foxtrot Theatre Company.
That then led to 12 "amazing" years working with the Perth charity PKAVS (2006-2018), in various roles including marketing & fundraising and laterally a chief officer position.
"I loved my time at PKAVS – it was extremely varied, interesting, and a rewarding organisation to work for," she added.
However, although composing went on the backburner for nearly 15 years, music remained a big part of her life. She taught piano, sang with local operatic societies and arranged music for amateur choirs in Scotland.
She didn't know it at the time but each of these experiences was building the knowledge and skills she'd need to work as a professional composer.
"In 2015, I had a life-changing moment that was to set me on a new path," she said.
"I was inspired to enter a composing competition as part of an international choral festival in Florence.
"The judging panel was chaired by one of my heroes, the great film composer Ennio Morricone.
"I had never entered a competition before but the idea of putting even a bar of music in front of the Maestro was too enticing.
"I spent my Christmas holidays from PKAVS writing a choral work and sent it to Italy.
"I didn't expect to hear anything back but to my great surprise and delight, the piece – Gloria in excelsis Deo – was awarded.
"I went over to Italy for a few days and the momentum that followed gave me courage to take a leap of faith and follow a completely new path."
For a couple of years thereafter, Helen juggled part-time employment alongside composing until 2018 when she became fully self-employed in the arts.
Now, alongside composing, she also administers Perth Festival of the Arts.
​​ "Today I work as a composer of choral and instrumental music, writing to commission as well as pursuing my own projects," she explained.
"This can range from writing a work for full symphony orchestra, to a choral or ensemble work, or a popular ballad.
"I can spend a few hours a day writing, which involves sitting at the piano and the computer and doing a lot of singing, as I often use my voice to compose.
"It's been a completely organic journey from day one. I've been very grateful for the level of local support and the chance to work with several Tayside choirs and ensembles, including most recently Pitlochry & District Choral Society and Caledonian Winds.
"Since 2016, I have written a large portfolio of sacred choral works which have been performed or aired across the UK, Europe more widely, USA, Asia and South Africa.
"The pace of the international developments has been really encouraging.
"My a cappella choral work, Gloria in excelsis Deo now features as a modern and contemporary repertoire piece in Florence Choral Festivals and premiered in Italy.
"It was also recorded in Prague and released as part of a choral album, Voices of Earth & Air Vol. II by Navona Records last year.
"The recording was recently nominated for a Scottish Award for New Music and has received regular airplay globally."
In December 2019, a new work for string orchestra and soprano Ave Maris Stella premiered in Serbia with the country's oldest symphony orchestra, the Subotica Philharmonic.
Sadly, Helen wasn't able to attend the concert. However, she says it's a "surreal feeling" to know a concert hall of people have heard your music before you have!
"Life serves as a constant source of inspiration – the natural world, my Scottish heritage, travels around Europe on our motorbike, and especially my faith, which leads to a regular focus on composing sacred music," she said.
"We're so fortunate to live in Scotland – the inspiration is bountiful. I recently completed an orchestral work – The Rinns of Islay – which is inspired by the beautiful natural environment of Islay where my grandparents were from.
"I was due to record it with a Scottish orchestra in April but Covid-19 delayed that, so I'm greatly looking forward to the time when live music will restart again and we can progress the recording."