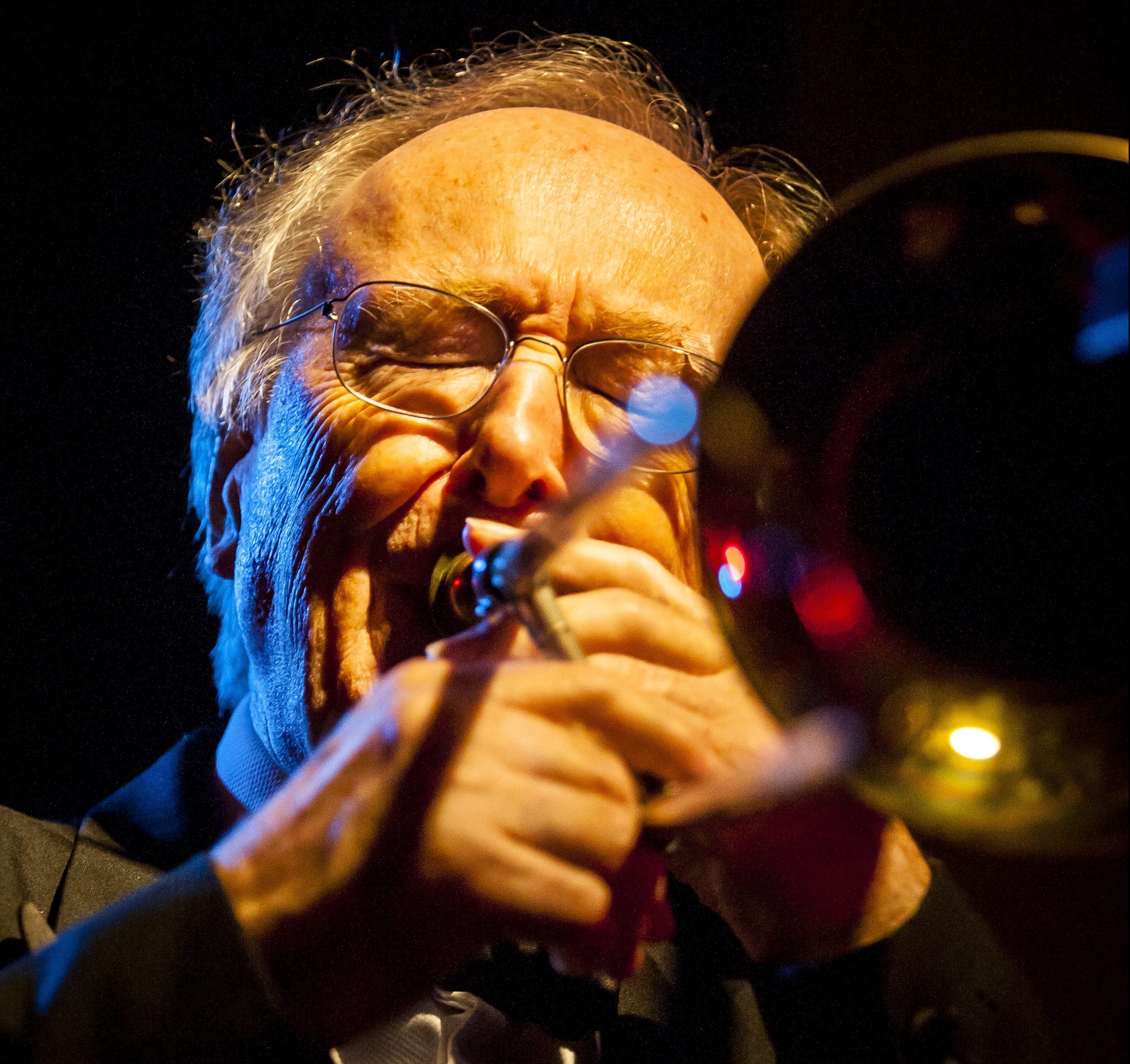 It was a music genre that originated amongst African Americans in New Orleans, USA, in the late 19th and early 20th centuries.
But by the time legendary British jazz trombonist Chris Barber became hooked as a teenager, jazz had become recognised as a major form of musical expression across the globe – and you didn't have to be a black man to enjoy it.
"It wasn't unusual for 'white' people to be playing jazz in those early days – in the US there were white players playing early on," Chris, now 86, tells The Courier ahead of a concert he is putting on with the renowned Chris Barber Jazz and Blues Band at the Carnegie Hall , Dunfermline, as part of the Fife Jazz Festival.
Born Donald Christopher 'Chris' Barber in Welwyn Garden City in 1930, Chris celebrates his 68th year as a bandleader this year.
Yet with just a couple of months until his 87th birthday, he insists he doesn't feel old, and never tires of performing.
"I think the first time I heard jazz was on the radio during the Second World War when I was at school," he recalls, "and I thought it was very good.
"My father wanted me to play classical. I did a bit of the violin.
"But the American record companies in those days made special '78' records which were shipped over for the army, and when I heard this broadcast, with an introduction by the legendary trumpet player Louis Armstrong, I became hooked."
Chris, who'd thought about getting a trumpet, was just 16 when amateur musician Harry Brown sold him his first trombone for £5.
Inspired by the King Oliver Creole Jazz Band, he formed his first Barber New Orleans Band in 1949 at the tender age of 19 – initially securing a few jobs around pubs in the London area.
In 1953, along with Monty Sunshine and Lonnie Donegan, he joined forces with Ken Colyer.
Then, with the replacement of Colyer by Pat Halcox, Ken Colyer's Jazzmen became Chris Barber's Jazz Band in 1954 and has been one of Europe's most successful traditional jazz bands ever since, evolving into the Chris Barber Jazz and Blues Band and latterly the Big Chris Barber Band.
Chris has performed over 10,000 concerts ranging from East Berlin and the Hollywood Bowl to the Carnegie Hall, New York.
Back in the day, he helped the career of many musicians, notably the late blues singer Ottilie Patterson, from Northern Ireland, who was at one time his wife, and vocalist/banjoist Lonnie Donegan, whose appearances with Barber triggered the skiffle craze of the mid-1950s.
Yet some of his fondest memories are concerts he did in Scotland.
"I remember the first time we saw Dundee's Caird Hall in 1955, I thought it was a bit large and hollow, like an airship hangar," he laughs.
"But it was great. I've also done the Carnegie Hall in Dunfermline a few times."
Despite being 'on the slide' since 1949, Chris and his band keeps marching on, right into the 21st century, blending  a rich mix of brass, reeds, and electric guitar into a unique and unmistakable mix of blues and jazz.
"I've no idea why jazz remains popular!" he laughs.
"But it is nice when you get people coming along to concerts who tell me they first saw me in 1955. And then you get younger people who maybe saw me 20 years ago and say 'dad can't make it now because he's too unwell, but I came anyway'. It's flattering."
The Big Chris Barber Band, Carnegie Hall, Dunfermline, February 10, www.onfife.com