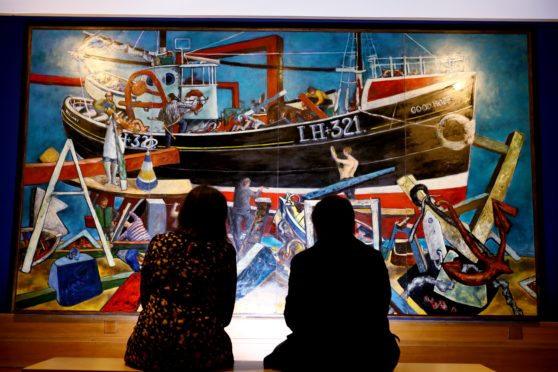 One of Scotland's oldest museums has been given the green light to reopen.
VisitScotland has awarded a "Good To Go" certificate to Perth Museum and Art Gallery, after a range of safety features were put in place throughout the 196-year-old building.
It is hoped the George Street venue's relaunch on Saturday, August 1, will give a shot in the arm to the local tourism sector after four months of lockdown.
Visitor numbers will be controlled with a new ticketing system, through which  guests can book a time slot ahead of their visit. Face masks will be required throughout the museum, while visitors will be reminded to keep their distance from others and use newly-installed hand sanitiser stations.
A one-way system has also been set up to guide people safely through the galleries.
Staff are putting the finishing touches to the museum's latest display, New Ways of Seeing: Scottish Art Schools. The exhibition celebrates the best of the museum's permanent collection with artists representing four of the country's biggest art colleges.
Many leading artists from the turn of the century will be included, such as Joan Eardley, Anne Redpath, John Byrne and Sir Robin Philipson.
Meanwhile, the popular Icons II exhibition on John Bellamy and "conservation in action" has been extended, while another display on Ancient Egypt will continue until October.
Culture Perth and Kinross, the group in charge of local museums, confirmed the city's Fergusson Gallery and Alyth Museum will stay closed until further notice.
Chief executive Helen Smout said: "We hope the reopening of the museum, along with the opening up of the tourism sector locally will be a boost for the city, encouraging visitors to the city centre to enjoy the significant collections we are so fortunate to have here in Perth."
She said: "Our staff and volunteers have been working hard to develop a new exhibition for visitors to enjoy, as well as working on some innovative online programming content for those not able to visit in person, which we are excited to share in the coming months.
"We are excited to see our first visitors return."
The Good To Go certification scheme is managed by VisitScotland. Regional leadership director Caroline Warburton said: "After a very difficult few months for local tourism, it is fantastic to see attractions in the city reopening and ensuring they can welcome back visitors in a safe and responsible way.
"Perth Museum and Art Gallery is a key part of the city's tourism offering, so I'm delighted that people, from near and far, will be able to enjoy it once again."
She added: "As tourism gradually reopens, we are asking visitors to 'know before they go' – that means, checking what is open and pre-booking if required."