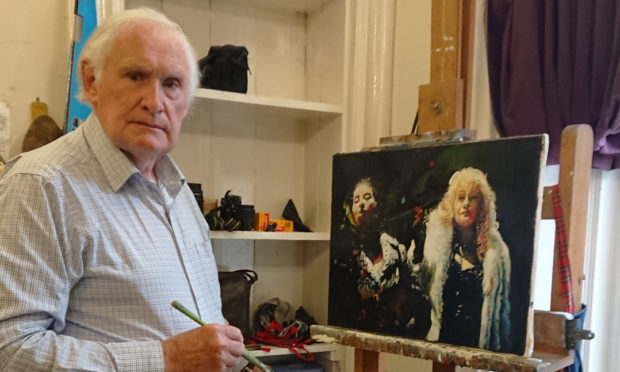 Michael Alexander speaks to 80-year-old Dundee artist Joe McIntyre about his new exhibition and his ongoing enthusiasm for art.
He is the octogenarian Dundee artist whose work has been compared with that of the late American realist painter and print maker Edward Hopper.
But while Joe McIntyre is "very flattered" at the comparison, he insists he was painting his street scenes long before he heard of the man regarded as the most important realist painter of 20th-century America.
Joe, who turned 80 in February, started painting in his home city 63 years ago.
He was taught and mentored by James McIntosh Patrick and Albert Morocco, and his paintings have been bought by the royal family and displayed around the world.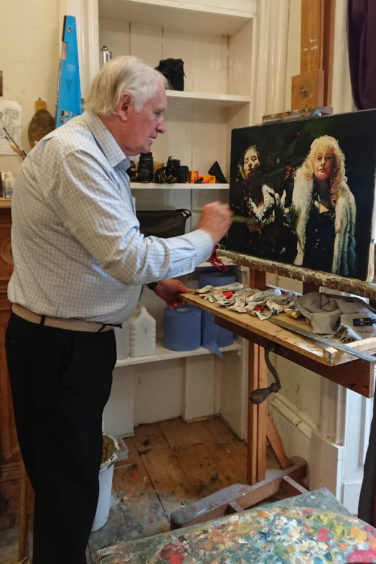 But when The Courier caught up with him to talk about his 80th birthday exhibition now on at the city's Gallery Q on Nethergate, he revealed he still gets most satisfaction exhibiting his paintings in his home city and painting scenes inspired by the lives of fellow Dundonians.
"When I was a young boy growing up in Lochee, Dundee's Mills Observatory had, as well as their major telescope, smaller telescopes that were open to the public to study the evening sky," he says.
"But what fascinated me was when I trained the telescope on the night city figures in shop doorways, shop fronts bathed in lamp light.
"I found this truly magical and these images have stayed with me as a painter all my working life.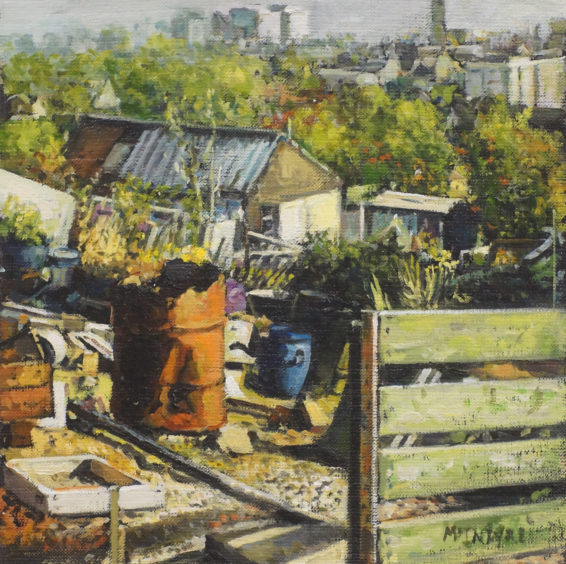 "Sunlight and lamp light in the city have been my constant inspiration over my last 60 years as a painter.
"My work has been compared to the great American painter Edward Hopper and while I am flattered by the comparison I was painting the city long before I heard of Hopper."
Born in Dundee in 1940, Joe left school at 15 and worked at a variety of jobs for five years.
He started painting at 17, and at 20, he commenced studies at Duncan of Jordanstone College of Art where he was fortunate to have the gifted artists Alberto Morocco and James Mcintosh Patrick as his tutors.
He worked very hard as a student and was the top student in his year graduating in 1964 and awarded a year of post graduate study and then awarded the Royal Scottish Academy students prize in 1965.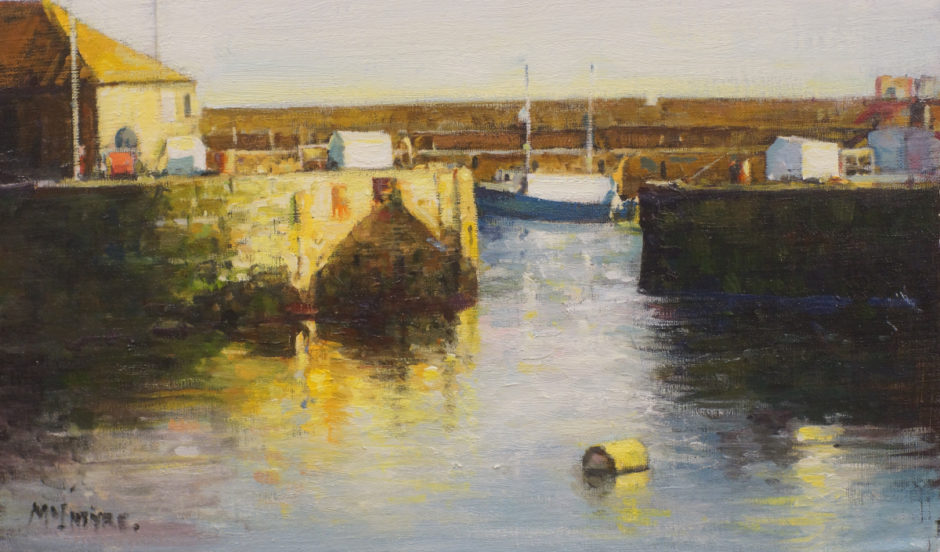 From 1969-1989 he was curator of the Orchar Art Gallery in Broughty Ferry.
He then joined the part time teaching staff at the Art College in Dundee in 1972 and retired in 2007.
Accolades over the years include the RSA Students Prize; he was Principal Prize Winner in the Open Painting Competition, Arbroath, in 1969 and again in 1971, and The Pernod Open Painting Competition in 1973.
This was followed by The Robert Colquoun Art Prize in 1975, and The Arts Council Award in 1981.
He has regularly exhibited at galleries in Dundee, Edinburgh, St Andrews and Glasgow, as well as galleries in Philadelphia, Princeton and London.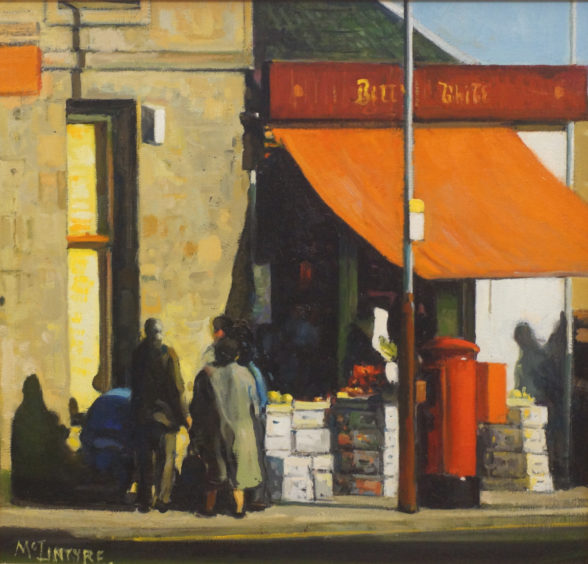 His work can be found in collections including those owned by the Queen, Duke of Edinburgh, the late Princess Margaret, City Chambers Dundee, Pernod in London, the Scottish Arts Council and Lincoln Center in New York.
His latest exhibition, however, brings a renewed focus to the city of his birth where lockdown gave him an opportunity to produce more work inspired by the city streets than he might otherwise have expected.
"I've been painting quite steadily because of the lockdown – it's been quite good for me," he explains.
"It's made me want to paint every day instead of (my time) being split up going to classes and things like that. I've benefited from it by making quite a lot of new paintings.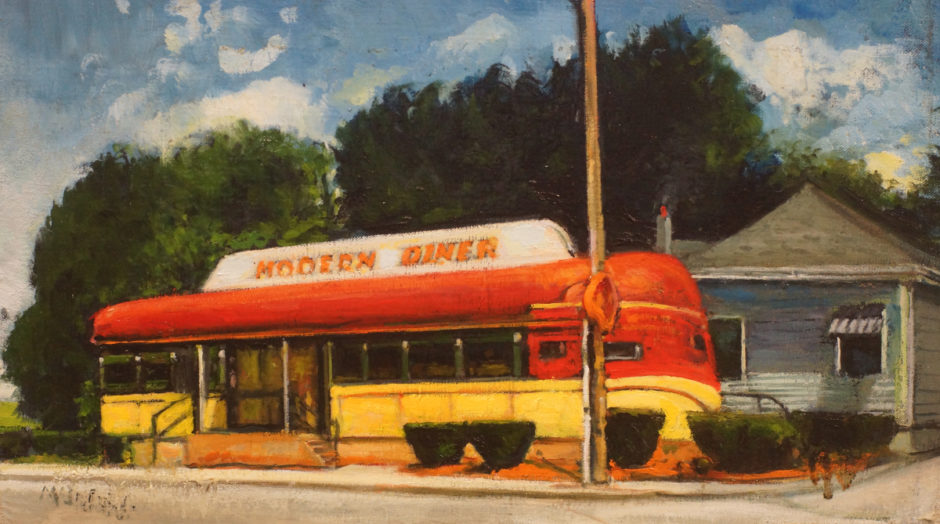 "Normally I would be out painting 'on location'' – I found that during lockdown I often used photographic references for some of the pictures instead.
"But really I just work away all the time. Some things are successful and some things are not. Some things can be done very quickly and some things can take a very long time to resolve.
"That's just the nature of painting, and the nature of the dedication of painting.
"You've got to really want to do it more than anything else in the world really to do it for as long as I have."
During the 55 years Joe has been painting professionally, he regarded himself as having been fortunate to get some part time teaching at the college.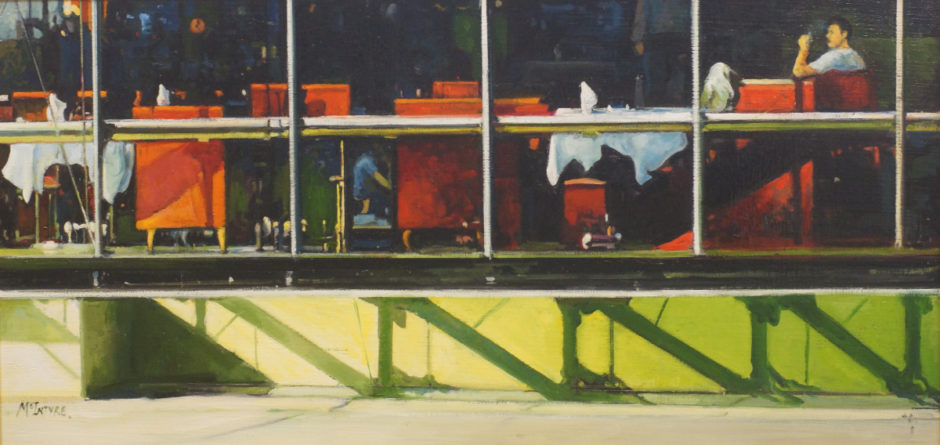 Even when he retired, he carried on teaching non-vocational students for some years beyond that.
He's always enjoyed imparting his knowledge to people who are interested in producing their own paintings.
Yet he's never been one to impose his style on anybody. In his non-vocational classes, he tried "to get into the head of what they are doing and try to help them achieve what they want to achieve."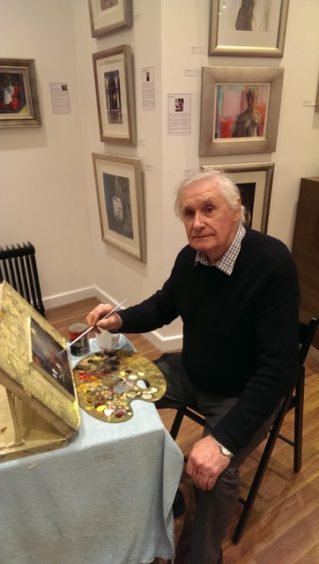 While his subject matter hasn't changed much over the years, he acknowledges that his style and colour has changed as he's got older.
That's not been so much about a change in vision – more the technical side of what he does.
Joe creates "atmosphere" in his paintings through highly skilled use of light and shade and a rich warmth through careful application of colour.
He has made "trademark" his pieces featuring figurative city life and at a level that his work is instantly recognisable to his many admirers and collectors.
But as a realist painter, he also prides himself on the fact his work is very accessible to the general public.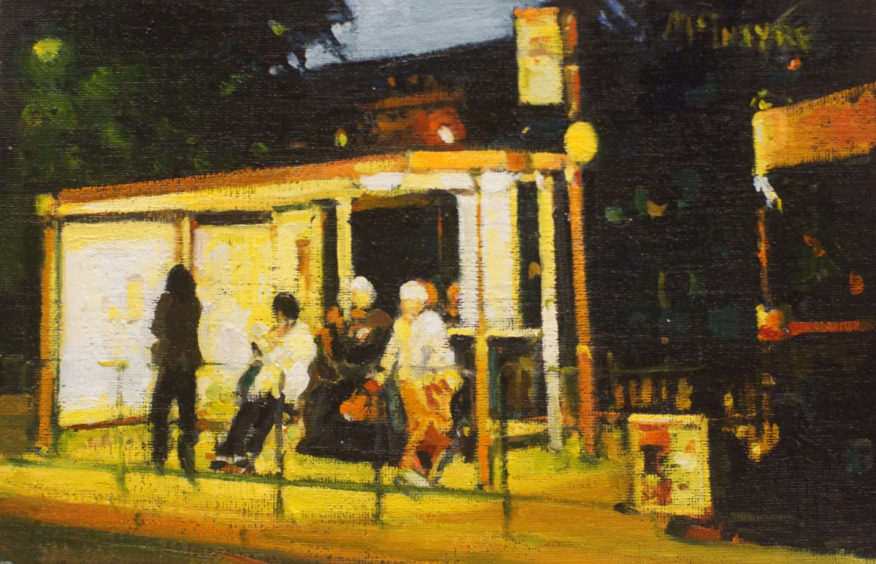 Of course his work is not painted for the general public – it's painted for collectors – but he's always been more inclined to show in Dundee where he "loves the city and loves the people".
"Like the old masters my practice is to do a number of studies to work out the colour values, composition etc before beginning a larger work," he adds.
"At first I did not exhibit the studies but I was advised by a dealer to exhibit them described as studies at a greatly reduced price and they became very popular to collectors.
"I have been very fortunate as an artist to find ready buyers for my work.
"I feel as an artist that in painting you get what you are, not an iota less and not an iota more.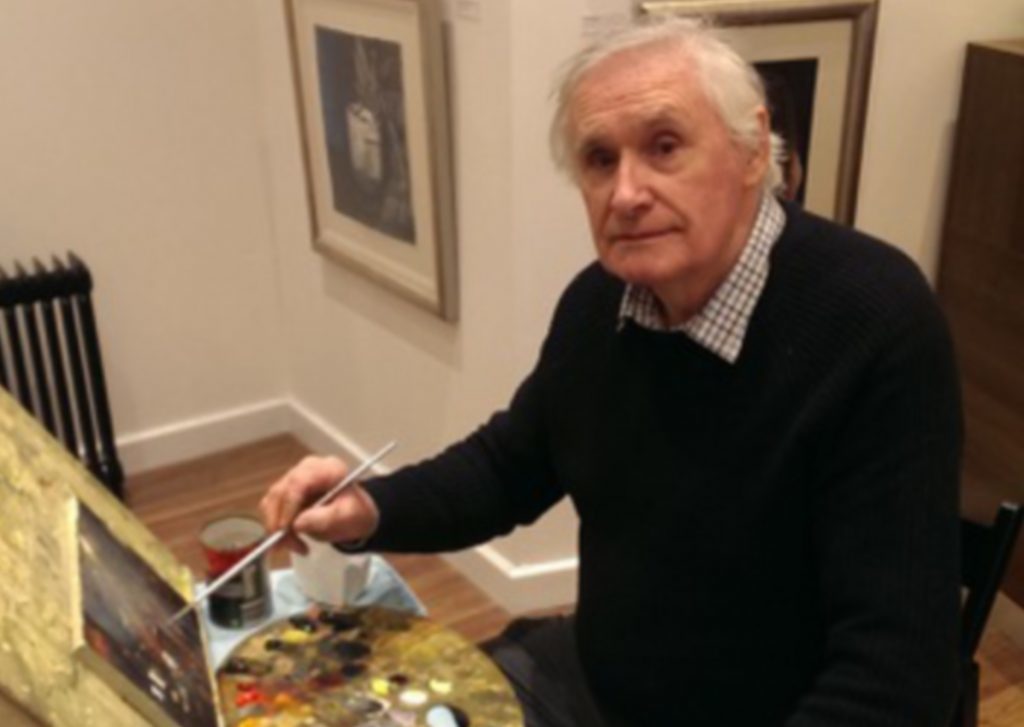 "Dundee has always been an important part of my life and work. I love Dundee. I love the people in Dundee and the city itself.
"I am now 80 and I am as enthusiastic and hard working as I was at 21, I love what I do and hope to have a few more years of painting left."
Lucinda Middleton, owner of Gallery Q, said the gallery had recently managed to re-open after lockdown and had been reorganised with a one way system to allow people to visit safely, with hand sanitisers and masks available.
Lucinda says: "Joe is very well-known in the local art scene having taught many of the artists working in the area today. His work is also widely collected."
* Joe McIntyre's exhibition, which opened at Gallery Q, Nethergate, Dundee, on August 22, runs until September 19.