As Dundee Contemporary Arts (DCA) celebrates its 20th anniversary, Michael Alexander discovers the arts centre remains true to its original vision.
When Dundee Contemporary Arts (DCA) opened to the public on March 20 1999, the then director of the £9 million arts centre Andrew Nairne described it as "local in intention and international in ambition."
Two decades on, and as the DCA celebrates its 20th anniversary this weekend with a programme of fun, family friendly and immersive community events, the current director Beth Bate says that vision is as relevant as ever as it helps push Dundee's creative boundaries.
Back in 1999, when the DCA's very modern building first brought together film, print, art and community activities in a specially designed space, Welsh-born Beth was completing her studies for a degree in English and History of Art at Birmingham University.
However, even before uprooting her family from England to take up the reigns at DCA more than three years ago, the 41-year-old mother-of-two already knew of the DCA's "phenomenal reputation" through work and as a visitor.
"I was always aware of the reputation and calibre of the arts programme here in Dundee," said the former director of Great North Run Culture, who developed the Newcastle-based organisation over 11 years to become one of North East England's major commissioners of contemporary art.
"I've worked in the visual arts sector for nearly 20 years now and the reputation of DCA was always present for anyone working in the sector."
Beth said the opportunity to lead such an organisation during a time of "energy and change" in Dundee was what she found particularly exciting.
---
Follow updates from DCA's birthday weekend at www.seedundee.com
---
However, she has also enjoyed hearing from friends who remember how quickly DCA became part of peoples' lives when it first opened.
"It's remarkable," she said. "It's incredibly heart-warming to work in a place over which people have such ownership. People really care about the organisation.
"I think the fact that people can so clearly pinpoint this moment in history where it felt like things were changing is so significant.
"That early partnership between what was then the Scottish Arts Council and the University of Dundee and Dundee City Council – that early ambition has absolutely been realised.
"I think DCA will continue to do what it has always done incredibly well which has been about bringing the best of the world to Dundee and giving people who live and work and visit the city an insight into the very best of international art, cinema, print and exhibitions.
"But it's also a place that will absolutely remain a social hub – a busy place for people who live, work and visit the city – people feel very at home here.
"They call it their own:  they care about it passionately, and to be able to balance that international vision and to be a tourist attraction on an international scale but still have your roots in the city is what DCA has always done brilliantly."
Sarah Derrick, head of learning, is one of the longest serving employees at DCA having started there in September 1999.
Through initiatives like Stobswell's Celebration in the Park and Children's Art Week, her key role is to engage with local communities in Dundee and try to make people realise that art is "for all".
"DCA's mission is to enrich peoples' lives through art and culture," said Sarah, who came to Dundee from England "fascinated" by the potential of the DCA.
"I've seen peoples' lives completely changed.
"Some of the most gratifying experiences have been watching little people grow up visiting DCA – then  hearing later that some had gone on to become teachers because of their DCA workshop experiences.
"Way back we did animation – Channel 4 Ideas Factory came in. Two lads came along from a workshop we did in Douglas community centre, they went on to do animation at college and university.
"Then we've got our partnership with NHS Tayside Healthcare Arts Trust – we've worked with them for 14 years.
"They bring in adults with long-term health conditions who are probably very isolated due to health conditions.
"There's been a long term evaluation and the positive impact this has on peoples' self-esteem, their confidence, their own perception of their capabilities.
"They feel they can do more than they thought they could before they started.
"But mainly it connects them with something they can come back to."
DCA head of cinema Alice Black has been in post for 10 years.
Born and raised in Canada and having previously worked for the French embassy in New York promoting French film followed by 10 years at the Irish Film Institute, she tries to offer a "fairly balanced programme" ranging from foreign language films to the latest blockbusters.
And she says the tastes in Dundee are "really broad".
DCA20: We asked the staff for their favourite films from 20 years at Dundee's city centre cinema
"Dundee has its own unique take on what it wants to see," she said. "We try to be Dundee's cinema.
"It's quite rare these days to have a cinema in a city centre, and that is one of our strongest points.
"But we are also a very important part of DCA's income generation – not just from ticket sales but also just bringing people into the building generating footfall – whether that's using the restaurant, visiting the galleries or going to the shop."
Alice said the arrival of the V&A has "changed the landscape" in Dundee. DCA has found it "really exciting" to work in partnership with the V&A on a film programme.
However, she said the city had always "punched above its weight".
"Dundee is an incredibly exciting city to live in if you work in the arts – and yet it's very much real," she said.
"It reminds me of Dublin in a lot of ways that you sit beside high culture but you've got industry as well. It just feels like a really genuine authentic place to live – I know that sounds a bit airy fairy but that's definitely what I feel about living here."
As director of Edinburgh-based Richard Murphy architects, Bill Black has worked on many projects during his 30-year career including the "fantastic" Perth Theatre revamp last year.
However, when he reflects on which buildings have had the greatest impact on him, his role as project architect for the award-winning DCA during the 1990s sits at the top.
"I remember thinking when we finished it I would probably never do anything as good again," he told The Courier, citing the "complete commitment" of the entire team who worked to make something "really special".
"I have worked on a number of other buildings which are equally as good and interesting and important to their towns and cities. But DCA still holds a special place for me. I still walk into it and think it 'my building' – even after 20 years!"
Bill explained that the "visionary" brief in the city council's 1996 design competition won by Richard Murphy architects was to pull together a whole load of art communities operating in separate premises across Dundee and make them stronger by being together.
These ranged from the old Steps cinema behind the Wellgate to a printmakers' workshop in the Seagate.
"The whole idea of the building was that you organise all of these things so they are around the same space," he said.
"A café and bar area at the heart of the building so that everyone coming into the building can see everything around them that's going on.
"That's how the building is organised in simple terms. You stand anywhere in the building and you can see the galleries, the cinema, the printmakers workshop. They are all visible. People can take their pick."
Recalling how the site was previously occupied by a piecemeal mix of industrial garage workshops from the 1930s, 1940s and 1950s, the decision was taken early on in the design process to knock down the derelict frontage and keep the old warehouse at the back.
However, while this brought a number of challenges, it also allowed some of the old character to be retained as part of a very modern building.
"One of the things I quite like about the warehouse at the back is it had been populated by skateboarders and graffiti artists," he said.
"The walls of the original building inside were all covered in graffiti
"We took that building and essentially just relined it. Behind the walls of the gallery are the original walls of the building and on those original walls is still all the old graffiti.
"I like that piece of hidden history that most people don't know about. The art of one kind of community is hiding behind the art of another!"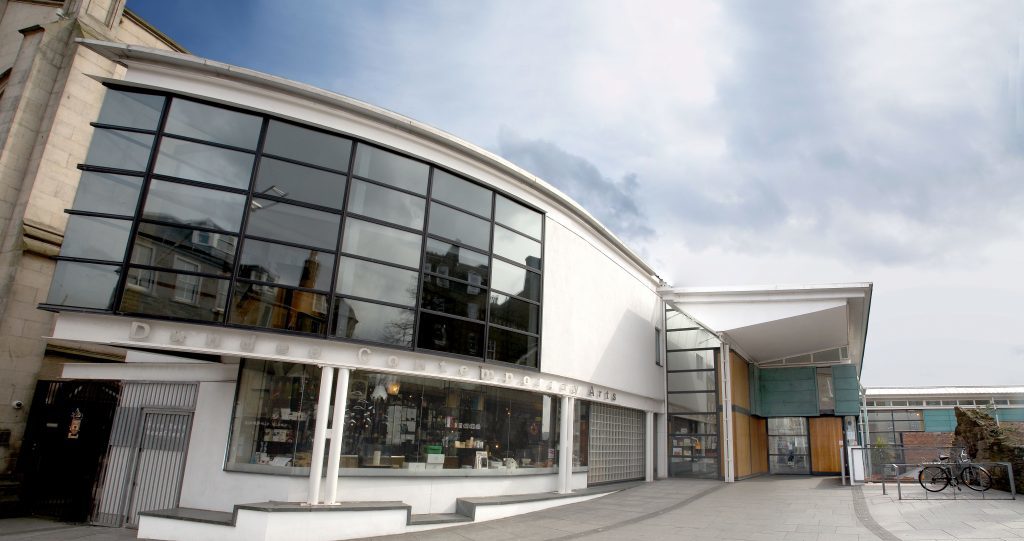 The DCA won a number of architectural awards including the 1999 Regeneration of Scotland Supreme Aware, 2000 RIBA Award, and 2007 Dundee Institute of Architects: Building of the Deace Award.
Bill laughs, however, when it's suggested he was the "Kengo Kuma of the 1990s" – designing an arts building at the heart of Dundee's cultural regeneration almost 20 years before the V&A.
"I think one of the great strengths of DCA back in 1996 was the original idea that the council put into the brief:  a building to bring all these things together and make a cultural place for the city," he said.
"That was a visionary idea. I guess now the V&A is part of a different regeneration of the old waterfront industrial dockyards and railyards area rather than where the DCA is.
"But it's a similar thing. It's about placing a cultural building as part of a major regeneration of an area."