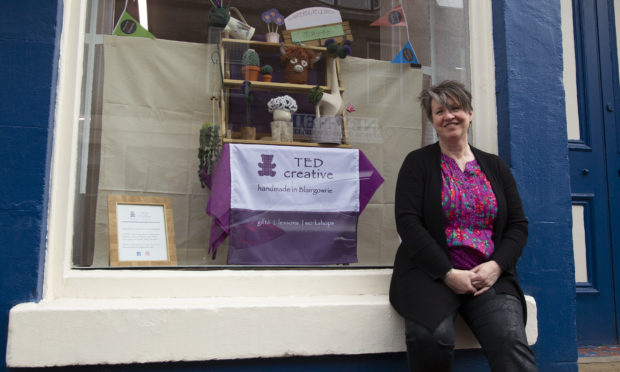 A east Perthshire art trail has returned for a second year, and organisers promise this year's showcase will be bigger and better than before.
Coordinated by Blairgowrie artist Wendy Mackey, the Leslie Street Art Trail comprises a series of exhibitions in shop windows throughout the town during the nine-day Perthshire Open Studios celebration of art, which is running all week.
After a lifetime of working with cattle, Wendy now paints farm animals and is working with local artists and businesses and organisations on the displays.
The idea for the displays first came to Wendy after a visit to Galashiels during the Common Riding when all the shops are decorated in the colours of the town, displaying memorabilia and photographs.
With the backing of Perthshire Open Studios, she contacted businesses and was delighted by the response with nearly 20 signing up to be involved in a similar showcase dedicated to artists in Blairgowrie.
Blairgowrie Library, the One Voice Community Office and the Blairgowrie and Rattray Development Trust offices were also keen to get on board.
Building on the success of last year's inaugural event which saw hundreds of people make their way around the art trail, this year's exhibition will feature over 60 artists showcasing in 29 businesses and organisations in the town.
As well as Leslie Street, businesses in the Wellmeadow, Meadow Place, Reform Street, Allan Street and Upper Mill Street are also getting involved this year.
Wendy said: "The idea is that, because so many of the Perthshire Open Studios venues are based in the countryside and suburbs, the showcase windows will bring Perthshire Open Studios right into the town centre and hopefully encourage more people to visit studios outwith the town.
"The windows of the businesses will be decorated with a selection of unique artworks including several different styles of paintings, ceramics, needle-felting, crochet, knitting, weaving, silver jewellery, wood carving, sculpture and fused glass."
"People have been so supportive and keen to be involved, both artists and businesses and organisations. This year, as well as the artists taking part in Perthshire Open Studios, we also have four budding artists taking part in the Art Trail.
"We really want to encourage that and give people a window – literally – to showcase their work locally in a way that they may not have previously had the opportunity to do so, and we're keen to build on this even further for next year's event."