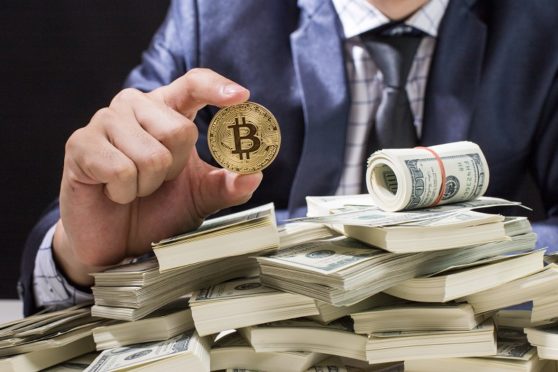 Are we ready for a cashless future, swapping banknotes for Bitcoin? We speak to the Scottish company, Zumo, that's working to make the future of digital currency easy and safe for everyone.
Cash in pockets. Credit on cards. Currency has evolved alongside humans, but we don't often think about the why.
In this digital era, is our antiquated financial system lean, clean or green enough to deliver the future?
Born in Scotland, Zumo was founded to make cryptocurrency simple and work seamlessly with traditional money. In short, it's unlocking smart money for everyone.
Charles Reed, Zumo's Head of Growth, explores how the history of currency predicts a drastic change that's long overdue.
The evolution of money
"First there was bartering – the exchange of goods – which was often bulky and impractical, and was largely replaced by various coinage during the latter half of the 9th century.
"Scotland wouldn't have an official currency until King David I captured the English Mint and silver mines of Carlisle in 1136.
"Crafted in the same weight and purity as their English counterpart, these coins were interchangeable for centuries. Until 1356, when King David II devalued Scottish coins by mixing in cheaper metals, leading to a long period of financial decline.
"The late sixteenth century was an era of economic distress, made worse by increased taxation and a devalued currency.
"In 1582 a pound of silver produced 640 shillings, but in 1601 it was 960 shilling.
"The 1565 exchange rate with England was £6 Scots to £1 sterling, but by 1601 it had fallen to £12.
"Wages rose rapidly, by between four or five times from 1560 to the end of the century, and even then failed to keep pace with inflation.
"In 1695 the Bank of Scotland was created by an Act of the Scottish Parliament, to reinforce the struggling economy. Banking became a regulated and respectable business, and promissory notes soon replaced piles of coins.
"A little piece of paper with the value of gold; it was no surprise that forgers saw great potential. As technology advanced, new complex printing techniques were introduced, but this short-term solution has been repeated nearly every decade since, and forgers are only one step behind.
"Fake money was seen as an unavoidable aspect of our current financial system, but the banks were still seen as secure. This changed after banks discovered they could lend money they didn't have.
"Fractional Reserve Banking stimulated a golden age of commerce and debt, and lead to the financial crash of 2018.
"Meanwhile, bank cards and online banking became common. Brick and mortar offices closed down, and phones transformed into bank tellers.
"Many adopted a cashless economy, and touch-free payments soon became the norm.
"In Japan, 2008, Bitcoin – one of the first digital currencies – was created. It's now considered the 'digital gold' of the internet, mined by prospectors across the globe.
"It's finite and scarce. You can't forge it or print more of it, and that makes it inherently valuable. The current market cap is over £130bn, and it's performed well under the strain of Covid-19.
"Over 1.1m new digital wallets have been created in the UK this year alone, but many of these wallets are hosted in a centralised account.
"People are often shocked when they realise they don't own their coin, or have to buy X amount of own-brand tokens to unlock functionalities.
"Lots of people have tried to dip their toe into cryptocurrency in the early years, but between scammers, the dark net, and complex tech procedures, many were scared away.
"The world of Bitcoin has grown a lot in the past 12 years. Blockchain technology has created the foundations for the future of money.
Zumo's purpose
"This is where the Zumo App comes in – we make having smart money simple.
"Our world-class computer engineers handle all of the complicated tech, so your experience can be easy. Each new user must pass an ID check, and is then led through an easy onboarding process.
"From inside your digital wallet, you can easily buy, exchange, and store your digital currencies. Whether pound sterling, Bitcoin or Ether, all can be managed from the palm of your hand.
"We offer a secure and cost-effective alternative to the vulnerable centralised exchanges, offering users not only full ownership of funds, but more functionality, lower fees and open 24/7. Lost your device? Reinstall, login and use your Secret Phrase to regain access.
"Having ownership and control of your digital finances has never been so easy."
---
FIND OUT MORE
If you are on your phone, you can download Zumo by clicking here to visit the App Store.
Legal Notice: Bitcoin and other cryptocurrencies are not regulated and do not benefit from protection such as the Financial Services Compensation Scheme. They are volatile and your capital is at risk.
On a computer? You can find out more about Zumo on its website.
Launching this Autumn, Zumo's Convertible Debit Card lets you spend your balance just like a regular debit card. It's breaking down the barriers of modern finance and unlocking smart money for everyone.
Investor? Join Zumo on Seedrs to own a part of the company for as little as £10! Register for early access here.