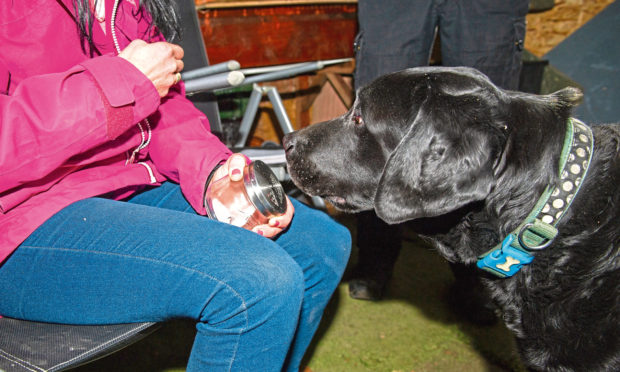 Scent work mentally stimulates dogs and enhances their natural ability to sniff things out. Gayle and her dog Toby head along to a fun session.
If there's rabbit, deer or horse poo in the vicinity, my Labrador Toby is guaranteed to sniff it out and gobble it up.
He's rather fond of the odd cow pat, too.
It's pretty revolting and I struggle to understand why, when he's fed twice daily and gets an abundance of tasty treats, he would wish to wolf down such unpleasant fare.
Even worse – his greedy guzzling often results in a dodgy stomach and, well, I'll leave the rest to the imagination.
How he can detect such grim findings is down to his amazing sense of smell; like any dog, his most powerful tool is his nose.
According to Simon Chapman of Auchtermuchty-based K9 Manhunt and ScentWork Scotland, the average working dog has about 220 million scent receptors compared to a human, who has a measly five to six million.
That means a dog's sense of smell is about 40 times greater than ours!
I'm pondering this thought as I watch Toby's nostrils twitch and flare as they approach a pot of cloves.
We've come for a scent work session with Simon and the first task involves recognising a "target odour", in this case, cloves.
Basically, every time Toby puts his snout near the pot and sniffs, he gets a reward in the form of a tasty treat.
My boring dog biscuits aren't deemed rewarding enough, so Simon kindly donates some rather more appetising chunks of sausage and chicken.
These pungent slivers of meat up the ante and Toby's ears perk up in anticipation.
However, he only gets a treat if he sniffs the pot at source (and not just the hand holding the stinky rewards). We repeat the process a few times until it seems he's got the message.
What's the point of all this, you may ask? Basically, scent work mimics the task of professional detection dogs in locating a scent, such as explosives or narcotics, and teaches the dog to communicate that the scent has been found. They do this through a change in body language – a knowing look in Toby's case, a change in the way the tail moves, or a "freeze" stance.
"It's intense work – 15 minutes of scent work is the equivalent of 90 minutes of walking – and dogs suffer nasal fatigue quickly," explains Simon.
Toby takes time to chill out while we watch Simon and his two-year-old Sprocker Molly in action.
Molly began work as a cadaver dog but found it stressful so instead, Simon is training her to detect drugs, cash and electronic devices.
Within seconds, she expertly sniffs out a disc imbued with the scent of cannabis from a dizzying selection of pots arranged along a wall.
Her tail, which has being whirling round like a propeller, freezes when she finds it, and then moves from side to side.
She's clicker-trained, which means every time she hears a click, she knows she'd done something right.
It's time for Toby to come back into training and this time he has to detect a scent inside a container.
We start by putting a scented disc into a cardboard box and rewarding him when he sniffs it. Then we introduce another two boxes.
After a wee bit of confusion, Toby picks out the right box, gazes up at me, and is instantly rewarded!
A more advanced style of training Simon teaches is mantrailing – basically hide and seek with dogs.
"This is a brilliant search and rescue technique, used to find missing people or dogs," he explains.
For training purposes, Simon sources a scented article, such as a piece of clothing or set of keys, and gets the dog to have a good old sniff. Alternatively, the dog walks round a person inhaling their "scent inventory".
One of Simon's clients, Lyn Adams, has been training her springer spaniel Pyper in the arts of both scent work and mantrailing for 18 months and she's doing brilliantly.
Putting her to the test, I sit in my car for 10 seconds, then run away and hide behind a shed. Pyper, once she's nosed the car seat, has no difficulty locating me!
Next up, ex-Guide Dog Esmay, a retriever/German shepherd cross owned by Lucy Scott, walks round me twice, smelling me, before I do the disappearing act, this time hiding behind a tree. Unsurprisingly, she finds me within seconds.
"A scent article could be anything from a missing person's pillowcase to a coat or car key," says Simon.
"It's imperative nobody touches it or it gets cross-contaminated."
Another slightly grim fact Simon tells me is that the body, which is made up of around 60 billion skin cells, sheds about 20,000 of these cells every minute.
"These big piles of skin cells fall off and stay alive for two weeks before they soak into the ground," he explains.
"After two weeks, there's still a chance a dog can smell the scent."
Simon's company trains dogs to find drugs, explosives, people, money, electronic devices, bed bugs and much more.
As well as his Fife base, dogs train in different environments – town centres, train and bus stations, farms, businesses and colleges.
Any dog can do it and it's great for building trust and confidence between pets and owners plus it's fun watching your dog in action.
"All dogs sniff – that's how they navigate the world," says Simon.
"Dogs have been bred to work alongside us. Teaching them to use their natural talents keeps them happy and entertained and gives them a feeling of purpose. It's also a great way to stimulate them mentally."
info
Simon Chapman set up K9 Manhunt and ScentWork Scotland in 2017.
The company is based near Auchtermuchty in Fife but training takes place at various venues. For more details, see k9manhuntscotland.com
Simon also just launched K9 Search Services Scotland. Check out the Facebook page.
Training sessions are running with Covid-related restrictions including doing activities outside where possible and wearing masks inside.
Simon has a team of dogs and handlers involved in the hunt for missing border terrier Twiggy around Forfar but, sadly, she's not yet been found.
Looking for a scent training class in Aberdeen or Aberdeenshire?
Denise Shirreffs of Awesome Paws, awesomepaw.co.uk, runs scent work and mantrailing sessions across both regions, billing them as "fear-free training courses with lots of food and toys".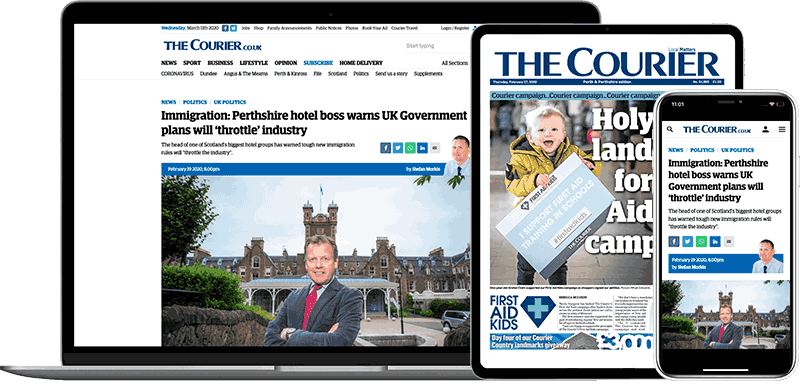 Help support quality local journalism … become a digital subscriber to The Courier
For as little as £5.99 a month you can access all of our content, including Premium articles.
Subscribe