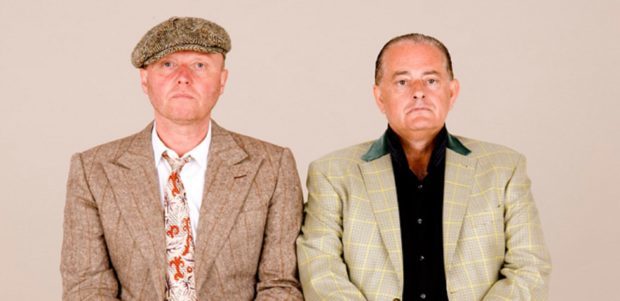 Heaven 17 legend Glenn Gregory says he's looking forward to putting on a show at Rewind Scotland.
The frontman and songwriting partner Martyn Ware are regulars at Scone Palace following a handful of appearances with both H17 and their all-star side project British Electric Foundation since the festival's debut in 2011.
BEF's guests at the last two Rewinds included Glen Matlock, Peter Hook, Thomas Dolby and Jaki Graham. "When you've got all those different artists it's quite a lot of pressure actually," says Glenn.
"We do feel a bit more comfortable doing the Heaven 17 show but everybody really settled into it last year and loved it. There were people there that perhaps wouldn't have done that kind of thing before but all of them said if it happens again they'd be up for it."
Classics Like Temptation, Come Live With Me and This Is Mine always go down a storm at Rewind, which has become one of Glenn's favourite gigs. "It's really good fun," he declares.
"I'm not being rude, but that audience is crazy. They're absolutely nuts. It's such a joy to stand up and perform in front of people like that.
"I'm thinking of wearing a kilt this year. I'll have to find out what my clan is — I'm sure I could find out online."
Formed in 1980 by Gregory and Human League founders Ware and Ian Craig Marsh, the Sheffield band remained a trio until Marsh's departure in 2007.
Glenn, 60, laughingly describes his relationship with Martyn, 62, as "a bit like Morecambe and Wise". "We don't live that far apart, so whenever we see each other out it's fun," he says.
"The only time we argue is when we're in the studio and have big shouting matches. Then afterwards it's like, 'Fancy a pint? Yeah, let's go and have a pint' and it's totally forgotten.
"That's just a brilliant relationship to have. You've got that passion and that desire that you want to keep fighting for and put your side, but it's totally put away and left in the studio when we leave."
While Martyn's been busy this year devising avant-garde sound installations for various art exhibitions, Glenn has concentrated on TV scores with H17's Berenice Scott — the daughter of Pop Muzik songsmith Robin Scott, aka M. "We've just finished an album called Addict that's coming out at the end of August," he explains.
"Our band's called Afterhere and the last series we did music for was a six-parter on ITV called Liar that did very well, and at the end of this year we start on another series.
"ITV and Amazon have a big all-star show coming out in September called Vanity Fair and one of the tracks from the album's being used as its theme, so that's really good."
Scone's the one chance to see H17 in Scotland until they play Glasgow on their Luxury Gap tour in November, supported by Propaganda's Claudia Brucken and Susanne Freytag.
While it'll be strictly past favourites and the odd choice cover at Rewind, Glenn says their much-delayed new album's finally gaining traction. "It is on the way, but getting Martyn and myself together in the same room has been quite difficult," he admits.
"We decided when we started writing it that was quite restrictive so for the last three or four months we've sent stuff to each other, which is making it quicker.
"I think we're about six or seven tracks in now. Something new might well poke its head up on the tour."
Get tickets for Rewind on July 20-22 from rewindfestival.com
*** Eurodance DJ Basshunter guests at Church tomorrow, Saturday June 30.
Swedish jock Jonas Altberg scored a chart-topper in 2008 with club anthem Now You're Gone, with its parent album also making number one. He'll be supported at Ward Road by DJ Rob G. Advance tickets £10 from www.churchdundee.co.uk
*** Edinburgh rockers Gypsy Circus play a fundraiser for Salle Ossian Fencing Club at Perth's Loft tomorrow.
Led by Aaron King and Michael Mackay, the four-piece are promoting their new single Obstacles. Admission's £10 including nightclub entry, DJ, raffle and silent auction.
*** Northern Irish alt-trio Lost Avenue, Edinburgh agit-rockers Paper Rifles and Welsh pop-punks Question The Mark are at Conroy's Basement on Wednesday. Tickets £5/£6 from the venue.
*** There's a Book Club house and techno all-nighter with Is Kill and Marc JD at the Reading Rooms tomorrow. Tickets £8/£10 via www.residentadvisor.net
*** Conroy's Basement has Dundee noiseniks Please, Believe! and Vena Amoris tomorrow, plus Glasgow post-rockers Draws Creature Masks and Perth punks John Wheels — admission's £5.
*** McDaniels in Whitehall Crescent has Cherry Bombz tomorrow and Buck Rogers on Sunday — both at 2pm.