A decade on from the band's initial success, The View's frontman Kyle Falconer talks to David Pollock about his decision to go solo.
Lives can change on the roll of a dice or the toss of a coin, so they say, but in the case of Kyle Falconer – who spent his 20s in a debauched haze as the lead singer of Dundee's most recent pop success The View – a dartboard is what turned things around.
"I threw a dart at a board and I thought, 'if I get this, that's it, my life's going to change'," he recalls. "'Laura's (his partner) going to get pregnant' – we were trying at the time – 'and everything's going to be great.' And I hit the bullseye at the first shot. I was like, 'that's it – this is the turning point of my life'."
It's unclear whether there really was a dartboard, or whether Kyle is using it as a metaphor for the process of attempting to become a father. Yet there's no doubt when talking to him that the birth of his and Laura's daughter Wylde in April 2017 was when things changed.
There's even less doubt about this, in fact, when you've heard Kyle's debut solo album Poor Me, which was officially launched last week with an invitation-only party in Dundee, ahead of a short Scottish tour throughout August.
Appropriately named No Thank You, it soundtracks his new reality, a world away from the days when stories of alcohol-related hospitalisation, arrest for cocaine possession and air rage incidents detracted from the continuing popularity of the Mercury Prize-nominated The View, proper working class kids (from Dryburgh) made good in a music world which has vanishingly few of them.
"I've had a bit of a wake-up call in the last year," says Kyle now, yawning on an early morning train to London as he travels to play an acoustic set of new material there. "I was just going round in circles. Even though I was still releasing albums with The View, I wasn't really getting my point across. I wanted to make a difference. I'd turned thirty and I'm thirty-one now, and I'd said when I get to thirty I'm going to get a mortgage and a car, all that stuff. So I've sorted all that out now – I've grown up, you know what I mean?"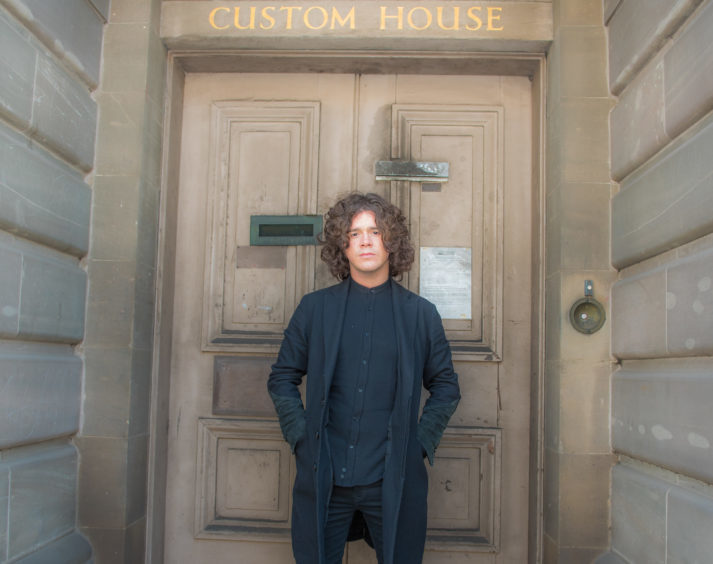 After years in London, Kyle moved back to Dundee ("It's great to be home, it's great to see my family again," he says) two years ago, when he met Laura, who is a decade younger than him and from Dumfries.
"She wasn't into the same kind of party scene as we were, so that helped me out a bit," he says.
"Don't get me wrong, she loves to party, but it's helped us out, it's made me realise what life's all about. It took a while but eventually we got there.
"Maybe it was my third time in rehab, as well," he reflects honestly. "I never really took it seriously before, but I did that time. I don't know. I was always getting in bother when I was out, and now I've stopped all that nonsense. I just kind of forgot about the music for a while, I forgot about what I was in it for and what I was doing."
Kyle says that he's still good friends with the rest of The View, including his co-songwriter in the band Kieren Webster, and that just because he has a solo record of his own, it doesn't mean they're over.
"When we recorded the last album the band all wanted different sounds," he says of The View's 2015 fifth album Ropewalk.
"We never really knew where we were going, and I had this idea to do some songs that were really melodic. A couple of the songs on the new record were tried with The View, but they didn't really fit in. They're really personal as well, do you know what I mean? I realised they're songs I had to do on my own."
Recorded in Paul Weller's Black Barn studio in Surrey last year and produced by Falconer on his own for the first time, tracks like the lead single Poor Me (a set-up for the old punchline "…another drink" in the lyric) are far from what we may expect from The View, but very close to the sound a young man obsessed with the Beatles and Oasis might create when he's decided to mellow out a bit. In fact, a close comparison is Weller himself when he went solo, next to his noisier days in The Jam.
"To be honest, the songs that I do in The View sound like (the songs on No Thank You) before I put anything electric on them, that's the basics," says Kyle.
"I wanted to do an album just with strings on every song, and I was allowed to do what I wanted – so I got a four-piece orchestra and we doubled it up three times so it sounded massive. I wrote all the parts on mellotron and we played them live. It was just about taking everything out, although there is a wee bit of guitar in there as well."
Another of his heroes came in handy as inspiration. "I really wanted it to be a kind of Sergeant Pepper thing, like Paul McCartney's 'granny' songs as John Lennon used to call them, like When I'm 64," he laughs.
"That's where I got the idea to do them like I did. I really like the song Kelly and Family Tree – that one is the first time my daughter ever laughed, we recorded it and put it on the song, in the background. We had a good time recording it too, I loved it."
Kyle's fiancée and child aren't the only stabilising influences in his life – he also feels extremely comfortable with his new managers, both local lads made good like himself.
Part-financial backers of the new record and its release, as well as the people who are helping steer his career, Kyle is being managed by Dave Mclean of Riverside Management (which also handles the Brit-rock band Placebo, among others) and John Gibson, the Dundee businessman who tried to buy Dundee United very recently.
"It's good to have folk that trust you," says Kyle. "They're top lads, they're best friends and really close, and they've put their heart, soul and money into this. I want to do them proud. With a lot of record companies you don't get to see them very much, but with Dave and John I see them a lot, I was out cycling with John yesterday – it's like a family-run thing.
"For them, there's not four or five bandmembers all annoying them at the same time… although I do enough to annoy them, nippin' their heid every day!"
After sitting on it for a year, Kyle is desperate to get the new record out to people, and to play it to them live later this year, including tours of the UK, the Far East, and the Baltics; "places I've played before but never really focused on," he says.
Once they've heard this record, might fans younger than he is who don't know when to say no find any kind of inspiration in his story, does he imagine?
"I don't know, man," says Kyle. "You could say don't do whatever, but you need to do it until it's out of your system, partying and that. It just took me a bit longer than others.
And what does the future hold now? "Oh, you know, the usual – world domination, and we'll take it from there."
No Thank You is available now. For more visit: https://kylefalconer.lnk.to/nothankyou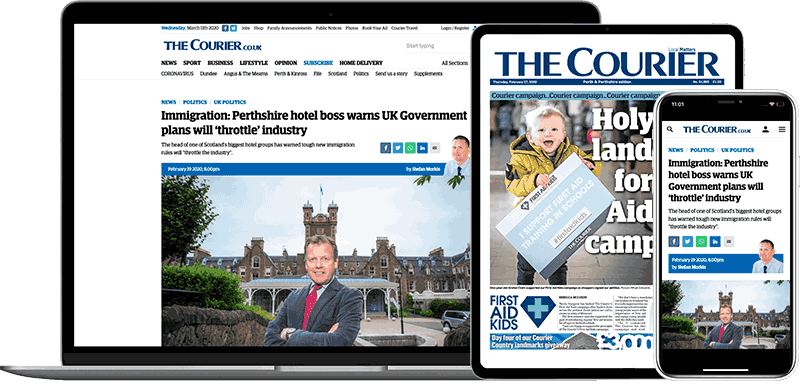 Help support quality local journalism … become a digital subscriber to The Courier
For as little as £5.99 a month you can access all of our content, including Premium articles.
Subscribe