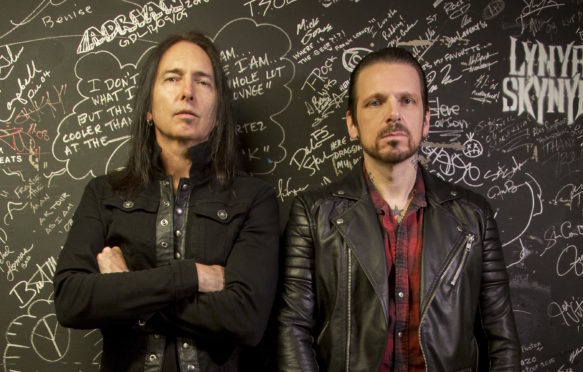 Rock veterans Ricky Warwick and Damon Johnson bring their new show to Dundee next month, combining an acoustic set with stories and anecdotes from their respective musical careers.
The pair, who perform together in Black Star Riders, embarked upon their Sonic Acoustic Attack tour earlier this month and will play only three Scottish dates – including Dundee's Church.
The intimate gigs feature over two hours of career-spanning classics from the bands they have performed with over the years, including: Thin Lizzy, The Almighty, Black Star Riders, Alice Cooper and Brother Cane.
Despite the fact the duo are armed only with acoustic guitars, Ricky – speaking from his native Northern Ireland on a fleeting visit for a family event – says that bits of wood with wires can still make a big sound.
"It's still pretty noisy – it's not sit down and finger picking, introverted 'feel-my-pain' song writing, it's still a rock 'n' roll show, you know? So it's got as much passion and fire as if we were playing with the electrics – it's just we're not plugged in, simple as that."
Born in Newtownards, County Down, Ricky got his first guitar at 14 and has gone on to become one of the UK's most iconic rock frontmen. Starting his professional music journey in The Almighty – with whom he released seven albums in the 90s – Ricky went on to record several solo albums before becoming the vocalist with Thin Lizzy – and later with Black Star Riders.
These days, he calls Los Angeles home – he's lived there for 15 years and enjoys the beautiful weather.
"I have lived all over the place: London, Dublin – I'm used to big city life," explains the rocker, whose laid-back Northern Irish accent remains despite his travels.
Prior to the acoustic tour beginning, Black Star Riders spent the summer gigging across Europe at festivals. These next gigs for Ricky and Damon are another kind of beast: "It's very different from Black Star Riders because that is a full band and it's an electric show – whereas me and Damon are an acoustic show.
"We are playing Black Star Riders stuff, Thin Lizzy, the Almighty, my solo stuff, Damon's solo stuff – it's just a night of good music, basically, where nothing's off the table. The gigs are definitely suited to smaller, more intimate venues – so that's what we try and do. There's a lot of storytelling going on."
And when Ricky isn't on his travels, he likes to prioritise time with his family: "I have four kids – so I don't get any time to relax ever! My youngest is 10 and my oldest is 21 so it's just family time."
He adds: "I've played Dundee's Caird Hall back in the day and we've been to the city a few times – but not in a while, so we're looking forward to coming to see you all!"
Warwick/Johnson: Sonic Acoustic Attack is at Church, Dundee, on October 13.