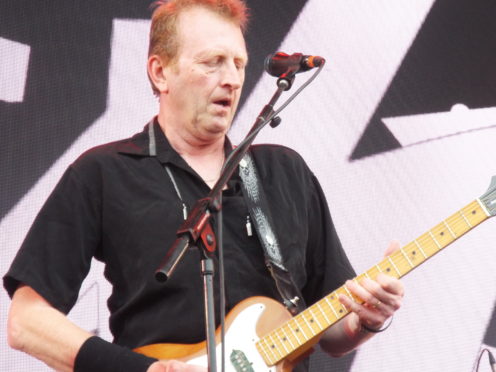 Fife legends The Skids are warming up for Courier Country gigs with a big Glasgow show.
The post-punk firebrands are at Barrowlands tonight with kindred spirits Big Country ahead of playing Dundee's Church (Dec 28) and Dunfermline's Glen Pavilion (Dec 29). It's been a great year for the five-piece, who released comeback album Burning Cities in January and staged their own convention in Fife in May, besides constant gigging.
And lead guitarist Bruce Watson — who's in both Dunfermline bands along with son Jamie — reckons hometown shows were among 2018's stand-out moments. "One highlight was playing down at the Glen Pavilion and we also did a couple of little things at PJ Molloys where the guys kindly let us rehearse as well," he tells RockTalk.
"We also did a gig down in London at the Roundhouse and that was another personal highlight. It's a venue I've always wanted to play. I'd read a lot about it and it looks amazing so I didn't need to be asked twice to play there."
Unsurprisingly, Bruce can't wait to return to Pittencrieff Park, where Big C are also on the bill. "It's definitely going to be one of my highlights of the year," he declares.
"You have to get more involved with the Glen, bringing in the PA and lights and making the show your own. It's not like doing a typical gig on the circuit. Plus it's our home town and we get a lot of people who don't normally go to rock concerts.
"It's a bit off the beaten track but because we're local they come and see us. We're doing some double-headers with Big Country as well so that's going to be a busy night for Jamie and I."
Bruce says he relishes performing twice over. "We're not doing much more work than if we were doing the one band, so I enjoy it," he adds.
"We usually do an hour each and we know that it works. If it goes fine at the Glen we might make it an annual event for at least the next couple of years."
Fans can expect typically energetic shows next week — with original Richard Jobson/Stuart Adamson-penned classics including Into The Valley, The Saints Are Coming and Masquerade on tap. "The songs written back in the day are quite fast and furious and you just go with it," says Bruce.
"I couldn't just stand there and stare at the floor. The only way to do it is to perform those songs rather than just play them."
There's a fair chance of new Skids material in 2019, with Bruce revealing they've been stockpiling songs. "It's just a matter of timing," he says.
"The nature of the beast is we're always writing so we've got a few that we've kept back. Jamie and I come up with the musical ideas and we send them down to Richard and he'll come up with lyrics and we'll get together and work it out. It's really quite easy working with Richard. He's very enthusiastic."
The sold out Fife show will also include Big C playing 1983's debut album The Crossing in full. "Most of our normal live set's from that album, because it was quite successful and had a few hits on it," says Bruce.
"The album tracks we had to relearn are songs we've played live before so it wasn't difficult at all. Everything on The Crossing we played live for months before we recorded it, whereas the second album Steeltown was written in the studio and we hadn't really played any of those songs live until we recorded them."
Dundee tickets are £29.81 via ticketweb.uk.
*** Edinburgh-based Blondie tribute Dirty Harry play Clarks On Lindsay Street on Sunday from 4pm. Tickets £11.07 from Clarks, Groucho's, Assai Records and Eventbrite.
*** Conroy's has a benefit show for Dundee Foodbank tomorrow. It's £2 or a grocery donation to see local noiseniks Waxwork Monologue and Houdini Said No. Doors open at 8pm.
*** Up-and-coming Fife bands are up for a PJ Molloys crack at glory. Mod rockers Beatnic Prestige plus Paris Street Rebels and Dogtooth play tonight, with euphoric pop four-piece Moonlight Zoo on tomorrow. Tickets £6.95 each night via Ticketweb.
*** Perth rockers Parliamo play a hometown gig at the Green Room on Boxing Day. It's pay at the door.
*** Perth's Loft has Freddie Mercury tribute PJ Moore next Friday from 8pm. Tickets £10 from That Bar or online.
*** Number 57 hosts acoustic troubadours The Collective tonight, then Itchycoo Park and Chain Gang tomorrow with Bedrock plus guests on Sunday.
*** Punk popsters Cherry Bombz play Admiral Bar (Sunday) and Glens Bar (Boxing Day).