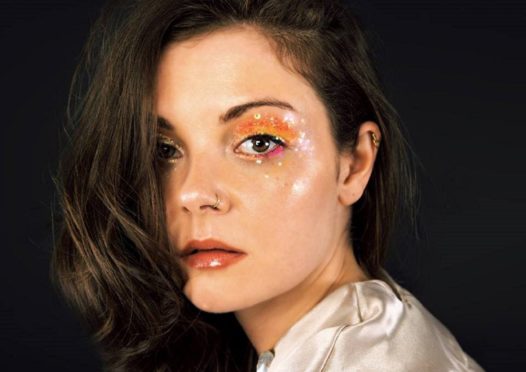 A host of cult bands are on their way to the Solas Festival in Carse of Gowrie.
The 10th edition of the three-day multi-arts extravaganza — making its debut at Errol Park following a flit from Tibbermore — is being headlined tonight by Skye electro-Gaelic fusion Niteworks. Top billing tomorrow goes to Ghanaian rapper Kobi Onyame, whose innovative offering Gold was shortlisted for last year's Scottish Album of the Year title, with Honeyblood stalwart Stina Tweeddale set to perform tracks from her new In Plain Sight opus, along with earlier favourites in a festival-closing solo set on Sunday.
Other highlights include award-winning Scots hip-hopster Solareye, Glasgow pop duo Hyyts, leftfield songsmith Kapil Seshasayee, Supa & Da Kryptonites, Martha Ffion and Beerjacket, with Deacon Blue's Ricky Ross hosting one of Solas's many discussion events. There's also an eclectic trad presence, with sets from the likes of psych-folkster Lizzie Reid, Radio 2 faves Josie & Pablo, Brighde Chaimbeul and Jessica Danz. Ticket details are at solasfestival.co.uk
*** Punk legend Rat Scabies takes a seat away from the drums at Beat Generator next Friday.
The ex-Damned sticksman's heading to North Lindsay Street for a chat plus Q&A session. Practical joker Rat — real name Chris Millar — will talk about life in the iconic outfit with the focus firmly on tales of excess, anarchy and his part in the genesis of a game-changing musical movement.
After starting out in London SS with future Clash star Mick Jones and Generation X's Tony James, he formed The Damned in 1976 with bandmate Brian James, plus Dave Vanian and Captain Sensible. A dispute over the release of eighth album Not Of This Earth led to Rat's departure in 1995 and he's since worked with a diverse host of collaborators.
Tickets £11.50 from Grouchos and Tickets Scotland.
*** American songbird Nell Bryden plays Kinross's Green Hotel tonight.
The Brooklyn-born performer debuted with 9/11-inspired Day For Night in 2003 but it was 2009's sophomore set What Does It Take that caused her career to take off big-time. Bryden's 2012 singles Buildings And Treetops and Sirens — later covered by Cher — from third album Shake The Tree were Radio 2 staples and she cemented her reputation with MOR long-players Wayfarer (2014) and Bloom (2017).
She's returned to the fray this year with a new EP showcasing the impressively haunting Smoke In My Heart. Tickets £23.60 via Ticketweb.
*** Hair metal throwbacks Lixx rock Beat Generator tomorrow.
The Dundee combo — who operated as Dum Dum Boys then Circus Of Hell in their early days — threatened a big breakthrough in the late '80s and drew comparisons to legends as The Rolling Stones, Kiss, Bon Jovi and Guns 'N' Roses. Fronted by Jo Doll, they released a mini album, Loose On You, in 1988 before later morphing into Sons Of The Shaking Earth.
The reformed four-piece have teamed up with Demon Doll Records to reissue their debut on CD with added bonus tracks. Tickets £5.80 from Grouchos and Tickets Scotland.
*** Irish folk-rockers Goats Don't Shave are at Clarks on Wednesday.
Boasting powerful vocals, stirring fiddle and a neat line in witty anecdotes, GDS are renowned for their dynamic live shows. Led by singer-songwriter Pat Gallagher, they emerged in the early '90s scoring top ten singles and a platinum album in Ireland.
The Goats' seventh album Out The Line was released last year. Tickets £21.91 via Eventbrite.
*** A bumper line-up of bands play a fund-raiser at Church tomorrow.
The Kevin Hughes memorial gig — with a donation going to Dundee's Reconnection Project — features the likes of ska exponents Root System, The Medinas and The Law's Stuart Purvey and Simon Donald. Tickets £5 from Grouchos and Assai Records.
*** Sinderins duo Dave Webster and Stevie Anderson are joined by Dundee and Angus College talents Lonely Bones — aka Gillian Dhlakama — Alan Muhyaldeen, Eugene Ritchie and Miss James at Clarks on Monday. Tickets £11.25 / £5.92 (concessions) via Eventbrite or Clarks.
*** Northern Irish indie trio Two Door Cinema Club launch their latest album at Fat Sams on Tuesday. Tickets from the gig's promoters Assai Records.
*** London alt-rockers Chapter And Verse, Perth noiseniks Sky Giant and Dundee outfits Vena Amoris and Howlett play Church on Monday. Tickets £7 online.
*** Breaking Dunfermline rockers The Moon Kids are on home turf at PJ Molloys tomorrow. Tickets £6.95 via Ticketweb.
*** Cherry Bombz hit Old Bank Bar tonight, then McDaniels and Rewind tomorrow and Cookies and Klozet on Sunday.
*** It's Oasis tribute Stop The Clocks at Beat Generator tonight. Tickets £9 from Grouchos or Tickets Scotland.
*** Number 57 has Bedrock tomorrow and Kelly's Heroes on Sunday plus an open jam.