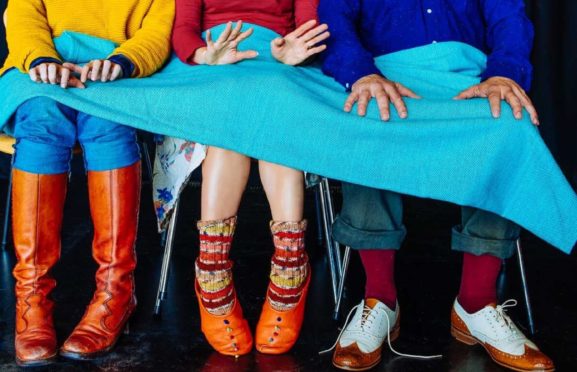 Physical theatre exponent Magdalena Schamberger draws on three decades of experience in Curious Shoes.
The Austrian-born co-founder of Scottish therapeutic clowning charity Hearts And Minds is best known for her globally influential Elderflowers programme, which enables people with dementia to tap into happy memories and reawaken positive associations in their lives.
Premiered at Edinburgh's Festival Theatre Studio in 2017, the part-improvised Curious Shoes plays out as a curious voyage of discovery led by four cast members whose roles are each loosely anchored to an iconic character from the golden age of cinema — Fred Astaire's Dick Avery in 1957 musical rom-com Funny Face, Bette Davis as Charlotte Vale in 1942 drama Now Voyager, Charlie Chaplin's Tramp in 1931 silent classic City Lights and Moira Shearer as Vicky Page in Powell and Pressburger's The Red Shoes (1948).
Magdalena's inspiration for Curious Shoes came from observing people in advanced stages of dementia whose curiosity about another person was sparked by noticing their footwear while sitting or lying down. She realised that the more unusual the shoes, the more their interest was aroused, and conceived the fun piece from this unique viewpoint.
Her concept was further developed by a diverse group of performers in collaboration with a focus group of experts — people affected by dementia and those caring for them — and started life as a week-long creative residency at a rehearsal studio in Wales.
Exploring issues and ideas on how to fashion safe and stimulating environments for dementia sufferers, the delightfully simple yet amusing performance uses dance, live music and minimal dialogue to challenge assumptions about the creative potential of its target audience and their contribution to society.
The ex-Hearts And Minds artistic director — who works closely with dance artist Cai Tomos — devised Curious Shoes' structure in such a way as to allow the audience to become its co-creators, with its colourful characters being initially introduced outside the performance space. As an extension of this physical connection, the actors guide the audience members into the theatre where they take their seats within the set at cabaret-style tables.
Underlining the play's interactive aspect, each character is introduced through choreographed movement, music and rhythm at the start of the "official" performance, with all present later invited to join the cast to dance to the supremely apt song These Boots Are Made For Walking at its finale.
Magdalena sums up Curious Shoes as being about moving beyond memory and living in the moment.
"There's no obvious pressure to follow a storyline, however the scenes and evocative images are loosely connected to create a thread," she explains.
"Small audience numbers and an intimate performance space enable us to connect with each audience member as an individual and inspire moments of enjoyment, stimulation, communication and sociability."
Curious Shoes is at Dundee Rep from June 3-4.