As Dundee Rep celebrates its 80th anniversary, Michael Alexander hears from staff about how the theatre is helping to shape the world through ideas and stories.
With his grinning face of joyful laughter on one side and look of absolute despair on the other, the theatrical emotions of comedy and tragedy were brilliantly captured on the Oor Wullie Big Bucket Trail statue that stood outside Dundee Rep all summer.
Wullie's Big Night At The Theatre, created by Viktoria Begg, Leila Kalbassi, Kenneth Macleod and Keiron Sweeney, celebrated the 80th anniversary of the Rep with a design symbolic of years gone by, the buildings the company has called home and the creativity it has shared with its audiences.
A wrap-around of colourful tickets illustrated the pathway of the theatre from its foundation just five days after the outbreak of the Second World War in 1939 to the present day.
But as the theatre marks its 80th anniversary this weekend while also celebrating 20 years of its resident acting ensemble and 10 years of Enterprise @ The Rep – an annual two-day work experience programme for high school pupils in Dundee – perhaps the most striking symbolism from the statue's design was how it embodied a theatre which is proud to be part of the city of Dundee – a theatre entrusted to the city by and for its people. 'Oor' theatre if you will!
The list of 'big names' who've treaded the boards at Dundee Rep over the decades is certainly an impressive one.
Richard Todd, Rowena Cooper, Lynn Redgrave, Brian Cox, Jill Gascoigne, James Bolam, Michael York, Alan Cumming, David Tennant, Joanna Lumley – and the late Geoffrey Hayes from cult children's TV show Rainbow – are just some of the stars who've cut their teeth in Dundee over the years – even if some of today's staff are too young to remember many of them!
However, as far as today's Rep team is concerned, without the visiting public and its engagement with the community, the theatre would be nothing.
Rob Currie, 30, is one of the Rep's visitor services supervisors.
Raised in Hawick, he moved to Dundee to study web design at Abertay University.
He started at the Rep in 2014 as a visitor services assistant – ushering shows.
Having never seen a professional play before he sat up the back of the auditorium on his first night to watch The Glass Menagerie, he remembers being "amazed" by the giant 'shoebox' set that lifted off the stage – and hardly watched the audience at all which he was being paid to do!
He quickly settled in to the team, however, and came to appreciate what the Rep means to generations of theatregoers – including its efforts to reach out to non-theatre going youngsters in more deprived parts of the city.
"It's nothing without the people in it, and that's not just the staff – that's the audience," said Rob, who presumed, wrongly, in the past that theatre was "too expensive and not for me".
"People come in all the time. Maybe they've not been for a while but they talk about the show that they came to see as if it was yesterday.
"Maybe they only come every Christmas, but they've got their seats they like to sit in every Christmas.
"When we had our coffee morning a few months ago (to launch the 80th anniversary year) we had a lady come in who had been coming to the Rep since it was at Nicoll Street.
"She was coming to see things as a kid there.
"For a lot of people it is their theatre where they come to spend their time and enjoy themselves."
Rob said there's such a lot of change ongoing in the theatre industry. But what's "unique" at the Rep is that because there are ensemble members who've been there 20 years and a lot of staff who've been there a long time as well, it means that when the public – and performers – return to the venue, there's that element of consistency and continuity that people like.
The Rep's outreach work with young people in deprived parts of the city is a "huge part" of what they do. It's a constant challenge, as people with no theatre background can feel intimidated about stepping over the threshold for the first time – somehow presuming, wrongly, it was too expensive or not for them, he said.
But a lot of what the Rep team does is try to challenge that and hopefully get the message across that everyone is very welcome.
Rob, who is also interested in writing and was "privileged" to take part in the Rep Stripped festival of theatre in April, particularly enjoys it when he finds out how complicated stage sets work and likes to "give back" the information to the audience.
"When you've got kids coming up to you buying ice cream at the interval and they are like 'how does that work?'" he said.
"That's a fine line because sometimes you want to sustain the magic of it, and then sometimes there are kids who genuinely won't sit down again until they understand how that has happened. It's nice to be able to tell them because you are hopefully sparking a fire in them.
"Maybe these are the kids that are going to go on and design those sets in the future or do that amazing costume that turns into something else?"
Head of programme and planning Amanda Barnett has worked at the Rep since 1991.
The 46-year-old former Tayport Primary and Madras College, St Andrews, pupil started off as an administrative assistant with the then Dundee Rep Community Drama and Dundee Rep Dance Company.
She eventually became senior administrator with the Scottish Dance Theatre, company manager, general manager and took up her current post a couple of years ago.
Aside from once playing Tallulah in a Tayport Amateur Dramatic and Musical Society production of Bugsy Malone as a youngster, she has no theatrical experience.
But while she's reluctant to use the cliché that the staff and creative team are a 'family', she said it's always been an incredibly welcoming place and everyone – no matter what their role – will always go "above and beyond" to support colleagues with no two days ever the same.
"I was in awe when I came here," she said, reflecting on her 28 years of Rep employment.
"The one thing that's remained consistent all the way through – which is going to sound daft – is it still smells the same!
"I can walk in the door some mornings and I get the same smell I got that first day. That does things with your memory doesn't it? That's nostalgia. I remember sitting in the first show I saw when I got the job here just being completely in awe."
Stand out show for Amanda include Peer Gynt, Cabaret and the first ensemble performance of A Midsummer Night's dream. She also remembers her first Rep Christmas party in the early 1990s with a young then unknown actor and future Doctor Who David Tennant.
In terms of building and location, Dundee Rep has seen it's fair share of change over the decades.
Formally established by touring company manager Robert Thornley and the Dundee Dramatic Society on September 6, 1939 at a time when a lot of Dundee's theatres had closed down and been turned into picture houses and music halls, the Rep's first production Hassan was staged at the refurbished Forrester Halls on Nicoll Street in December that year.
There was weekly rep in those early days – frequented by many billeted armed forces looking for an artistic outlet during the heat of the Second World War.
It was heat of a different kind on June 1 1963, however, when the Nicoll Street premises were gutted by fire. A brief stint at the Palace Theatre and under canvas at Camperdown House was followed by a short stay at Lochee Road.
The scheme to develop today's purpose-built theatre on a plot of land at Tay Square – gifted by Dundee University – saw the modern premises open in 1982 after a well-supported fundraising campaign.
But despite reports last year that the Rep was looking to leave Tay Street, Amanda reiterated this was "definitely not" the case.
"We are completely invested in this building," she said. "We are actually looking at capital campaigns to what can be done because things are getting tired. We need to invest in this. It needs an investor.
"With the appointment of Liam Sinclair as executive director and he and artistic director Andrew Panton co-CEOs, we have started an estates strategy group so we are beginning to look at all that sort of thing."
Rob added: "It's a big investment to make improvements to the building. But if people want to support the Rep to help us achieve that, the best thing they can do is come to see a show. And if they are not going to come and see a show, tell their friends to come and see a show!"
Forthcoming programme highlights include Peyter Arnott's Tay Bridge – a brand new play that launched last week and runs until September 21 – that tells the stories of those caught in the famous bridge disaster of 1879; A-Z of Dundee, directed by Ewan Donald, which tells the "mostly true" history of Dundee from October 2 to October 12, and Oor Wullie which runs at the Rep from November 23 to January 5 before touring the country in 2020. The story of legendary former Dundee United manager Jim McLean will also be told in Smile from February 18 to March 7.
Rep artistic director Andrew Panton said: "Dundee Rep was founded just five days after World War Two began at a moment of imense global significance when the need of artistic expression and reflection were all too real.
"In another 80 years time, we will be on the cusp of the 22nd century. We believe that over the coming years, organisations like Dundee Rep and Scottish Dance Theatre will be vital in helping to shape the world through the ideas and stories that we create, present and engage in."
* Dundee Rep theatre foyer and café bar is hosting a Rep at 80 exhibition featuring original programmes, posters, scripts, photographs and other items. The exhibition is on display until Saturday September 21 and entry is free of charge.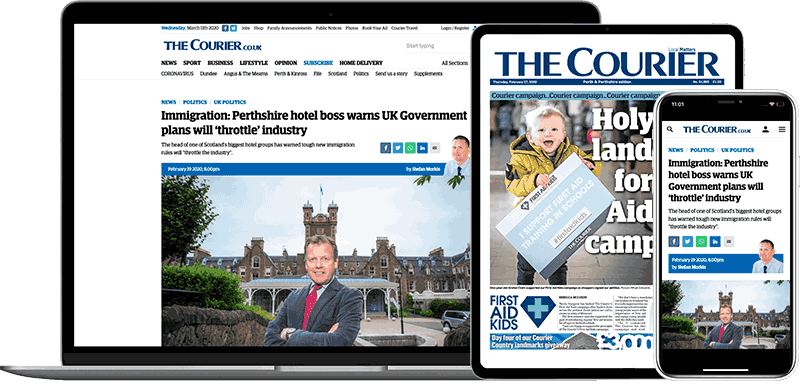 Help support quality local journalism … become a digital subscriber to The Courier
For as little as £5.99 a month you can access all of our content, including Premium articles.
Subscribe