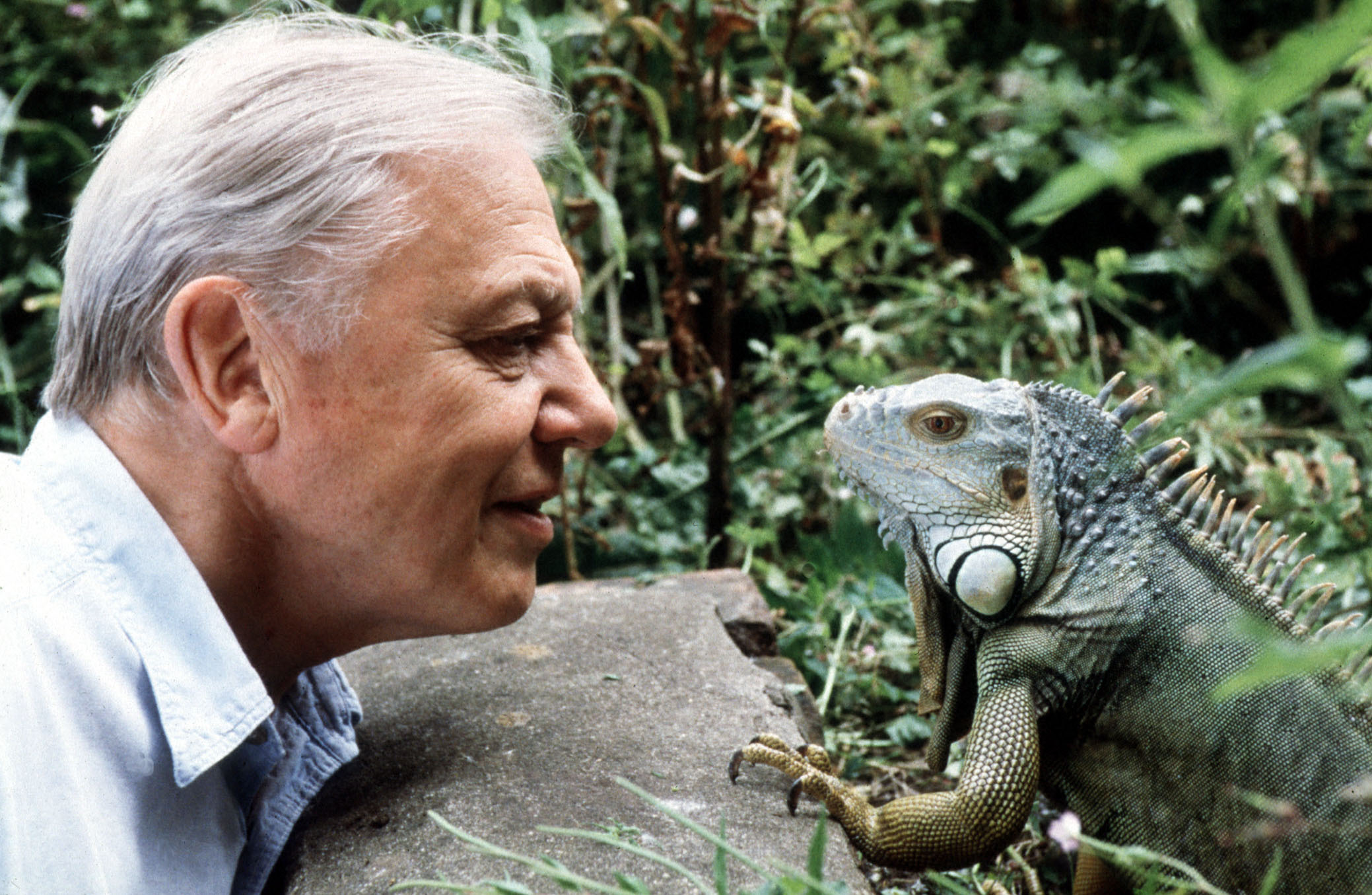 Attenborough at 90: Sunday, BBC One; Upstart Crow: Monday, BBC Two
This year marks the 90th birthday of a truly beloved British monarch, whose regal humility and tireless dedication have enriched millions of lives around the world. I am of course talking about Sir David Attenborough, the reigning king of Natural History television.
It's impossible to avoid hyperbole when discussing Attenborough, because quite simply he deserves it. How many people can claim to have fundamentally changed the way we see the world? How many broadcasters are synonymous with the evolution of television itself? A serene emblem of the BBC at its world-beating best, his natural ability to communicate and inform is second to none. He's one of the greatest broadcasters in the history of the medium, and we'll almost certainly never see his like again.
So no wonder the BBC has gone all out in celebrating his 90th summer on Earth, a planet he's taught us more about than anyone else in his field. The centrepiece of their ongoing season of archival treats was Attenborough at 90, an affable, touching, studio-based salute hosted by another consummate broadcaster, Kirsty Young.
Sprawled on a couch like a slightly crumpled yet still-spry deity, Attenborough was in delightful raconteur mode as he regaled the audience with a welter of anecdotes.
While all the usual clips were present and correct – let's face it, we'll never tire of those gorillas – the programme also served as a reminder that Attenborough was a pioneer, not only in the field of conservationism awareness and – in tandem with his peerless backroom boffins – technological advancements in Natural History filmmaking, but also across every genre of television via his progressive stewardship of BBC Two in the '60s.
Initially hired by the BBC as a producer, he basically fell into presenting by accident. Had he not decided to focus his energies on hosting documentaries, he would've probably ended up as Director General at one point. Executive management's loss was a grateful nation's gain.
Though he shows no sign of slowing down as such, Attenborough's skill as a presenter is, alas, a dying discipline. Always devoted to his subject first and foremost, his programmes are never about him. He's an informed guide, a benign teacher, a beacon of integrity and passion. The man owns a dinosaur egg, for heaven's sake. Need I say more? Happy birthday, your Lordship.
Following the catastrophic disaster of The Wright Way – a sitcom so hackneyed it felt like a parody – it seemed that Ben Elton had finally lost it for good. A prolific talent in his '80s pomp, the man who co-wrote classics such as The Young Ones and Blackadder had since become a byword for selling out and treading water; a sad shadow of his former self.
So, you could've knocked me down with a pig's bladder when I found myself laughing – actually laughing! – at Upstart Crow, his breezy new sitcom starring David Mitchell as a hapless William Shakespeare.
Swathed in welcome traces of Blackadder, it plays to his strengths via ridiculously wordy, witty dialogue, knowingly farcical contrivances, winningly broad performances and even – via genuinely pointed swipes at the Oxbridge mafia – a little bit of politics (yes indeed, ladies and gentlemen).
It's funny, intelligent, self-aware and clearly the work of a re-energised writer who, for obvious reasons, feels he has something to prove again. It's as if the real Ben Elton has suddenly woken up after 25 years in a nightmarish trance. A remarkable comeback.
Next week
Going Forward
Thursday, BBC Four, 10pm
A sequel to Jo Brand's BAFTA-winning NHS sitcom Getting On, this typically funny, wise and compassionate gem follows Kim Wilde (Brand) over three hectic days as a community nurse and cash-strapped mum. Omid Djalili plays her loving husband, Dave, a struggling chauffeur.
 Zoo Quest in Colour
Tuesday, BBC Four, 9pm
The Attenborough tributes continue with this fascinating treasure trove of previously unseen colour footage from his ground-breaking '50s nature show. Together with cameraman Charles Lagus, he looks back with astonishment at their often wildly dangerous, youthful adventures.
 The Truth About Dementia
Thursday, BBC One, 9pm
Angela Rippon, who lost her mother to Alzheimer's, presents this well-researched study of dementia in the UK. She encounters families who carry a gene for early onset Alzheimer's, which could prove invaluable in providing a cure for this devastating condition.
Love, Nina
Friday, BBC One, 9.30pm
Set in 1982, this Nick Hornby adaptation of Nina Stibbe's popular comic novel stars Helena Bonham-Carter as a forthright single mum who hires a female childminder researching an article for London's Literary Review. The family she meets give her the article of a lifetime.
Film
Tootsie
Monday, Film4, 6:40pm
Despite the farcical premise – struggling actor disguises himself as a woman to star in a hit daytime soap opera – this classic comedy is a thoughtful, sophisticated delight. Dustin Hoffman is outstanding in his dual role: Michael is a self-mocking riff on his real-life reputation for method exactitude, while Dorothy "Tootsie" Michaels is – far from being a cross-dressing grotesque – a sincere vessel of female-empowerment. They don't make 'em like this anymore: a smart, tender, funny mainstream comedy with real satirical bite.