As TV programme makers reveal they want to build a model railway across 74 miles of the Great Glen, Michael Alexander investigates the appeal.
It's a hobby that has been maligned as the dull cousin of trainspotting and the last refuge of middle aged men building their models in attics and spare rooms.
But model railway enthusiasts could soon be portrayed in a whole new light amid ambitious plans to lay a model railway track along Scotland's Great Glen.
The bid, to be filmed for a TV show, involves laying 74 miles (119km) of track from Fort William to Inverness.
Love Productions, the programme makers, hope the "slightly bonkers" undertaking will be as popular as its Great British Bake Off, which made a star of Perthshire's Flora Shedden.
Engineers and construction workers have also been sought for the project.
Construction is planned for two weeks over the summer and is to be filmed for Channel 4.
The working title for the show is The Biggest Little Railway in the World.
Producer of the project, Charlotte Armstrong, told BBC Radio Scotland's Out of Doors programme the new show would celebrate British enthusiasm for model railways.
She said: "It's massively ambitious. We want to bring together Britain's model railway enthusiasts and all the different skills they have, but also local volunteers, engineers and people with construction experience."
It's easy to mock model railway enthusiasts.
But pop along to one of the model railway exhibitions that are staged in public halls across our area from time to time, and who can fail to be impressed by the level of detail that enthusiasts put into the construction of their model landscapes – from buildings, streets, bridges and signal boxes, to intricately painted papier-mache hills.
The hobby has also been given credibility by a number of celebrities including Rod Stewart, Jools Holland, Roger Daltrey and Pete Waterman who have admitted recently that they enjoy building and playing with model railways.
However, Victor Burne-Jones, 73, chairman of Dundee Model Railway Club, thinks model railway enthusiasts are still unfairly portrayed as "geeks".
And the Status Quo fan is sceptical about the "daft" Channel 4 programme proposal because, from a purist's perspective, he doesn't see how a 74 mile long model track would work.
"For me the hobby is a sort of follow-on from being a kid and wanting to be a train driver 60-odd years ago," explained the former Dundee jute mill spinner.
"When the steam trains disappeared, the only way to still see them was to recreate them in model form.
"But I think the programme that's being talked about is just daft. That length of model rail track just wouldn't work under ordinary circumstances.
"James May off Top Gear did a 20-mile railway model a year or two ago, and they had to plug in car batteries every so often to make it possible.
"In my opinion, a 74-mile track could never be described as a model railway. "Where would they plug in their soldering irons for a start?
"The salt air would also oxidise their track. I would have no interest in getting involved."
Victor and his colleagues pride themselves on a lot of planning and research to their sets.
They are currently building a detailed scale model of Arbroath Station and are researching plans to build a model of the former Lochee Station.
Mike Hughes, marketing director for the British branch of the National Model Railroad Association (NMRA) believes that constructing model railway tracks is a "hobby that transcends generations" and encourages people to nurture a wide range of skills as problem solvers.
"People think that they're toys," he said, "but it does take a great deal of skill. They're anything but toys these days, with digital command controls (DCC) and such things."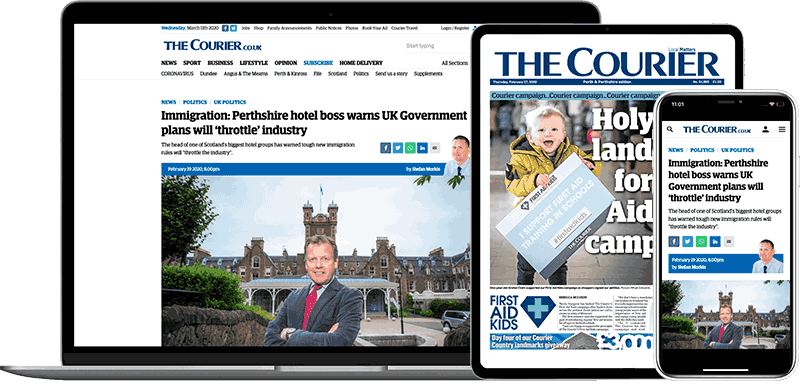 Help support quality local journalism … become a digital subscriber to The Courier
For as little as £5.99 a month you can access all of our content, including Premium articles.
Subscribe