As the Scottish BAFTA winning film Tommy's Honour receives its UK premiere in St Andrews – the Home of Golf – Michael Alexander speaks to the film's American producer Jim Kreutzer about the powerfully moving true tale of St Andrews-born father and son golfing legends 'Old' Tom and 'Young' Tommy Morris, who pioneered the modern game.
From street names to sports shops and restaurants to pubs, you don't have to stray far from the famous golf links of St Andrews to find reminders that this is the Home of Golf.
But perhaps one of the most remarkable settings is the cemetery within the ruins of St Andrews Cathedral which contains the graves of more former Open champions and their families than any other place on the planet.
From the historic headstones commemorating Bob Martin, Hugh Kirkaldy and Sandy Herd to the sadly unmarked resting place of Jamie Anderson, it is a unique site filled with reminders of noted figures from the town's past and local golfing legends from the 19th and early 20th centuries.
The monument which stands out most, however, is the striking memorial for four times Open champion "Young" Tommy Morris – the working class lad from St Andrews who became one of the world's first sports superstar, before dying in his home town at the age of just 24 in 1875.
In front lies the grave of his St Andrews-born father 'Old' Tom Morris – himself a four-times Open Champion – who tragically outlived all of his children before dying aged 86 in 1908.
An influx of enthusiasts are expected to pay their respects here following the UK  premiere on Friday June 30 of the new Scottish BAFTA-winning movie, Tommy's Honour, at the NPH Cinema in St Andrews ahead of its general release at UK cinemas on Friday July 7.
Coming a year after the film's world premiere at the 70th Edinburgh International Film Festival and the US launch in April, the drama, filmed in St Andrews and elsewhere in Scotland in 2015 is based on the true story of  'Old' Tom's relationship with his son.
Award-winning actor Peter Mullan (Sunshine on Leith) and Olivier winning Jack Lowden (War & Peace) take on the roles of father and son.
The pair lead an ensemble cast, including Sam Neill (Jurassic Park) in the role of Alexander Boothby, in a retelling of the family saga.
One man looking forward to Friday's red carpet premiere, hosted in partnership with the Old Course Hotel, Golf Resort and Spa, was the film's producer Jim Kreutzer.
The American, with 25 years' experience in the film industry, is driving with his sunroof down on a beautiful morning in Illinois when he tells The Courier the remarkable story of how the film came about.
"In 2010 a friend of mine was diagnosed with a terminal disease – ALS (Amyotrophic Lateral Sclerosis) – and, as we were both golfers, I decided to bring him on a 'bucket list' trip to play golf in St Andrews," explained Jim, who plays off an eight handicap and whose dying friend is remarkably still alive.
"As part of the trip I bought a CD of Scottish music as we were driving around and I bought a copy of the book Tommy's Honour to read – to immerse ourselves in the history of golf in Scotland and to make the trip more special.
"So we went to St Andrews and had a wonderful experience in Scotland. I of course loved the book.
"But I could not understand why no one had made this into a film because it was such a great story."
Recognising the opportunity, Jim, called the author Kevin Cook when he got home to the States. He was told the film rights were still available and, over the next two years, set about researching, developing and fundraising for the movie.
"Eventually I cold-called Jason Connery who turned out to be our director and good friend now, and hired him," added Jim.
"He read the book, he 'got' the story – that it was not a golf story – that it was a relationships movie and about a somewhat iconic family in Scotland."
He then interviewed producers and hired Kevin Cook and his wife to write the script. He and Jason had already secured Peter Mullan without an audition – knowing that he was "the one" to play Old Tom.
By 2015, they were finally ready for a "very aggressive film shoot" over 33 days at 55 locations in Scotland – including St Andrews, Dunbar and Musselburgh – and all within 1.5 hours of the cast and crew's base in Edinburgh.
"When you have an independent film production you don't really want make too many big moves unless you have to," explained Jim.
But they had already ruled out using the famous Old Course at St Andrews for any of the film's golfing scenes.
"We didn't use St Andrews golf courses at all really," he explained.
"We used a couple of holes at the Castle Course at St Andrews. We also used the harbour.
"We thought about using the Old Course, but the reality was it was too manicured, too busy, too expensive and it would never have worked for us anyway. There's no blade of grass that's shorter than the other at St Andrews these days. We needed somewhere that looked unkempt and rough – like the course would have looked in the 19th century.
"So all the golf was filmed on a little course called Winterfield, right outside of Dunbar.
"We also used a small area of links land near Balcarres, south of St Andrews (near Colinsburgh), which was actually a cow pasture.
"At one time it was talked about being developed as a golf course but never happened. Our location people actually turned the cow pasture into a golf course for the movie. We created a simulation of part of the R&A clubhouse as it was in the 1870s. We 'green-screened' around it and recreated the 18th green and the first tee of the Old Course. We also built a copy of the Swilcan Bridge.
"We used the Firth of Forth for our opening scene which is the opening shot.
"We were there for probably 10 days."
Jim, who was grateful for the support of the R&A, St Andrews Links Trust, Visit Scotland, Scottish Government, and others,  said right from the start he was "very humbled" by the possibility of making the film.
The key for him was to be respectful of the Morris family and history.
"I asked myself quite a few times what gave me the right to do this," he reflected.
"I did not want to come across as an American who would bully his way through. That I have all the money and I'm going to do what I want.
"I think once they realised I understood what the Morris family meant to Scotland, and I understood what Scotland meant to the Morris family, I think they were very embracing and they were very helpful."
Jim says the film has been marketed in the USA as a golf movie. But he favours the approach being taken by the Lionsgate distribution company that in the UK that it's a "relationship movie with golf as the background".
"I always felt that the human part – the life and death tragedy, the true story that existed – is the crux of the story," he added, "and for that we can thank Jason Connery, as director, for making it work.
"He's very personable. He trained as an actor – obviously he is the son of an actor – so he also understands what an actor wants."
St Andrews-based golf historian and author Roger McStravick who won the 2015 United States Golf Association's Herbert Warren Wind Book Award for his book, St Andrews in the Footsteps of Old Tom Morris, said: "If you walk up North Street in St Andrews you have the former dwellings of something like 12 Open champions, US major winners and an Amateur Championship winner from that late 19th century/early 20th century period.
"What was most remarkable however, is that these were all local guys from what was then the poorest part of town at the east end of North Street. Golf was their life.
"The Morris story, of all those major winners, is the most poignant. Father and son who were the best golfers of their generations and yet suffered such tragedy in the family. St Andrews is known as the Home of Golf but it is also the Home of Champions."
Manuela Calchini, Regional Director at VisitScotland, said: "Old Tom Morris is known as the Grandfather of Golf, while Young Tom was the game's first superstar, so their sporting legacy is immense. Tommy's Honour will help to highlight their unique contribution to Scottish history, helping to cement the worldwide reputation of Scotland as a whole – and St Andrews in particular – as the Home of Golf.
"One of Scotland's most famous exports, golf tourism is worth £286 million to the Scottish economy with almost 750,000 visitor rounds played every year."
David Morris, managing director of the New Picture House, said: "It is fitting that the premiere should be held here in St Andrews, Old Tom Morris' home, and particularly as the house where he lived is next door to the cinema."
Old Course Hotel general manager Stephen Carter added: "It's an honour for us to be involved in this.
"Young Tom Morris and Old Tom Morris are iconic in this town with many visitors being taken in by their remarkable and emotional story."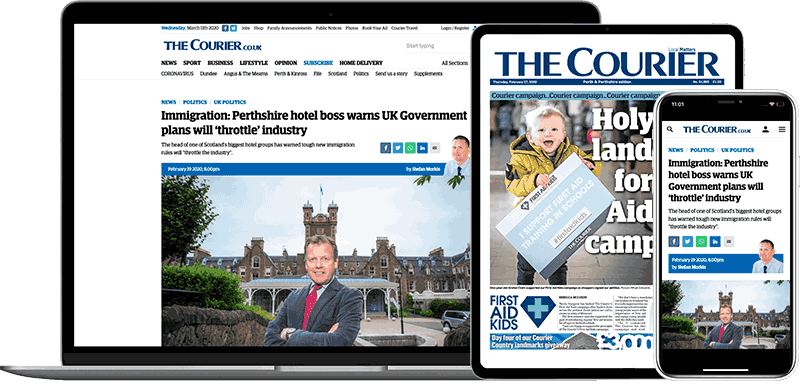 Help support quality local journalism … become a digital subscriber to The Courier
For as little as £5.99 a month you can access all of our content, including Premium articles.
Subscribe