The bittersweet rise and fall of cult the late-Scottish darts hero Jocky Wilson, from Kirkcaldy, is told in a BBC Scotland documentary Jocky Wilson Said. Michael Alexander reports.
He was the legendary Fife-raised double world darts champion known for his heavy drinking and unorthodox throwing style.
But despite his love of vodka and "smoking 20 fags when he went to his bed", cult sporting hero Jocky Wilson from Kirkcaldy was "no alcoholic", according to his friend and fellow darts player Bobby George.
Jocky rose to fame in the 1980's when he won the World Professional Darts Championship twice.
Despite becoming a household name, poor choices and a love of drink meant he left the sport penniless, and he died in 2012 from chronic lung disease, aged just 62.
Now, 30 years after he defeated "Crafty Cockney" Eric Bristow to win his second world crown, a BBC Scotland documentary featuring exclusive interviews with his friends and darts contemporaries has shed new light on the rise and fall of the sporting hero.
George, 73, appears in the hour-long "Jocky Wilson Said", which airs on BBC One Scotland on May 15.
And in an interview with The Courier, George said that while Jocky, who he called John, would become a different person when drunk, he was really "a gentleman".
"A lot of people say 'Jocky he liked a drink – that he was an opinionated alcoholic' or something," said George in an interview from his home in Colchester.
"But he wasn't. He didn't drink when he didn't play darts. When he played darts he did. And the more he drunk the better he got. I remember Eric (Bristow) used to say 'don't keep giving him vodka – he plays too well'!
"The more he drunk the better he got. He'd have three quarters of a pint of vodka and just top it up with Coke and he'd drink it like beer. Unbelievable.
"But that's the way he was. Once he got into it and he had a few beers, and vodkas, John always got going then."
George got to know Jocky "probably better than anyone in darts" as they roomed together at events around the world including the USA, Middle East and Europe.
He used to tell the Fifer to "cut down on the fags" as sometimes the smoke in whatever hotel room they were sharing would be so bad you "couldn't see the toilet door".
"He used to smoke 20 fags in bed at night," he laughed.  "As he was asleep, he'd wake up and strike a match every 15/20 minutes, half a puff, go back to sleep, snore like hell, wake up and have another puff.
"That's what he wanted to do. Today they've got managers and one thing or another. But I don't think they cold control John. He was old school. He did what he wanted to do."
George described Jocky as a "very good darts player who didn't know how good he was".
Describing his style as "terrible" who "threw his darts like a hand grenade", he made up for this by hitting the target and "never knowing when he was beat" – becoming world champion in 1982 and 1989.
But he said it was a "shame" and a "waste" how his old friend rose from humble beginnings on a council estate to become a national treasure, only for him to leave the sport penniless in 1995 and fade back into his old haunts in Kirkcaldy.
"John's passing was a big loss," said George.
"He wasn't old. He was 62 or something. That's no age – not when you are passed 62!
"He should have been doing things today like talking, doing after dinner speeches, functions, television and things. What a legend. He was a nice bloke. I miss him."
The documentary also features interviews with other friends and darts contemporaries such as John Lowe and Phil Taylor.
Bob Anderson, the 1988 World Darts Champion, told the programme: "He was one of the few people I've ever met in this world who could play darts to a fantastic level when he was roaring.
"His game was explosive and he was explosive as a person. He could change, just like that. There were times when he was not the easiest man to get on with. He was pretty difficult at times.
"Probably an hour later he wouldn't remember who he'd played let alone what the result was.
"The first thing Jocky would do (in the morning) was go round and apologise. He didn't know what he was apologising for but he was sure he'd done something the night before that demanded an apology and quite often it did sadly."
Jocky's friend and former Kirkcaldy pub darts teammate Jimmy Skirving, added: "The drink that he took. I couldn't have done that and played darts, not a hope.
"But Jocky was quite nervous. One tournament he was that drunk he fell off the stage.
"The pressure must have been terrible. Going in to big championships and wondering if he's going to let Scotland down, if he's going to let himself down, or his family, his pals. It must have been hellish, the pressure."
* Jocky Wilson Said is on BBC One Scotland on May 15 from 9pm-10pm.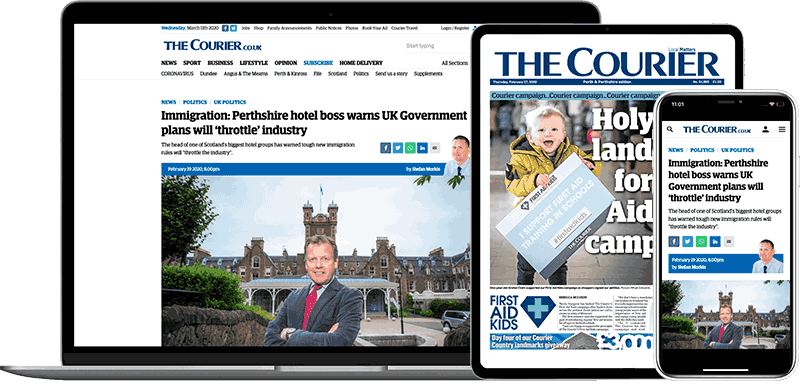 Help support quality local journalism … become a digital subscriber to The Courier
For as little as £5.99 a month you can access all of our content, including Premium articles.
Subscribe