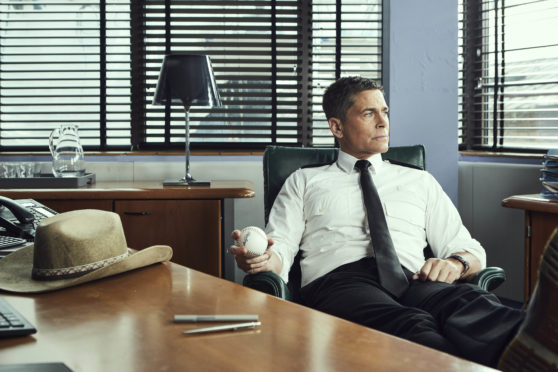 This week, Paul Whitelaw lassos Rob Lowe in a new British cop drama and basks in the smooth sounds of Yacht Rock.
NEXT WEEK'S TV
WILD BILL
Wednesday, STV, 9pm
Just when you thought the world couldn't get any stranger, here's Hollywood actor Rob Lowe in an ITV cop show. He plays a high-flying American police chief who, together with his teenage daughter, relocates to Boston in Lincolnshire. Why? Boston, so we're told, has a worryingly high crime rate, so he's been shipped in to bring down the numbers. If episode one is anything to go by, it makes Midsomer look like Toytown. The tone is all over the place, it bounces messily between laconic humour, bog-standard police procedural shenanigans and gruesome violence, seemingly uncertain of what it's trying to be. Still, the incongruous spectacle of Lowe navigating the means streets of Brexit Britain is something to behold.
THATCHER: A VERY BRITISH REVOLUTION
Tuesday, BBC Two, 9pm
The penultimate instalment of this rigorous examination of Margaret Thatcher's epic reign of terror shows how her stubbornness, hubris and lack of empathy sowed the seeds of her undoing. It begins in the mid-'80s, when rapidly escalating unemployment and unregulated capitalism went hand in hand with rancorous public dissent. Did Thatcher care? She was certainly stung by the criticism, but couldn't understand where it came from. Her lack of self-awareness was astonishing. Nevertheless, she won a third term in 1987. Packed with fascinating reams of rare archive footage, including her uncharacteristically emotional interview with Dr Miriam Stoppard, plus frank contributions from the likes of Norman Tebbit and Neil Kinnock, it's another sturdy chapter in a highly impressive series.
DEATH ROW: COUNTDOWN TO EXECUTION
Thursday, STV, 9pm
Here's a sobering fact: there are currently more American death row convicts being profiled by documentary crews than ever before. In this unsurprisingly grim series, Susanna Reid travels to Huntsville, Texas, the execution capital of America (it even boasts a death row-themed museum). She's there to meet maximum security prison inmate Patrick Murphy, who was once part of a notorious crime gang responsible for the biggest prison breakout in Texas history. This is his final television interview. We also hear from his Buddhist priest advisor and the wife of the police officer he's convicted of killing. However, Murphy didn't actually pull the trigger. Even the pro-death penalty locals Reid meets agree that this broaches a murky grey area.
I CAN GO FOR THAT: THE SMOOTH WORLD OF YACHT ROCK
Friday, BBC Four, 9pm
Though never considered a genre at the time, the slick, soulful Californian pop recorded from the mid-'70s to the mid-'80s by artists such as Steely Dan, Hall & Oates and Michael McDonald has since been defined and re-evaluated as Yacht Rock. In this excellent new series, Katie Puckrik, a devout acolyte, is your informed, charming, erudite guide to a deep blue bay of tidy beards, aviator shades and satin bomber jackets. An array of journalists and academics help her to place this "millionaire's make-out music" in acute historical and socio-political context. They begin by tracing its sensitive singer-songwriter and soft rock roots, when popular music mounted an introspective campaign against the tumult of the '60s.
FILM of THE WEEK
TYRANNOSAUR
Wednesday, Film4, 11:35pm
This riveting character study is not – I repeat, not – recommended for viewers of a sensitive disposition. For those of you who can stomach British social-realism at its bleakest, you'll be knocked out by actor Paddy Considine's directorial debut. Peter Mullan and Olivia Colman are phenomenal as an angry alcoholic and a victim of domestic abuse who form an unlikely friendship. A brutal, unforgettable film.
LAST WEEK'S TV
HER MAJESTY'S CAVALRY
Monday 3rd, STV
That's Her Majesty Queen Elizabeth II, in case you were wondering. Her Household Cavalry, one of the most famous regiments of the British Army, are the subject of this forelock-tugging series. It began with a visit to their prestigious barracks in the heart of London's formidably posh Knightsbridge, where 200 horses and 300 soldiers live and work together hoof by jowl. It also introduced a new batch of recruits undergoing training in Windsor, some of whom have never encountered horses before. There was pomp, there was pageantry, there were mountains of manure. God bless Blighty.
MY GAY DOG AND OTHER ANIMALS
Thursday 6th, Channel 4
According to traditional evolutionary theory, there is no reason for homosexuality in nature. That's nonsense. Animals don't have sex purely to reproduce, they're following natural instincts. They enjoy it. This lively documentary examined the wide-ranging world of same-sex relations between animals. We met a friendly greyhound with no interest in the opposite sex, two female pugs who can't keep their paws off each other, and an evolutionary anthropologist who fully believes that some animals actively pursue homosexual activity. Inevitably, this is too much for some human bigots to handle. Frank, funny and fascinating, it's a must-watch for animal lovers.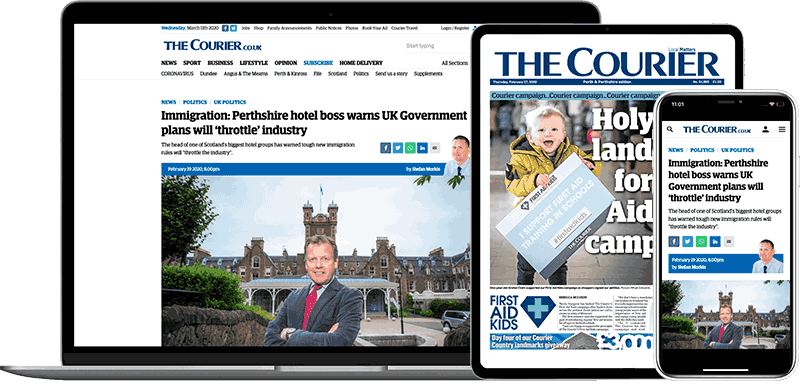 Help support quality local journalism … become a digital subscriber to The Courier
For as little as £5.99 a month you can access all of our content, including Premium articles.
Subscribe