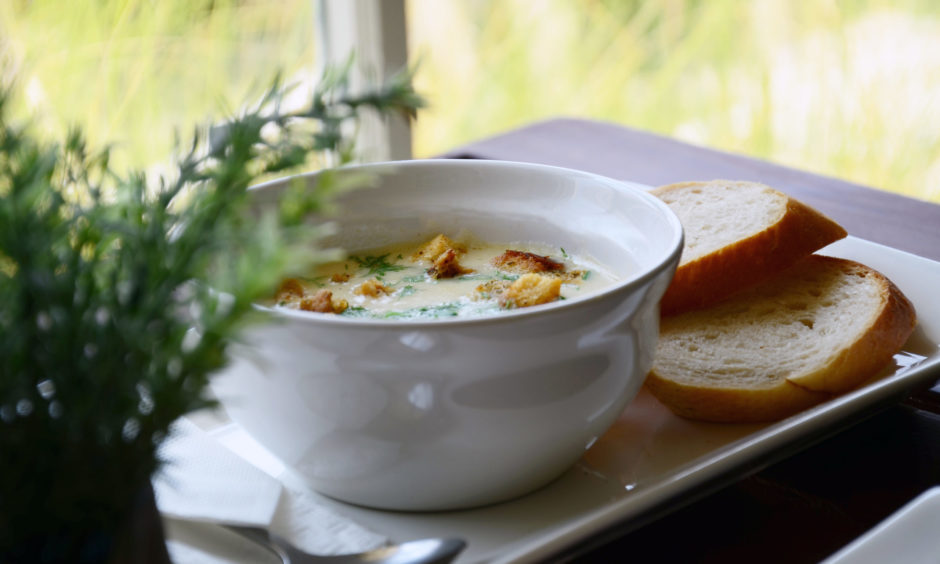 Brian Stormont takes a look back at the origins of what could be regarded as one of Scotland's finest food creations, with a recipe on how to make the ultimate bowl of Cullen Skink.
The geographic origin of one of Scotland's favourite soups is no secret. It was surely just a matter of time before the fishing village of Cullen, Morayshire, which specialised in the export of smoked haddock, would find creative and delicious uses for what was in plentiful supply.
The harbour was built between 1817 and 1819 by William Minto to a design by Thomas Telford, with an additional quay added in 1834.
Robert Southey, the well-known poet and friend of Telford, who travelled the Highlands with him, wrote of Cullen: "When I stood upon the pier at low water, seeing the tremendous rocks with which the whole shore is bristled, and the open sea to which the whole place is exposed, it was with a proud feeling that I saw the first talents in the world employed by the British Government in works of such unostentatious, but great, immediate, palpable and permanent utility. Already their excellent effects are felt. The fishing vessels were just coming in having caught about 300 barrels of herring during the night…"
Although the harbour is now mainly used for pleasure craft work, back then the export of smoked haddock was big business, and at one time Cullen was home to three large curing houses.
A hearty soup
Cullen Skink ticks all the boxes as a traditional Scots dish, being hearty and moreish, but using only simple ingredients that are available everywhere.
Originally meaning shin, knuckle or hough of beef, coming from Gaelic, skink developed a secondary meaning of soup or essence.
Some believe the dish originally used scrapings of beef. However, in the 1890s hard times meant that beef was no longer affordable and the families in the north-east had to look for another ingredient to make their soup.
With the harbour then fully established and smoked haddock in plentiful supply, people turned to their local produce to continue making the dish and thus the delicious soup as we know it today was born.
Food writer Liz Ashworth said that bartering for produce and lack of money meant that while the men went out to catch the fish, the women played a massively important role in ensuring there was food on the table.
"Fisher wives had a big responsibility," said Liz. "They didn't have fridges back then so a lot of fish was smoked, basically by putting it up the chimney. The whole family helped to catch the fish, the women and the children gathered the bait and also helped to make the lines.
"In fact they were also known for taking the men out to the boats. The men had leather sea boots which weren't fit to wear in salty water, so the women piggy backed them out to the boats to ensure the boots didn't get wet or damaged.
"As far as Cullen skink is concerned, they would have to eat what they had. The fisher wives would have a big creel on their backs and go up country and barter because there wasn't much money in circulation. They would have bartered for butter and cream with fish."
Bartering for ingredients
Liz continued: "They would also barter for potatoes which by that time were one of the staples. The reason potatoes became so widely grown was because they weren't so weather dependent as the cereal crops.
The women went to farms and bartered or did exchanges and they would end up with what was growing in the area; potatoes, butter, cream – all things they didn't have.

Food writer, Liz Ashworth
"There were a few disasters that happened especially around the times of Burns. It was permanent winter and all the crops withered and died in the fields.
"If they lost their cereal crop a lot of them starved. That was one of the reasons they started growing potatoes, which were less labour intensive and under the ground.
"The women went to farms and bartered or did exchanges and they would end up with what was growing in the area; potatoes, butter, cream – all things they didn't have.
"Every house had a fire in the middle and they cooked over it with a big metal pot. Whatever they had went in the pot and that was probably the beginning of Cullen Skink because that is what they had."
Story of a great dish
The Cullen, Deskford and Portknockie Heritage Group believe that the soup originated in a slightly different way although parts of the story are similar.
They said: "It all came about apparently when a Cullen couple named Findlay were weaning their young child. His wife often used to feed [the infant] a soup made from skink, a cheap cut of meat from the butcher, and some milk.
"One day being unable to afford the meat she decided to replace it with a piece of smoked fish that was plentiful at the time. When her husband came in from the fishing, she served him some for dinner. She may have wondered whether he would notice the difference, or even like it, but he declared it excellent and inquired what the ingredients were.
"Over the course of time visitors to the house from other villages were served some of the soup and the recipe was passed on.
"When they in turn made it for family and friends and were asked what it was, they answered 'Cullen Skink'.
"There are of course many variations of the recipe for Cullen Skink and indeed heated arguments at times develop over the proper ingredients, but in whatever form it always constitutes a tasty and nourishing soup."
There has always been interest in the dish worldwide, mainly due to ex-pats desperate to try some of the food from their homeland.
And, in fact, Cullen Skink featured on the BBC Food and Drink show, which I talked about in an earlier feature here, in 1999.
Five local ladies battled it out in front of the television cameras to find the "Queen of Cullen Skink".
Caroline Ronald, who runs the Royal Oak Hotel in Cullen, says that locals and visitors alike cannot get enough of the dish.
While many people may believe a dish such as Cullen Skink to be a starter, it is very much regarded as something to be eaten at any time by people in the Morayshire town.
"It is our top seller at the hotel," Caroline revealed. "The recipe itself is very straightforward – it's just onions, tatties, undyed smoked haddock, cream, milk and salt and pepper. It's really basic.
"It's a hearty soup which people eat all the time. It was a great way of using the preserved fish and with Cullen also being a farming area, the tatties and onions were widely available locally.
"It is great for lunch and traditionally served with oatcakes, although some people prefer bread. Oatcakes are popular in the hotel. We sell bucketloads of it and it's a huge attraction for us."
World championships
Caroline finished as runner-up in the 2020 Cullen Skink World Championships hosted at the town's Cullen Bay Hotel in March.
There were two categories – Traditional Cullen Skink and Cullen Skink With a Twist, both of which were won by Margaret Macrae from Buth Bheag at the Kyle of Lochalsh.
Organised by Discover Cullen and celebrating the heritage of the traditional Scottish dish, it was the first time the same person had triumphed in both categories.
Caroline added that the dish could take on a wider significance later this year – dependent, of course, on circumstances.
"We are looking to organise a seafood festival in Cullen based around the dish," she revealed. "It will depend on what the situation is but we have that pencilled in for September."
Do you think you what it takes to be the next Cullen Skink World Champion? You can drop the organisers a line at visit@discovercullen.com and they'll send you the entry forms for the 2021 competition when it opens later this year.
You can try your hand at making this tasty delicacy yourself using our recipe below…
---
Traditional Cullen Skink
(Serve 4)
Ingredients
1 oz butter
3 fillets of smoked haddock (cut into small pieces)
1 large onion (diced)
4 medium potatoes (part boiled and diced)
1 pint of whole milk
4 tablespoons of single cream
Method
Melt the butter in a large saucepan.
Add the onion and smoked haddock and simmer for two minutes.
Add the part boiled potatoes and milk, and bring to the boil.
Cook for two minutes and then add the cream prior to serving.
More in this series
---
It's the original comfort food, but where did Stovies come from and what's the best way to make them?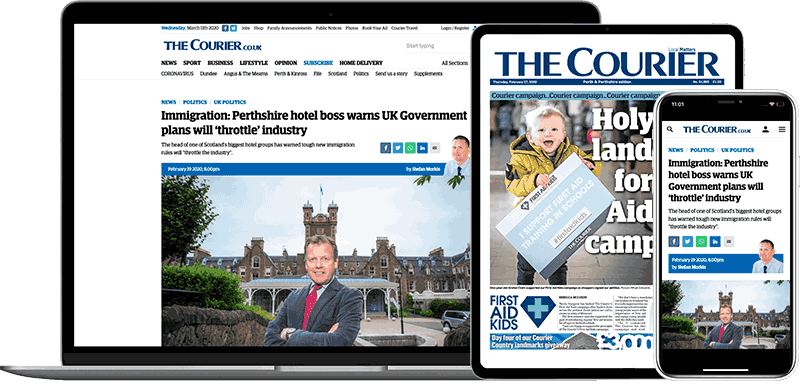 Help support quality local journalism … become a digital subscriber to The Courier
For as little as £5.99 a month you can access all of our content, including Premium articles.
Subscribe