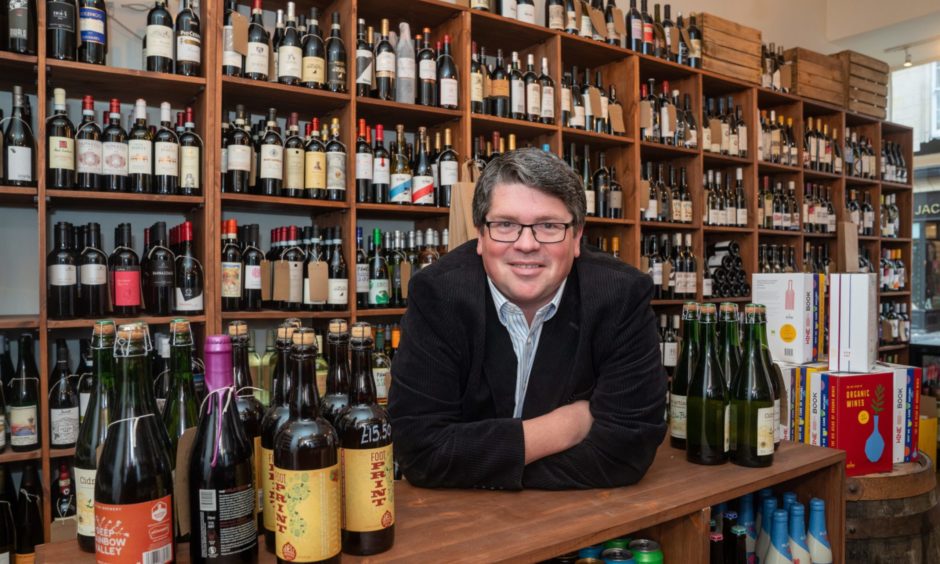 Ethically-produced wine, supporting businesses in lockdown, and not taking life too seriously are all reasons why St Andrews Wine Company has become one of the best in the UK. Rebecca Shearer speaks to owner Peter Wood to discover his recipe for success.
Walking down Bell Street in St Andrews, you'd be forgiven for not realising you were passing one of the UK's favourite local wine shops.
The unassuming storefront may look like any regular wine shop but, upon further exploration, you'll see why St Andrews Wine Company recently won Decanter's Local Wine Shop of The Year award for the whole of the UK.
The shop, which is the brainchild of owner Peter Wood, has been in town since 2012 and has made its name by supporting ethical and family wineries from across the world.
Owner Peter Wood says that it's been "incredibly flattering" to receive some recognition, especially from such a prestigious title as Decanter, one of the leading industry titles.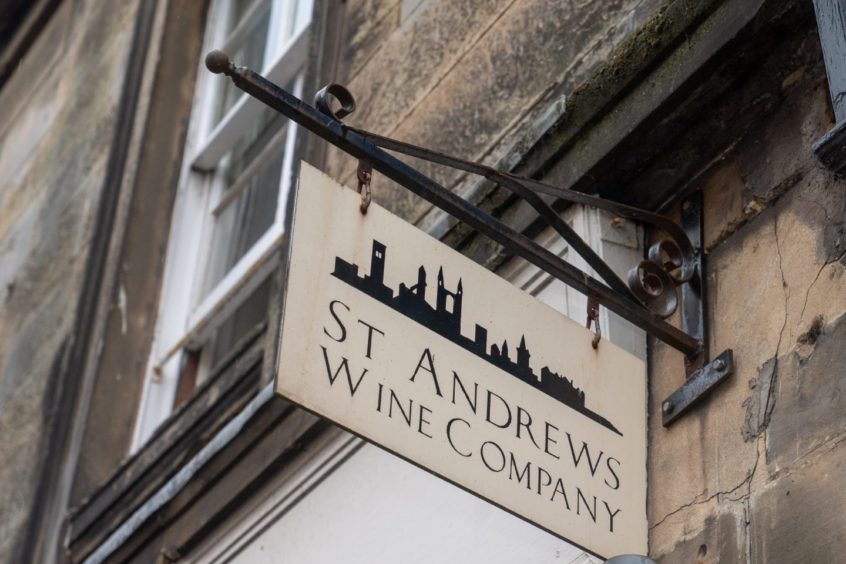 Peter says: "There's no disputing it, it's incredibly flattering to see that we've managed to get some recognition in this little corner of Scotland as one of the better wine shops in the UK. That's fabulous!
"The Decanter awards is an annual event run by Decanter magazine and, for any award, you have to put yourself forward and then there's a panel of judges, made up of people like masters of wine, journalists, and other people within the trade. They assess everyone who enters the awards and make the judgement.
"A lot of businesses enter each year and they have multiple categories. For example, they have supermarket of the year, retailer of the year and then they have the local wine shop of the year, which we entered and won.
"The Local Wine Shop of the Year award covers the whole of the UK. They announce the shortlist a few weeks before and we made it onto the shortlist last year, but there's a shop called Whalley's down in England who won it last year. This time we were shortlisted with Whalley's again but we won it.
"One of the first pieces of congratulatory social media messages I got was from the team at Whalley's and said: 'Congratulations! We're getting it back…!'.
The shop was opened by Peter in 2012, after he had for years worked at the local Oddbins building up knowledge.
"Basically I left university and wandered into an Oddbins shop and asked if they had a job – it was actually the Oddbins on the same street in St Andrews as my shop is now. Working there is what got me into wine and then 11 years after that I started my own business here and opened it just before Christmas in 2012."
Ethical business
One of the things that makes St Andrews Wine Company stand out from the crowd, and potentially played a major role in the shop receiving the award is its focus on ethical wine producers.
Peter says: "I've always focused on family producers – you come into my shop and you won't see the brands that you normally see on the shop shelves as these are independent brands. We really focus on smaller, family-run producers, as well as smaller, ethical things. My goal is either to have a family-run company or, if it's a co-operative, they have to be either bio-dynamic, a natural wine producer, vegan or sustainable – it has to have a sort of ethical element to it.
"I know that with family-run wineries sometimes you can't go organic. You may farm sustainably for 30 years then for one year you have to use chemicals otherwise you go bust.
"If it's not a family-run company, then we really do focus on all of the ethical things about the producer."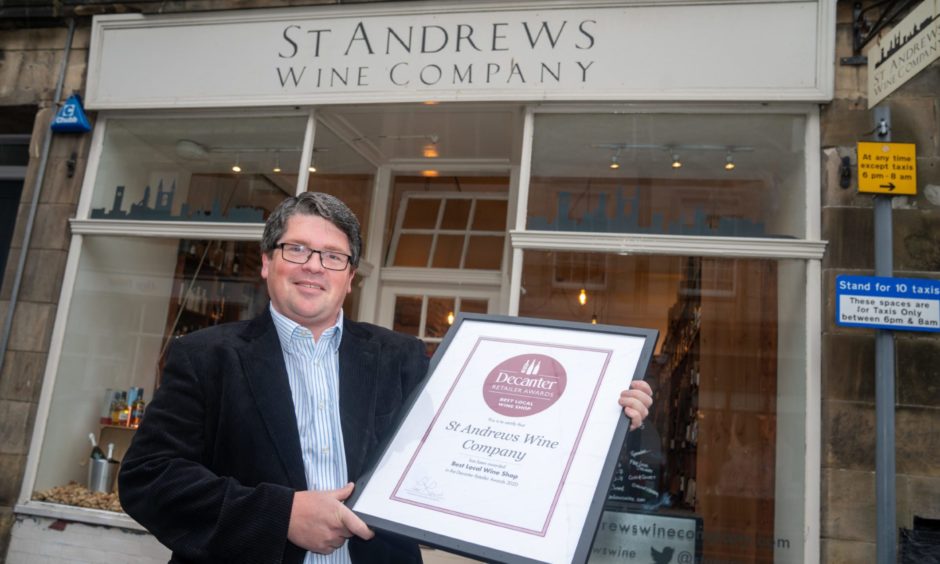 Peter also explains how he managed to adapt his business to meet the demands of Covid-19 and the effects of the nationwide lockdown earlier this year.
"I think the fact that we got hit with Covid this year had an impact – my business was already prepared to just go to an entirely delivery-based model. It's essentially what I set up seven years ago but it took a global pandemic to make it a reality. People just immediately went to our website, saw that it was very easy to use, and just gravitated to it. I think that helped us as well.
"I have a lot of friends and associates that own small businesses and some of them really got hit hard, so we did our best to help them as much as we could. Some of my friends are wedding caterers and they got clouted by this – and they changed their business model to do deliveries at home and things like that. We used our social media platform and emailing list to promote their business. We didn't make any money off those, we just wanted to help other businesses outside of the wine trade.
"I think it was a combination of the fact that in a year that went badly for everybody, we could just help the local area and I think that was the driving factor behind it. We were very much a local wine at that point and that's maybe what the judges saw."
Something for everyone
"We don't really have a stereotypical type of customer," says Peter, "Everyone is looking for something different. We might get an 18-year-old student just starting on their wine journey, through to elderly people who are vastly experienced and knowledgeable.
"I think the reason we don't have a typical customer is because St Andrews is an eclectic melting pot. There is so much diversity here in every way and they all shop here for different reasons.
"What people like is that I try everything. All these products are here because I think they contribute something – it's a bit like an art gallery and I'm the curator of it all. These aren't my products, I'm just putting on my shelves what I think is a great example of that region or that country or that grape, and I think people like that.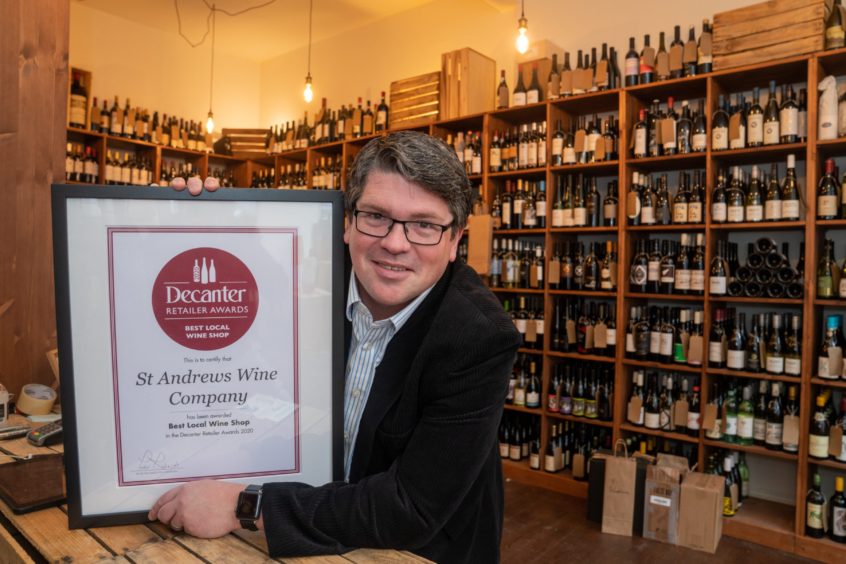 "I think they also like the fact that we're not too serious about it. It's wine – it's a drink and is supposed to be drunk with people you like and that's what it is. I hate the fact that people think of it as this hoity-toity elitist thing that nobody else can understand but it's not. We've been making wine for 5,000 years as human beings and it's almost been a part of culture in all of this. I think people get that – we're not hoity-toity, we just enjoy the product and I think that's what the customers do. They enjoy drinking and exploring.
"A lot of the time we'll find a new producer or supplier or there'll be a new wine that comes through that I try and I think is brilliant and then we suggest things to people. We send out a lot of emails to tell people of these new things coming in, so we have a lot of customers who are very eager to try new things."
And when it comes to sampling new wines, Peter's customers are happy to branch out and try something unusual.
"At the moment we're getting a lot of interest in wines from Spain, Portugal and Austria. We're really expanding our Austrian wine selection because we've got a big demand for that.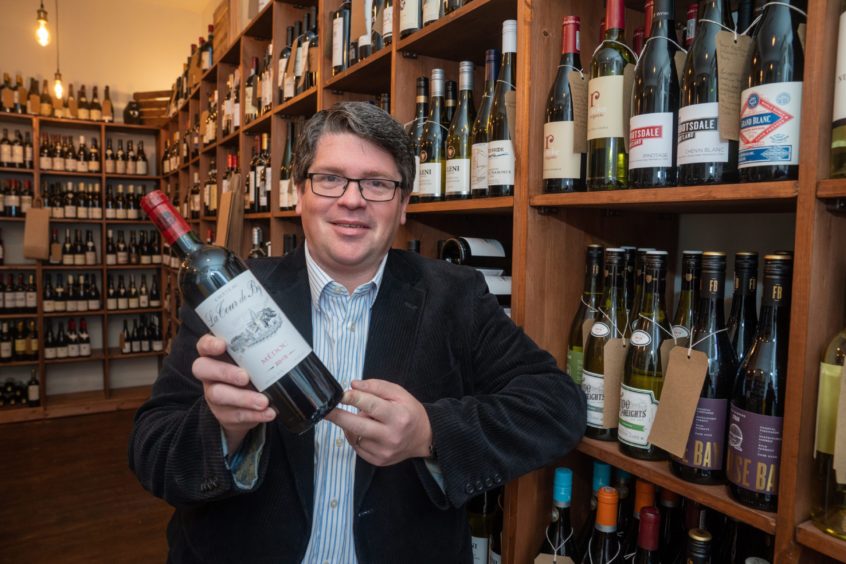 "Then there's also the classics. We sell a lot of Bordeaux and have some great relationships with some producers in the region, and we get access to a lot of wines there and I think people like coming to us for those because we get access to things that are a bit unusual.
"Another thing I do is that I keep the prices lower. I don't have the iconic, very expensive wines here – I don't really see the point of those anymore because nobody drinks them and they're just commodities. Wine is supposed to be drunk and that means there's a limit to what the majority of people will buy and will pay. So I try to focus on getting the best wines at affordable prices."
Having been shortlisted for the award last year and getting the top prize this year, where can Peter take the business from here?
"Obviously we want to try and keep it at future awards but we're just going to keep doing what we have always done, which is always trying to find better and trying to get better and encouraging more people to enjoy this product that I'm passionately in love with."