As news sunk in around the city of what the latest coronavirus measures would mean, Rebecca Shearer spoke to locals to hear their views.
Customers at the Kilted Kangaroo were making the most of being able to sit outside and enjoy a pint with friends ahead of the new tier restrictions coming into place on Monday.
Serving them was Andrew Mitchell, owner/director at the Dundee pub. He said: "We've kind of all known it's been coming over the last few days with the leaks from the press, but we are very disappointed.
"First and foremost, we're a pub that sells food, we're not a restaurant that just so happens to sell alcohol. So, for us it's going to be like Pizza Hut not being allowed to sell pizzas. It will have a massive impact for us.
"Whether we stay open will depend on whether we can get the numbers through the doors and that all of our staff are looked after."
Lachlan McIntyre, a student in Dundee, said recent events had been "a shock to the system". He added: "I didn't really know much about the restrictions before they announced them earlier. I saw something on the news saying it was coming but, I don't really know much about it. It will mean I'm not going to be out much or have anything to do if everything's shut. I go out probably once or twice a week but that's obviously hard to do at the moment with the restrictions anyway.
"We probably won't be allowed to go out to uni anymore, I imagine they'll close that down so it will probably disrupt that too. I'm a second year student and this year compared to last year is night and day, it's been a real shock to the system. I feel for the first years this year who have just been cooped up inside for months and months – that must be pretty tough."
Adam Green, also a student in the city, said: "It was already tough because I think everyone was outside anyway, drinking and things like that, so it's just going to be harder for people to get out. It's going to be tougher for younger people to see people and things like that. There was already a restriction anyway so we didn't really get out that much, but obviously now it's going to be even less or not at all.
"At the moment I'm in second year, so I've already had the first year experience but I feel that a lot of the students who are coming into first year have just not had the same experience that they should've had. It is quite a shame but it's just how things have been.
"I don't regret not staying at home for uni but I know a lot of students have just stayed at home because they don't want to pay rent costs and things like that, as accommodations are still charging for rent and no money is being given back, so it is a bit of a shame, but I don't really regret it."
Ron Smith, who is a Dundee local, said he thought the new restrictions were needed in the city. "It doesn't impact me at all, really. I was away with my wife at the weekend and we thought it was ridiculous – we were sitting inside having a meal and somebody can walk up and give me a tin of coke but the same person couldn't give me a pint of beer.
"I think that was ludicrous but I'm quite happy they're essentially shutting everything down because we need to do something to stop this – it's just getting out of hand. I think probably students coming back was the start of it, Dundee having the two universities as well. I'm not blaming them as such but you can't expect youngsters to come to a new city from wherever and just sit in their dorm all the time."
Gary Bishop, who also lives in the city, said he too could understand the reasons for the restrictions but fears for hospitality businesses.
He said: "I can understand the reasoning for the restrictions and the different tier approach, but what I don't understand is basically why pubs and restaurants are being penalised for it. In my opinion, they're the places that actually do the proper track and trace, and the proper social distancing. Here we are at a bar, almost two yards apart. Whereas I can walk into the supermarket – Tesco, wherever – and barge into anybody in whatever shop you go into. But here, with proper social distancing, I don't understand why they can't keep these establishments open.
"It's very important that the hospitality industry survives from this and I think that if this goes on for much longer, it won't."
Dundee on Tier 3, Fife, Angus, Perth and Kinross on 2: The new rules around pubs, restaurants and socialising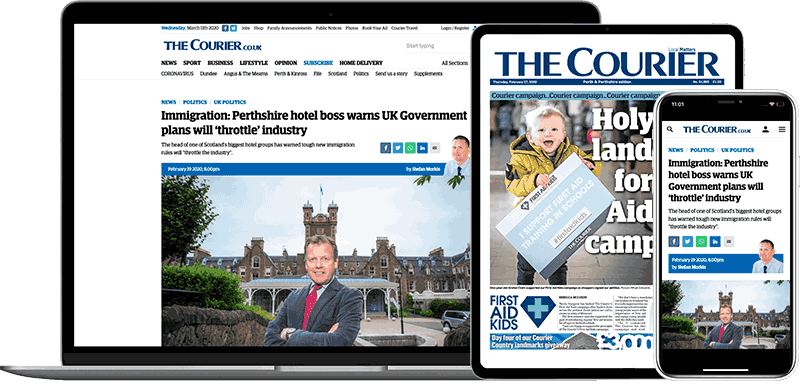 Help support quality local journalism … become a digital subscriber to The Courier
For as little as £5.99 a month you can access all of our content, including Premium articles.
Subscribe