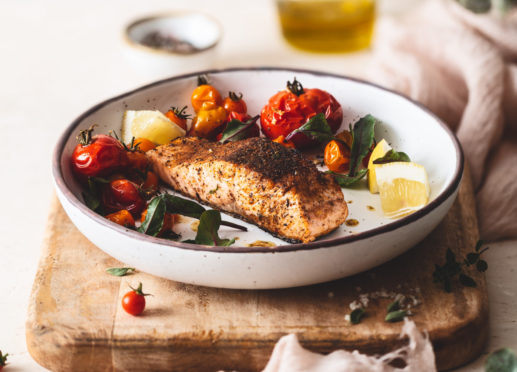 Martin Hollis, executive chef at the Old Course Hotel in St Andrews, rustles up a cajun salmon dish, perfect for summer al fresco get-togethers
I am thrilled to be writing my Chef's Table for all you lovely readers and providing you with recipes again.
It has been a busy few weeks getting ready to re-open the hotel, and a joy to be back in the kitchen.
I hope you are all enjoying the summer – fingers crossed for nice sunny weather.
Here's my recipe for seared and blackened salmon on a chilli corn salsa with salad leaves and coriander oil – I would use fresh salmon fillets, seasoned with a bit of rosemary for extra flavour.
To minimise food waste, you can fry the skin and use it as a garnish. It's a great dish when hosting a garden get together, best served with a glass of white wine.
This makes four portions and to start, you'll need to make the salsa. Take 100g roasted corn kernels – spread tinned sweetcorn kernels on a baking tray, add a splash of olive oil and cook in an oven preheated to 200C for 20 minutes; 50g roasted diced red pepper – to roast, place on a baking tray, add a splash of olive oil cook in an oven preheated to 200C for 20 minutes; 50g finely diced red onion; 1½ tbsp balsamic vinegar; 1½ tbsp finely chopped coriander; 2 blanched plum tomatoes, skinned, de-seeded (and diced if preferred); 1 finely diced red chilli; and olive oil to bind.
Prepare the salsa by combining the ingredients with the olive oil and allow the flavours to develop.
To make the coriander oil, you'll need a large bunch of coriander, 250ml olive oil, salt and pepper. Blitz the coriander with the olive oil and season, allow to infuse for a minimum of 3 hours to decant.
For the salmon, you'll need 400g salmon (diced if you prefer) and 1 tbsp cajun spices.
Dust the salmon with the cajun spices and sear in a non-stick pan for 2-3 minutes.
Plate it with the salsa and top with some mixed salad leaves drizzled with sweet chilli sauce and coriander oil.
---
Read more in this series…
Chef's Table: Support Scottish producers by seeking out local food, says Aberfeldy restaurant owner
Chef's Table: One slice of foodie heaven is all you need for a hearty al fresco feast