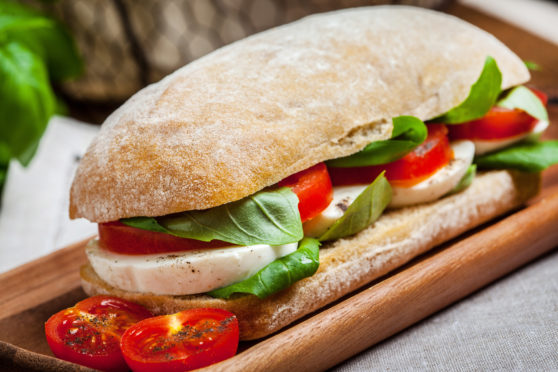 Graeme Pallister of 63 Tay Street in Perth has some tasty tips on al fresco eating – and the ideal ingredients for a scrumptious picnic sandwich.
One of the best things about all this great weather we've been having recently is being able to plan a proper day out or day in the garden with friends.
And of course, with all this outdoor fun comes outdoor eating. Without doubt, food tastes different when you eat it outdoors and unquestionably better. I think that comes from the connection we have with our food when we eat it in nature – no telly, no distractions, no turning up the radio.
Add to this the fact we're usually eating it with our hands and you will see why more of our senses are focused and tuned into the task of enjoying what we're putting in our mouths.
Which brings me nicely to this week's topic: picnic loaves. One fabulous slice of foodie heaven brings a host of ingredients together and is consumed in hearty bites from our greedy little hands.
Now I love a full-blown picnic as much as the next person but when all you want is good food at the end of a long cycle or walk, you need a way of piling lots of flavour, taste and texture into minimal space – no-one wants to be carting a picnic rug and prosecco bottles around in a backpack.
In case you're not sure what I'm talking about, this is a whole loaf of bread – go for a freshly-baked artisanal loaf from one of our fantastic local bakers if you can.
Slice it down the middle or scoop it out from the top, then pack it full of layers of ingredients. It is the perfect carrier for cheese of any variety, hams or chicken, maybe fish.
In between layers you can use fresh tomatoes, spinach, salad leaves or finely sliced or grated vegetables such as celery, carrots and peppers. Use mayo or spread to keep things 'stuck' together when sliced. If you've scooped it out from the top, pop the 'lid' back on.
The result when you slice it is more calzone or pie than sandwich and I think this is another reason why I love it so much.
Chef's tip
I use a ciabatta, slice it lengthways and scoop a little of the bread from the top and bottom halves.
Then it's time to layer it up – get some basil leaves on there for a good starting point, then fresh buffalo mozzarella, prosciutto ham and thick slices of Scottish beef tomatoes.
Wrap in tinfoil, stick your bread knife into the loaf and wrap in a clean tea towel. Pack a wee pot of pesto and stick the lot in your backpack.
---
Read more in this series…
Chef's Table: Courier Country's fruit harvest lends itself perfectly to the easiest cheesecake ever
Chef's Table: Delicious summer crumble connects us to the land