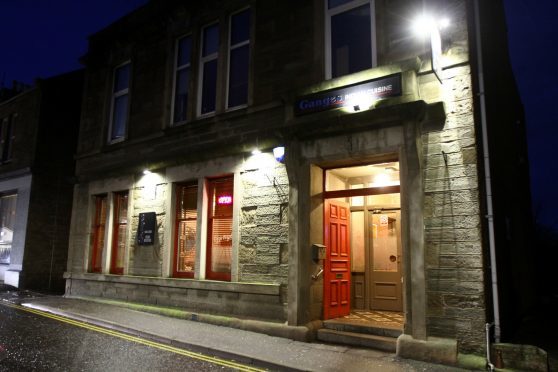 Growing up, my dad would order an Indian takeaway every Friday night without fail. Always from the same place and always the same order: chicken tikka massala, mushroom rice, keema naan.
Now I'm not saying there's anything wrong with this particular British-born curry as I still like it, but his was synthetically pinky-red in colour and so heavy and rich it would put us into a food coma almost immediately. I would often gaze at the menu and wish he'd be daring and for once try something new.
We all have our favourite comfort dishes and I would happily wallow in a classic curry any day of the week, but Mr Kerry has been trying his hand at making his own recently and, I have to say, with varying success. This week I took him to Ganges in Carnoustie so that he could get a bit of inspiration.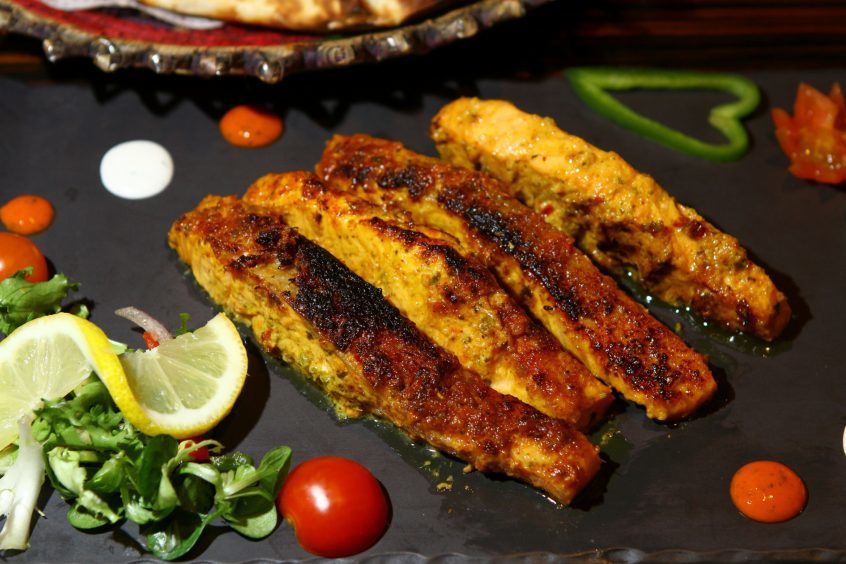 The deep colours of the decor make the restaurant seem rich and decadent with dark woods and heavily patterned wallpaper. There are a fair few scuffs and scratches now and the place could maybe do with a spruce up but then again, I'm sure the locals see Ganges as a comfy slipper and may be loath to see it change.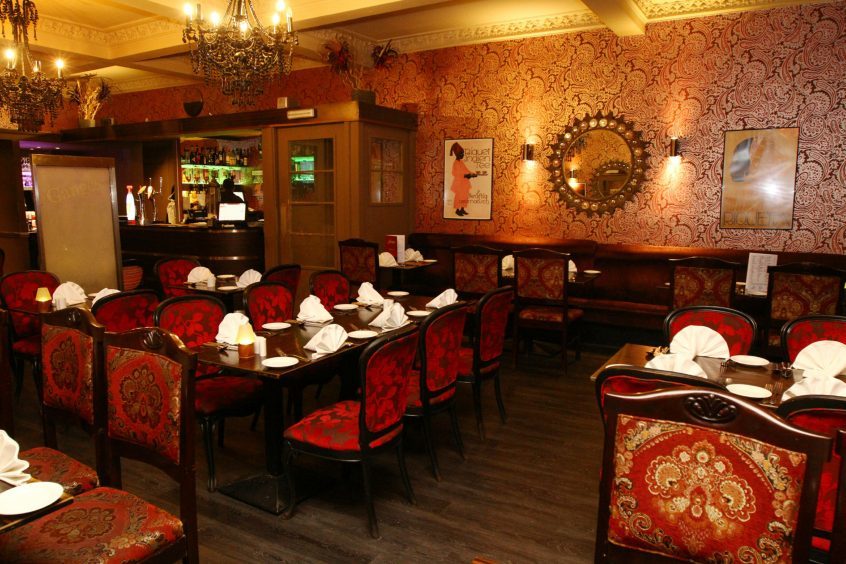 The menu is just vast. It took us a round of drinks to get through it and by that time I was salivating after reading all of the descriptions. I had been served a lovely dry, mini bottle of Prosecco and Mr Kerry had a non-alcoholic Cobra, which was a very nice touch.
We turned page after page of starters, traditional curries, house specialities, chef's recommendations, biryanis, thalis, the list went on and on. We eventually decided and knew without any doubt that we were about to severely over-order.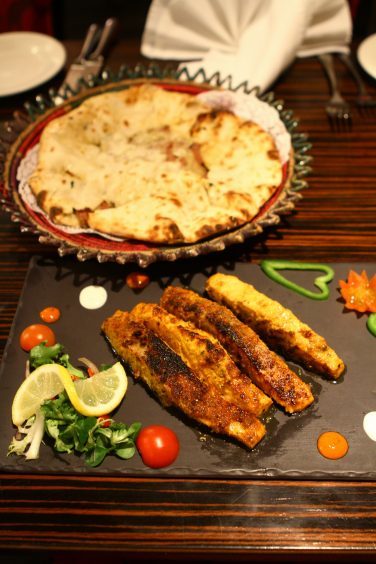 Although I believe it is a popular starter, I had never had a prawn puris and I was very impressed. The large, succulent king prawns had been cooked in a tangy sauce and were bountifully placed as the jewels in the crown of a folded puris bread which was fluffy yet crunchy, non-greasy yet fried and utterly delicious.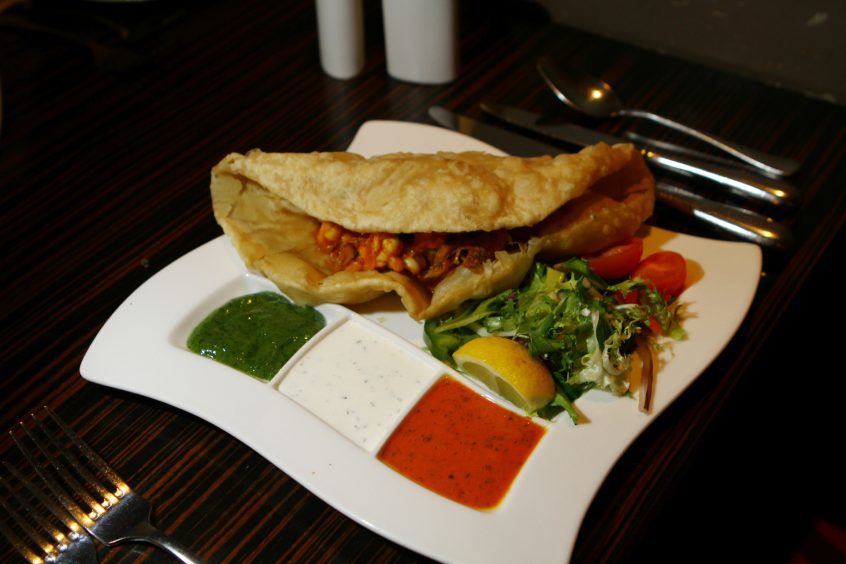 In comparison, Mr Kerry's jalapeño bombers were mediocre. They were perfectly fine chillis stuffed with cream cheese, breaded and deep fried, not particularly authentic Indian but piping hot, oozy and crunchy. The starters were large and we had to force ourselves not to finish them as we knew we would then have no room for the feast that was to follow.
My Kerry is a fan of tangy, sweet and sour flavours which may be why he once added the secret ingredient of pickled onions to a curry. That, sadly, was not a hit, but his peppered chicken from Ganges absolutely was. The chicken pieces were large and juicy and were smothered in a rich yet tart sauce which dealt a fiery kick at the end. The onions and peppers retained a pleasing crunch and the yogurt calmed the dish enough to make it really rather moreish.
My order of tandoori salmon was attractively served on a cast iron plate, accompanied by a separate sauce and salad. There were two thick pieces of fish which had been coated and grilled. The flavour of the fish alone, even without the sauce, was lovely as it was savoury and dry, letting the spices shine though. The salmon flaked when cut and would probably be considered over-cooked in some restaurants but actually, with so much more going on, it didn't matter.  I ate the sauce smothered on some rice which was another meal in itself as the rich but non-creamy flavours stood out as their own creation.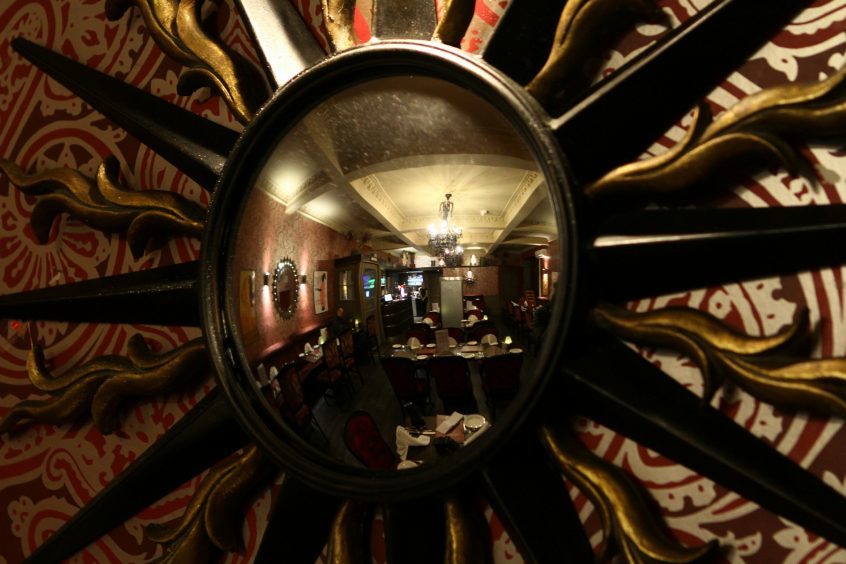 Our meal wouldn't have been complete without a classic keema naan and it didn't disappoint. The lamb filling wasn't swimming in oil  can sometimes be the case, and it was nicely flavoured with sweet and savoury spices. Although we were delighted with our choices, we kept returning to the conversation that there was just so much food in front of us. Two starters, two main courses, one rice and one bread could have easily fed four people and so when our plates were cleared, we were offered doggy bags as standard and accepted them gladly.
Not normally one to be called old-school or kitsch, Mr Kerry loves a dessert menu with photos and always, always looks excitedly to see if he can find the ice cream served inside a frozen fruit. This time he craved the coconut which sadly they were out of but I think just confirmation that it still exists was delight enough for him.
Mr Kerry's homemade curries are improving but are clearly not a patch on Ganges where we had a really lovely evening with incredibly friendly, warm and exceptionally cheery staff who knew their menu inside out. Alas, he doesn't have the equipment, the ingrained knowledge or dare I say, the talent for creating the comforting yet exotic flavours of the East and so I will continue to take him to Indian restaurants – Ganges especially as it also satisfies my guilty pleasure of having plenty left over for cold curry the next morning.
Info
Price: Starters: £3.95 – £6.95; Main courses: £5.95 – £18.95
Value: 9/10
Menu:  9/10
Atmosphere: 7/10
Service: 8/10
Food: 8/10
Total: 41/50
Info: Ganges
Address: 11 Park Avenue, Carnoustie, Angus, DD7 7JA
Tel: 01241 853336
Web: www.gangescarnoustie.co.uk