Rama Thai is in a fabulous location and one of the first buildings you see when crossing the Tay Road Bridge from Fife. As it is now under new management, we felt it was our duty to go and sample their exotic delights.
When in the mood for Thai food, Mr Kerry and I used to order carry out from Chiang Mai in Monifieth and so we were delighted to learn that the team has now moved to Rama on Dock Street.
Rama prides itself on being the first "authentic" Thai in Dundee and the decor certainly reflects traditional Eastern charm with wooden carvings, ornate dining chairs and a central bar swathed in deep cloths, ornamental faces and statues of Buddha.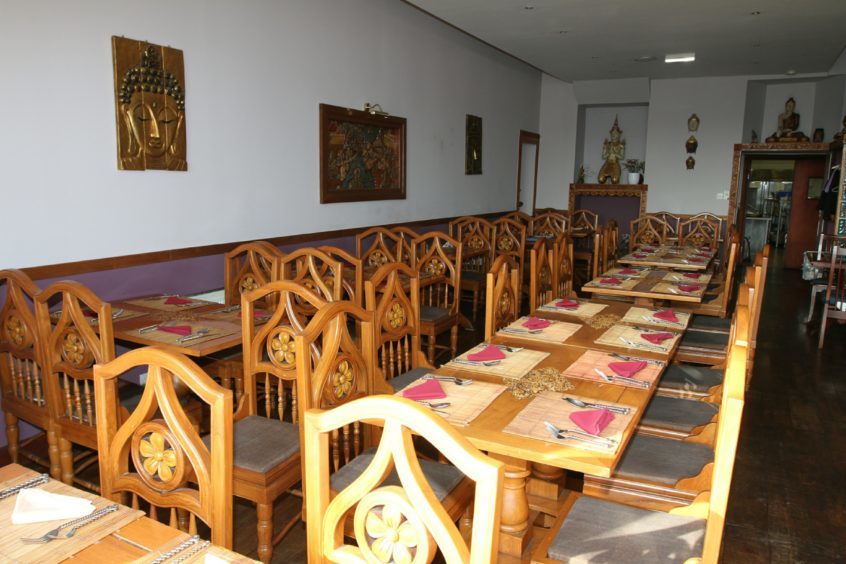 From the moment I stepped through the door, I was welcomed like an old friend.  This had nothing to do with our previous custom at Chiang Mai as we didn't ever sit in but just because Ian, the new front of house manager takes clear pride in his hospitality.
Mr Kerry was running late and so I had chance to sit and peruse the menu and chat with Ian before he arrived and his excitement at his new venture was palpable. He has moved across with partner Tommy and they are still in the initial exciting stages of working together with the chefs to look closely at the food and to inject new ideas.
The inherited menu is vast.  Too big in my opinion as it takes so long to look through it that by the time you've come to the end, you need to remind yourself of the beginning.  I would much rather see less on the menu but know what the specialities of the place are.  It turned out this is actually Ian's plan. The new kitchen team are trying to slim the selection down to offer fewer dishes while maintaining the quality of the cooking.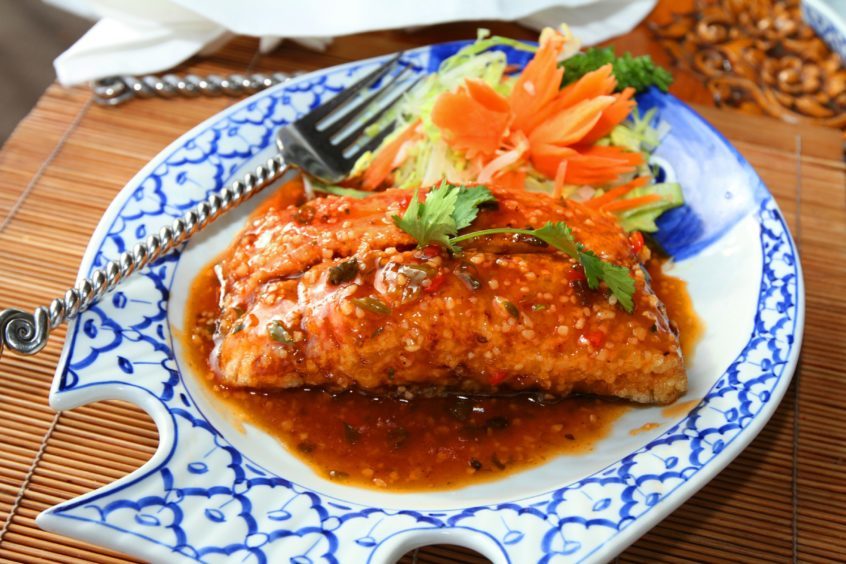 I'm sure there are certain dishes that customers will expect to see – such as the chicken satay starters which I had ordered for myself. The tender skewers of chicken do come marinaded but are grilled without the satay sauce meaning there is a choice between a subtle dunk or a total smother – the latter of which I prefer.  The home made sauce was of course rich and nutty with a slight kick and the familiar flavours started my meal off in style.
Mr Kerry had chosen the curry puffs as his starter. These were like mini pasties filled with minced chicken and vegetables.  The flavour was very subtle, bordering on bland and the pastry rather thick and Mr Kerry was annoyed with himself for not choosing something else.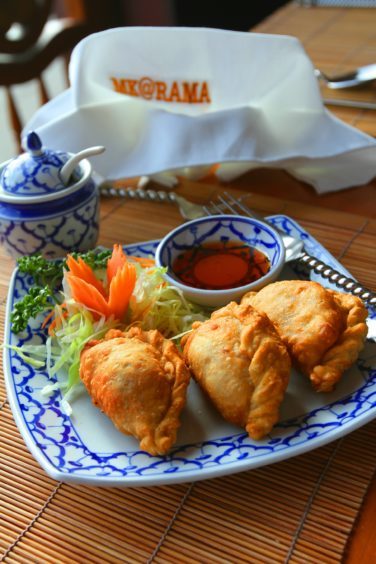 There is something about squid in a Thai restaurant that I just can't resist and the item on the menu featuring squid stuffed with minced pork and prawns in a hot and sour sauce sounded right up my street. Having ordered the dish, I was informed a few minutes later that unfortunately, it would be unavailable as the chef was not happy with the quality of squid that had arrived with his fish order. Although I was disappointed, I really respected the honesty of the chef and the fact that he was not willing to compromise on his standards and would rather remove a dish from the menu for the evening.
Instead, I selected the whole fish (sea bass substituted for pomfret for the same quality reasons) topped with minced chicken in an yellow bean, ginger and spring onion sauce. The elegant dish was truly fabulous.  Despite receiving a whole fish as advertised, it had been expertly boned and butterflied, seasoned, coated and fried until crisp before being smothered in the rich yet fresh and zingy topping.  There was a lot of fish for one person but the dressing was in no way gloopy or heavy and between us we managed to polish most of it off.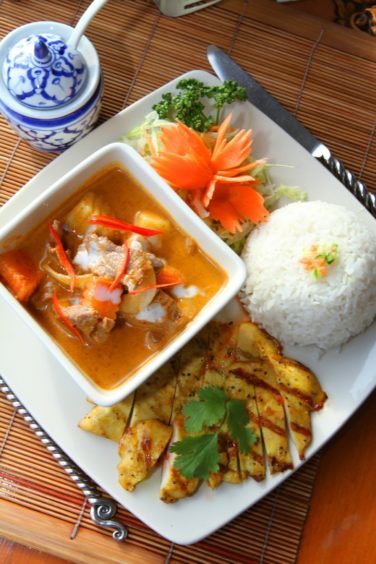 Mr Kerry aka greedy guts, decided to order a "combination" meal which was made up of a few different elements. A huge plate of food arrived and we knew immediately that we would me heading home with a doggy bag. The neat bowl and star attraction was the beef Massaman curry. My goodness, what a flavour. It was rich and savoury yet left a sweet, creaminess on the tastebuds long afterwards. It was the type of dish that was so moreish, the stomach was pleading with us to stop eating but the tastebuds couldn't get enough.
Accompanying the curry was some fluffy coconut rice, a flattened chicken fillet grilled and doused in a generic sweet chilli sauce and some tempura vegetables which were nothing to write home about. Mr Kerry and I agreed that he should have ordered the curry by itself, enabling him to concentrate on these delicious flavours alone.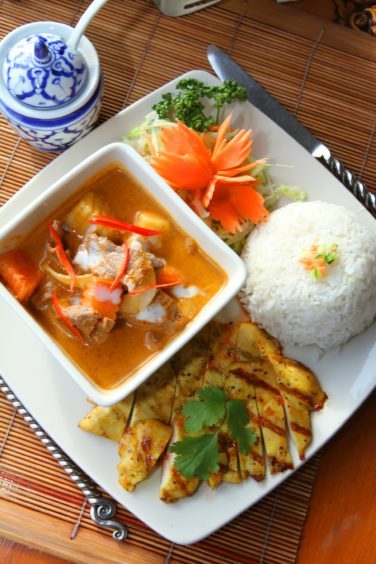 I am so looking forward to returning to Rama Thai very soon once Ian and Tommy have made their mark on the menu. Their front of house team is charming, chatty and altogether fabulous and Ian really made our evening with his warmth and energy. As the Beast from the East battered Dundee from the outside, we had experienced a feast from the East within and I am salivating at the thought of sampling that stuffed squid as soon as possible.
Info
Price: Starters: £4.95 – £13.95; main courses: £10.50 – £16.95; set lunch menu – 3 courses for £8.95
Value: 8/10
Menu:  7/10
Atmosphere: 8/10
Service: 9.5/10
Food: 8/10
Total: 40.5/50
Info: Rama Thai
Address: 32 – 34 Dock Street, Dundee, DD1 3DP
Tel: 01382 223366
Web: www.rama-thai.co.uk