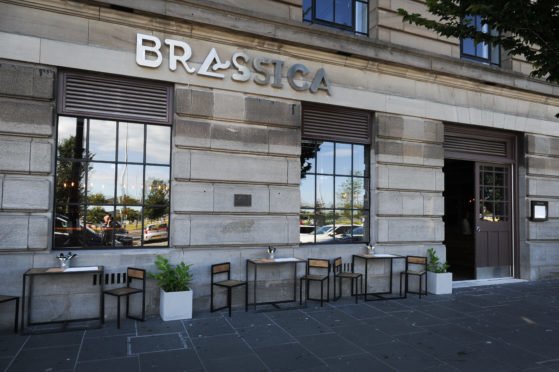 "Social dining" seems to be the trendy way to eat out at the moment.  New restaurants are opening up all over the place and offering sharing plates and modern tapas.
Eating out with friends or family makes this easy although I'm not sure how I'd cope at a business lunch or on a first date – not that I am planning on the latter in case Mr Kerry is reading. There is no rule to say that the dishes actually have to be shared, I suppose, and I would have no qualms about ordering three dishes to myself.
Brassica is the newest kid on the Dundee dining block and is situated at the back of the Caird Hall. It boasts of its social dining ethos as well as farm to plate sourcing trying to limit the food miles to within 50 where possible which, in this part of the country, provides a spectacular choice of quality produce.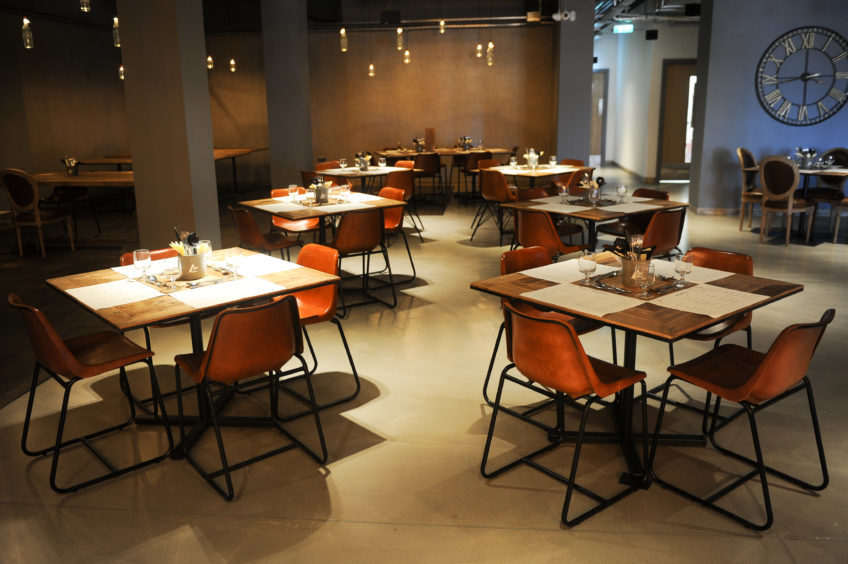 The front door is understated and elegant but once I stepped over the threshold, I was blown away by the interior. What could have been a rather stark and dark, cavernous space has been transformed into a beautiful dining room and bar. The lighting is exquisite with industrial style filament bulbs encased inside glass bottles swinging over the minimalist tables and leather dining chairs.
A living wall towers over a cosy waiting/seating area which is vaguely separated from the more formal dining space with slender tree trunks. Overall, the natural elements of the room balance really well with the industrial, and the large gleaming bar provides the perfect centrepiece.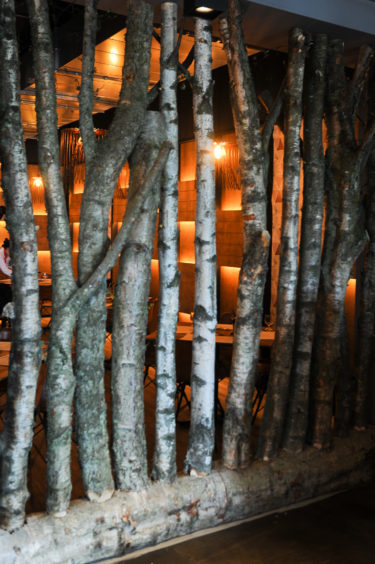 The staff we met throughout our lunch all had character and individuality which I loved. They gauged us well and we had just the right amount of chat with them without it being overwhelming. We were advised to order between two and three plates per person from the menu which would be tricky as I wanted to order all of them. As the plates are priced between £7 and £16 each, this was to be a lunch for splashing out.
Each item on the lunch and dinner menu appealed to me. The ingredients, the preparation, the interesting combinations: I was seriously excited. My one surprise was that there was only one option for vegetarians, limiting their enjoyment of social dining considerably. Obviously Scotland is blessed with incredible seafood and meat which is shown off here but vegetables in the area are not so humble either and can just as easily be the star of the show.
The smokie and crab bonbons arrived swiftly and were beautifully presented. The horseradish panna cotta was deliciously creamy yet fiery and was the best part of the dish. The bonbon tasted of classically tasty smokie but sadly this overpowered the crab whose subtle sweetness couldn't be detected. There was no crispy coating to either which was a shame.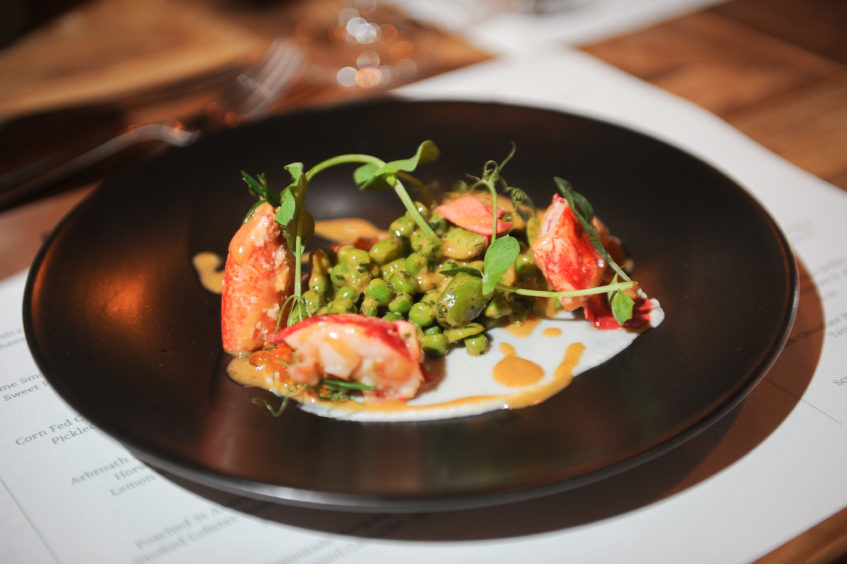 The St Andrews Bay lobster dish was outstanding. The beautifully vivid pink meat had been simply poached and so could be celebrated all on its own. But when scooped up  with the rich and decadent smoked lobster velouté and little pops of salmon roe, this created one luxurious forkful. This one, I would have happily not shared at all.
We had been really excited about the pork cheeks and couldn't work out, when they arrived, whether they were supposed to have been served hot or cold as they were only slightly above room temperature. The meat was not as meltingly tender as some but the sticky char sui glaze was lovely and the pork did go well with the pineapple and chilli salsa.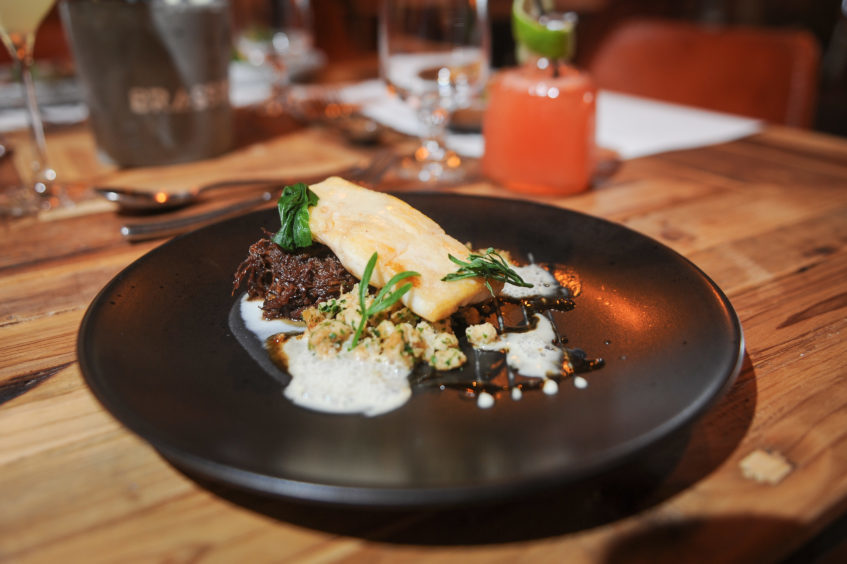 Tandoori massala cod came next and was vacuumed up very quickly. The delicate morsels of cod had been perfectly cooked and the spiced split peas were incredibly moreish with the pickled cucumber adding a lovely tang.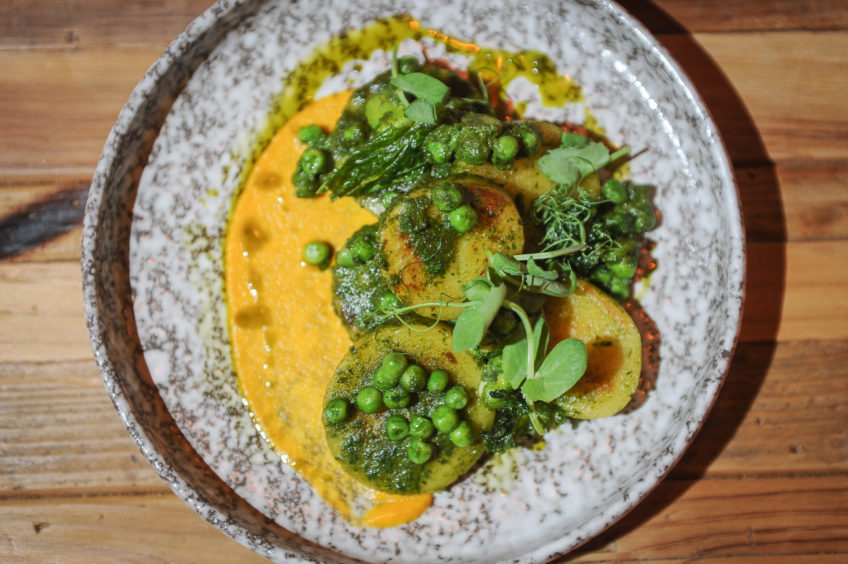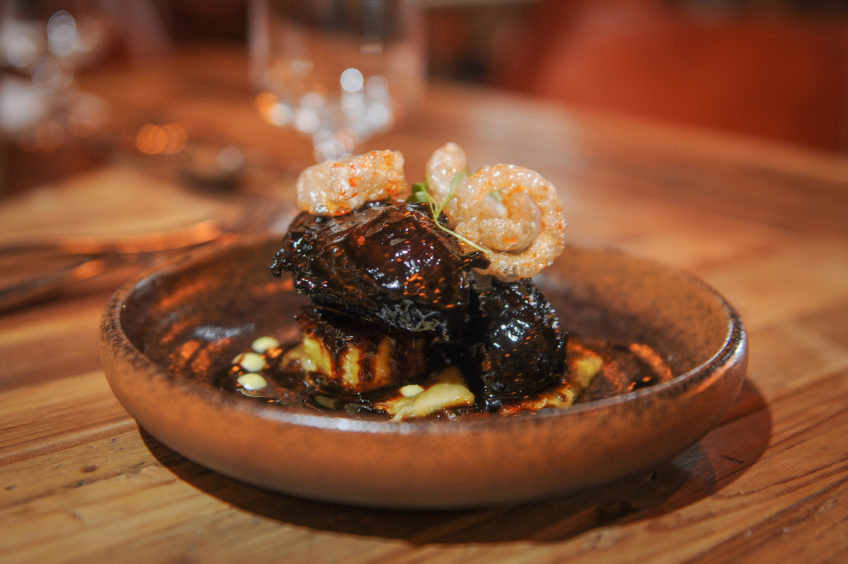 The halibut was also one of my favourites as the sweet but dense fish worked well with the shredded meaty oxtail and creamy horseradish foam. We did also try the vegetarian option of the gnocchi served with an intense courgette and mint pesto which was hard to share too. It was clear that a substantial amount of thought and work had gone into each individual element of each dish.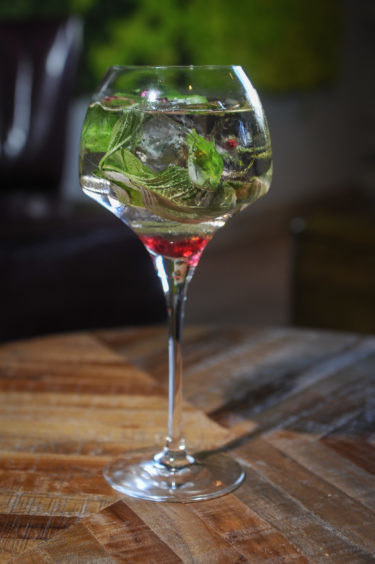 We forced ourselves to sample a dessert and the surprising star of the chocolate mousse was the vibrant green tarragon sorbet which was so concentrated in its flavour, it was almost an aniseed ball. This would be a love or hate addition to the dish but both my friend and I loved it and had never tasted anything quite like it.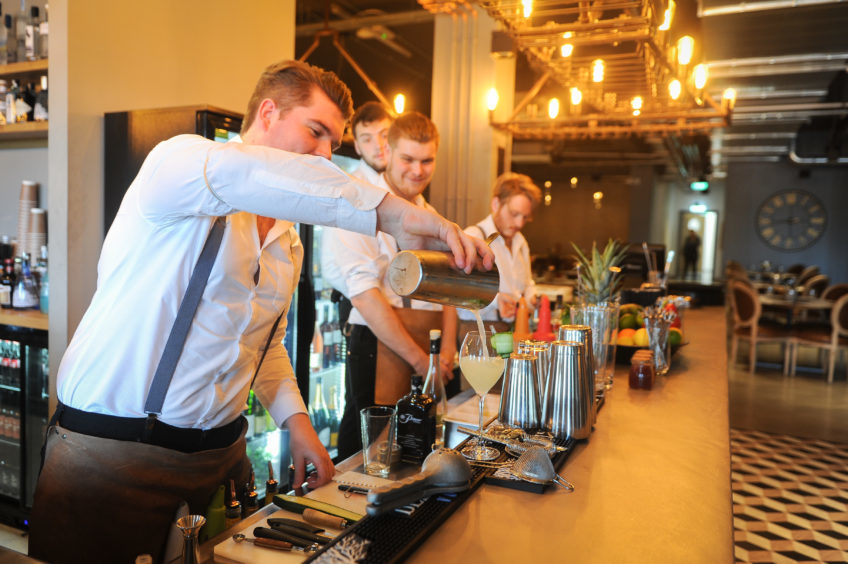 We had a really lovely lunch at Brassica.  I hadn't known what to expect but the stylish and quirky room really has the wow factor and I particularly like the fact that the tables are nicely spaced out and haven't been crammed in. The creative menu made my mouth water at every turn and I am really looking forward to taking a group of friends, sitting under the gorgeous lighting and slowly working our way through all of the dishes available as well as being methodical about the champagne, gin, beer and cocktail menus.  A real treat.
Info
Price: Sharing plates: £7- £16; desserts: £6 -9
Value: 8/10
Menu:  9/10
Atmosphere: 10/10
Service: 8/10
Food: 8/10
Total: 43/50
Info: Brassica
Address: 4-5 Shore Street, Dundee, DD1 3AH
Tel: 01382 227067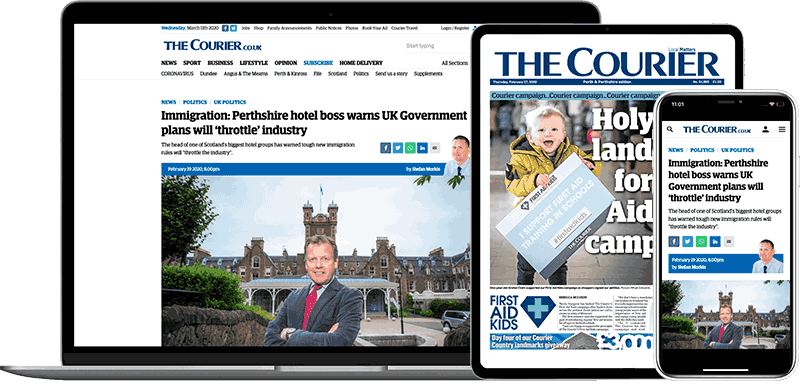 Help support quality local journalism … become a digital subscriber to The Courier
For as little as £5.99 a month you can access all of our content, including Premium articles.
Subscribe