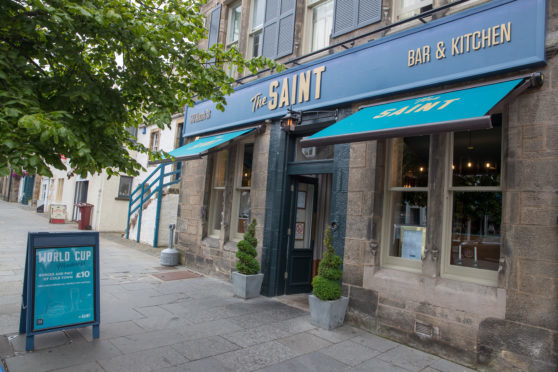 The West Port in St Andrews has been described by many as an institution. It has recently undergone a complete renovation and name change.
The Saint Bar and Restaurant, as it is now called, has the tag line "everyday goodness for everyday people" so this week, we paid a visit to see what this really means.
The place is like a Tardis – once we crossed the threshold, I felt like Alice following the White Rabbit as there were so many different spaces and nooks and crannies as well as a lovely flower-filled garden. Although this is clearly a big place serving a lot of customers, the division still gives the impression of intimacy, which I really liked.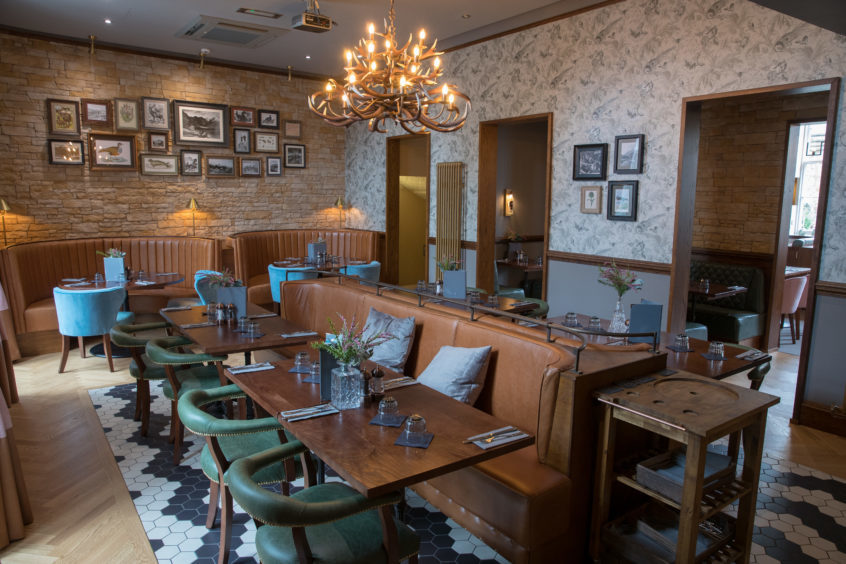 The newly-decorated bar and restaurant has timeless character with leather banquettes, snazzy wallpaper and stylish lighting. It feels like a family pub but one that has really made an effort to look smart for its new customers. It also feels independent which is lovely too.
We were seated near the busy kitchen which was intriguing as some chefs have a bit of a reputation for being a little volatile and shouty. Actually, and a little disappointingly, this kitchen seemed to be a fairly calm and cheery place to work, judging by the smiling faces of the waiting staff going in and out. A great sign though.
It took us a while to work our way through the menu, which is pretty large. The focus seems to be on upmarket pub grub with ploughman's sandwiches and scampi but with the addition of more adventurous items such as slow roasted duck or garlic and lemon glazed cauliflower with quinoa.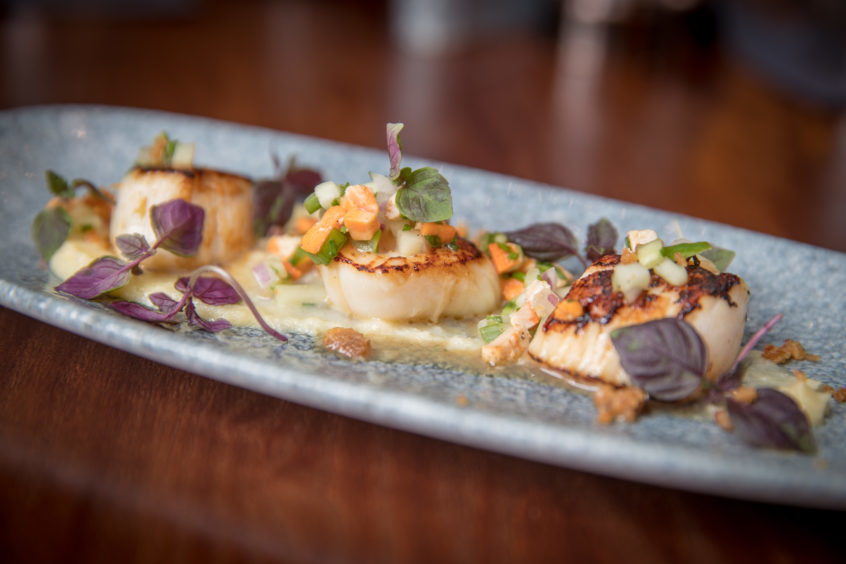 Had it not been such a hot day, I would have dived into the beef shoulder, oxtail and Porter gravy pie which sounded epic but I just couldn't face it. Instead, to start, we ordered a couple of slightly lighter options.
The first was a really pretty, slim rectangle plate of seared scallops. These delicacies are rarely served with the roe these days but I really liked the fact The Saint had chosen to create a roe salsa as an accompaniment, therefore not wasting any of the product. This had an intense flavour but was broken up by the bacon crumb sprinkled over the top. The cooking time of scallops is very much down to personal taste but these were still cold and jelly-like in the middle and so very underdone for me, and I only managed one of them.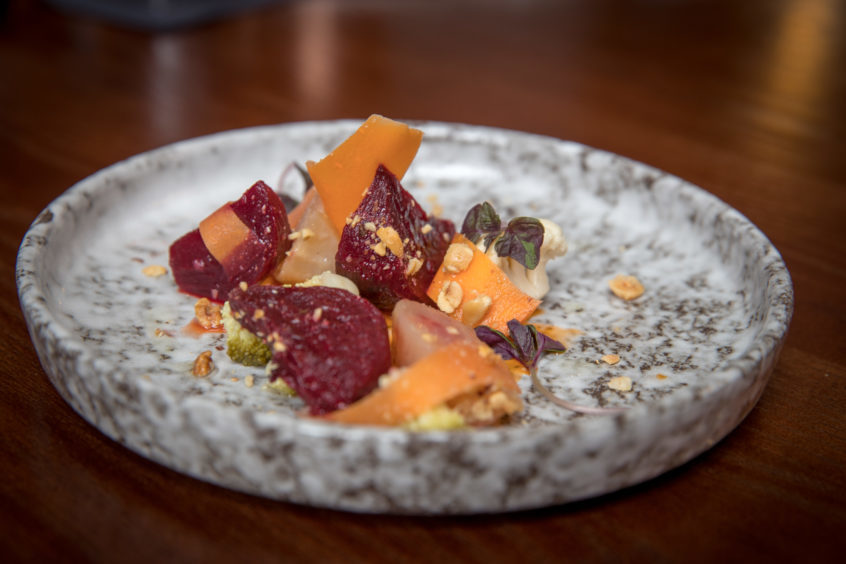 Our other starter was simply entitled "beetroot" with a brief description. Chunks of vibrantly-coloured red and golden beetroot were served standing proud on a white plate. The carrot purée was disappointingly bland and it really did need the pickled cauliflower florets to add a bit of spark. The beetroot itself was fine but not amazing considering it was the main element of the dish. Overall, there was nothing wrong with the starter – it was nice, but we wished we had chosen differently.
In contrast, I was thrilled with my choice of main course. I had opted for the salmon fillet which had been pan fried to crispy perfection whilst retaining its silky moisture and was sat on top of an intense medley of textures and flavours. Salty, crunchy samphire had been pan fried with fennel – the hit of aniseed complemented the sweet fish perfectly. Roasted beetroot added some earthy substance and the horseradish cream was the cherry on the top as the chef had thankfully not been shy with the horseradish.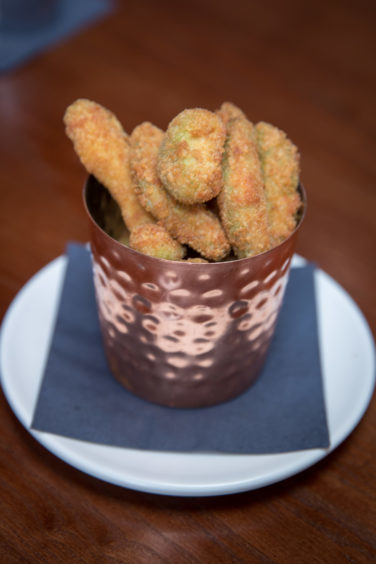 This was a great dish. It had obviously all been put together freshly before serving as the samphire was still crunchy and the flavours were bouncing around my mouth for a long while afterwards.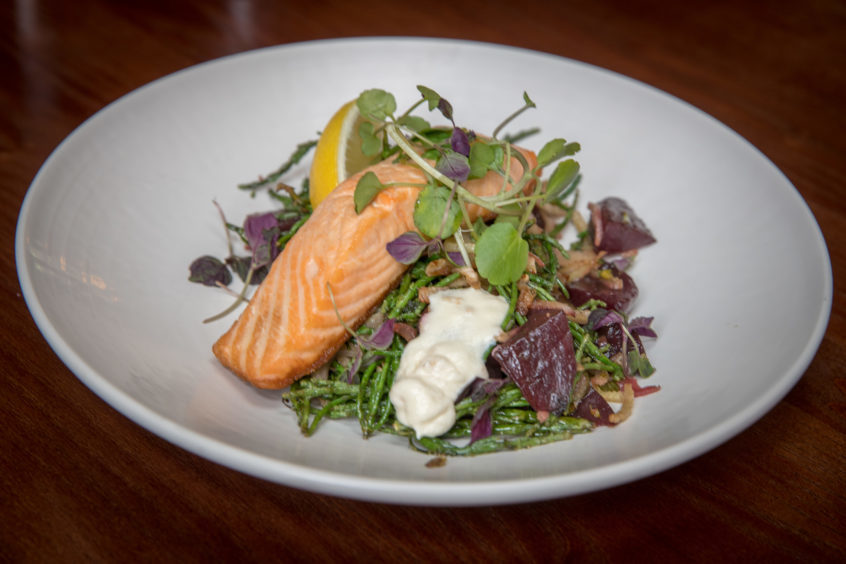 In contrast with Mr Kerry who thinks avocado is just tasteless mush, I love the stuff but have never had it cooked before. For this reason, we tried the crispy avocado as a side. In my heart of hearts, I think I knew this would perhaps be style over substance as the glory of avocado is in its subtle favour and texture which, when coated in breadcrumbs and deep fried, was lost completely. There is rarely an occasion when breading and frying something doesn't make it better – brie is my favourite example – but the avocado didn't do it for me.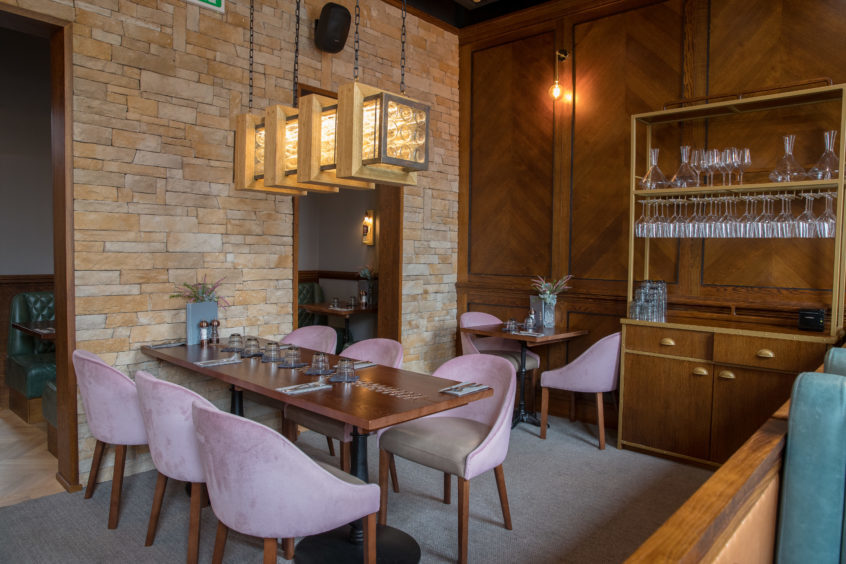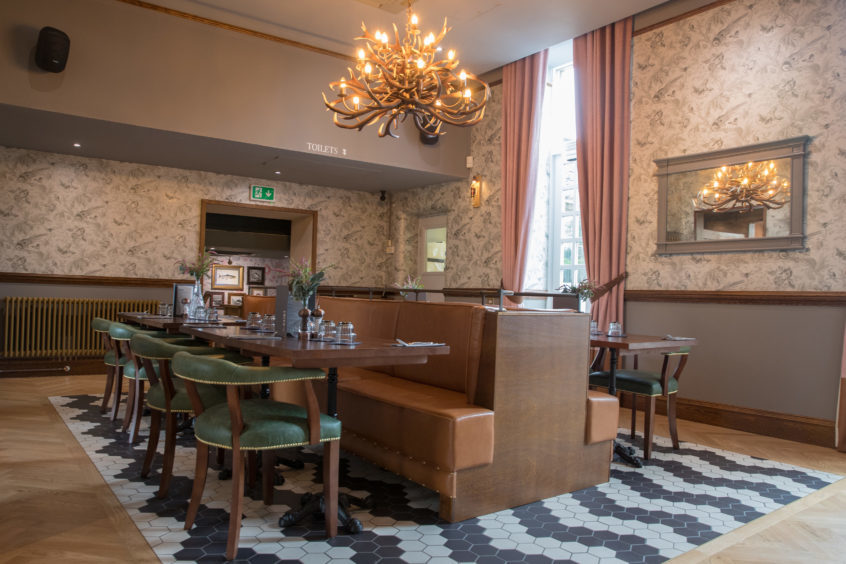 The Saint is a really lovely, welcoming pub. It is dog-friendly and very family-friendly with high chairs and little bags of colouring and puzzles for each miniature guest. The service was upbeat and charming and it is the type of place to make everyone feel comfortable whether you decide to pop in for a cocktail and salmon tartare with the girls, or a hefty pork chop with bubble and squeak and a pint with family. Their strap-line of "everyday goodness for everyday people" really does work with its welcome all, cater for all attitude and with a fabulous beer garden as well, this is a cracking spot to relax in St Andrews.
Info
Price: Starters £4- £8.50; main courses: £7.50-£27.00
Value: 9/10
Menu:  7/10
Atmosphere: 8/10
Service: 8/10
Food: 7/10
Total: 40/50
Info: The Saint Bar & Restaurant
Address: 170 South Street, St Andrews, KY16 9EG
Tel: 01334 473186