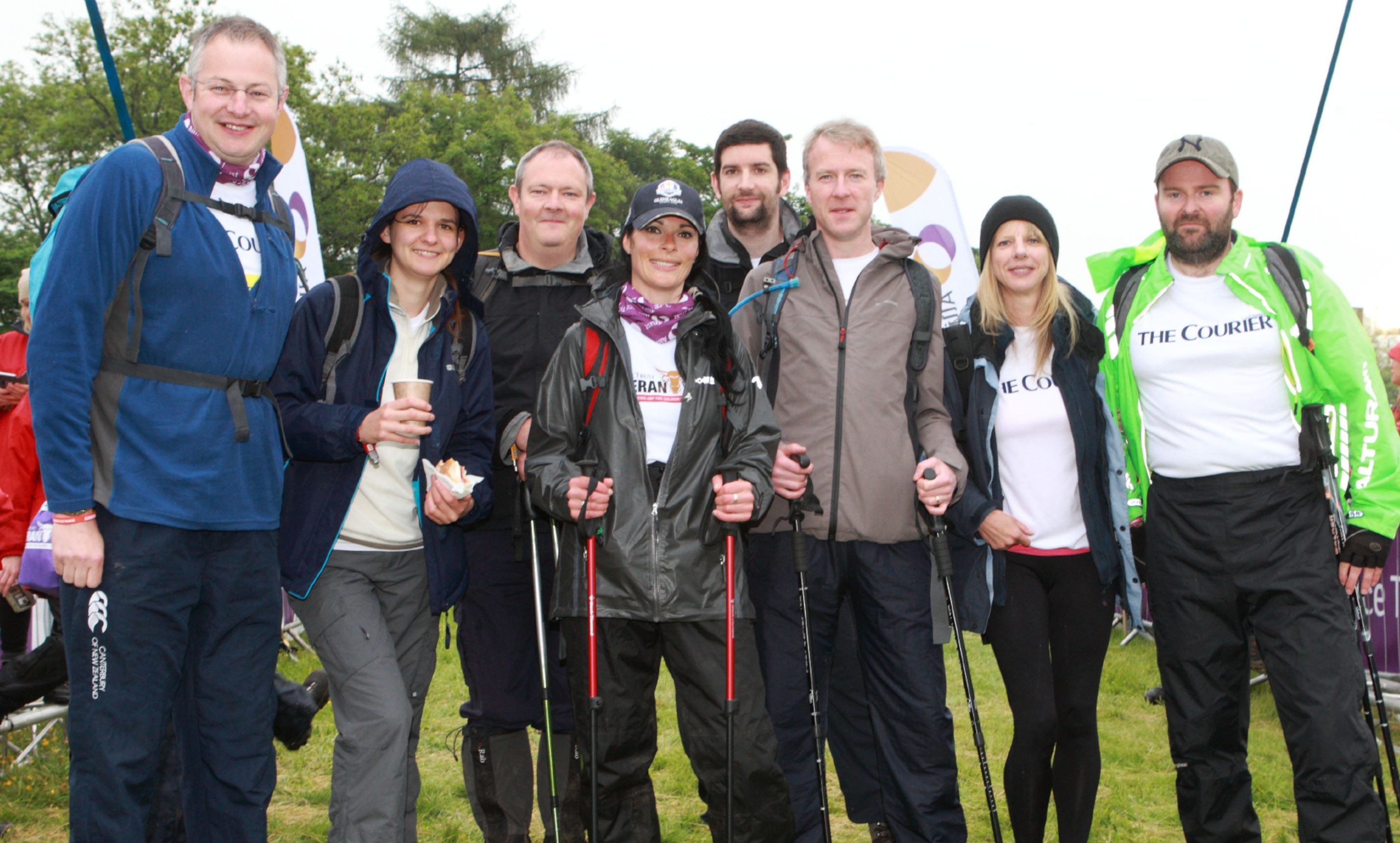 The 2016 Cateran Yomp was the biggest and best yet. Gayle Ritchie has just about recovered…
The monstrous blister on my heel has deflated, the dull ache in my legs has diminished, and I even managed a short run without expiring.
It's more than a week since I took on the mighty Cateran Yomp, finishing up at the 36.5 mile silver checkpoint at Kirkton of Glenisla.
It was the biggest Yomp yet, with a record-breaking 1,056 walkers signing up for the charity event.
As anyone who has ever taken part will know, there's always an early start – 7am for the first batch of yompers – but this year, it was 8.08am before Team Courier crossed the start line.
Mud, heavy rain and a car park which turned into a quagmire were to blame.
Hundreds of walkers marched past as we sat stressing out in our cars, until we were reassured the start times would be delayed for those struggling to get there.
Once we'd finally got parked, we wolfed down bacon rolls and coffee and set off.
We were the very last eight people to leave, which may or may not have been a good thing.
With all other Yompers completely out of sight, it felt like we needed to play catch-up.
Most of us blasted up the first hill at a cracking pace, and it was a pace that we maintained until we reached the bronze checkpoint, at 22 miles.
We did, of course, stop to gorge on chocolate, crisps, flapjacks, smoothies, sandwiches and more at the fantastic food and drink stations which appeared every few miles.
With such big numbers taking part this year, there were all levels of fitness, and we found ourselves firing past many people who had set off a good hour before us.
This proved tricky at some points, as we were negotiating bogs and narrow pathways.
Striding on, six of us reached Spittal of Glenshee, the 22-mile end point, around 4pm. The other two team members had decided to take it easy, and turned up a few hours later.
It was here that I had to make a decision: would I carry on to do silver, as originally intended? With everyone else in my team deciding to finish at 22 miles (the fact it was the first day of Euro 2016 was a major draw), I was torn.
But once I'd devoured a bowl of beef chilli and stuck on a couple of blister plasters, I was up for the challenge.
Yomp organisers dictate that you can't go solo – for safety reasons – so I palled up with a guy from whisky giant William Grant whose team mates had deserted him at Kirkmichael.
We walked together until a steepish climb after marshy Loch Beanie took its toll on him, and we went our separate ways.
It was after I'd squelched through the bog that I wished I'd listened to my team mate Mike Alexander.
Desperate to change my damp socks at Spittal of Glenshee, I'd asked Mike whether I should hold off until I was further along the route.
He advised me to save my last pair until after Loch Beanie "because it'll be really boggy".
As a veteran yomper (this was Mike's fifth Cateran Yomp), he knows what he's talking about.
True to form, my final pair of socks was completely saturated, and walking became somewhat unpleasant.
I waited until I reached a food stop a few miles on to change into the first – damp but not saturated – pair, and enjoyed some relief.
By this stage, I was on a mission to finish what I'd started, and I marched on, upping my speed as the prospect of completing silver before darkness became increasingly tempting.
Something strange happens when you're undertaking such a mission and in this case, my energy levels, which should have been flagging, seemed to soar.
It must be adrenalin kicking in, because under "normal" circumstances, I'd be huffing and puffing away over a much shorter distance.
And don't forget, the yomp route is not flat – there are hills, uneven ground, bogs, and more hills.
It helps that there are diversions – a disco and a dancing Elvis in the woods, a "mocktail" bar on the side of a loch, a zip line, clay pigeon shooting, archery, and of course, the fantastic and seemingly endless supplies of food and drink laid on by the organisers.
Along the route, I met some fascinating people.
There was Shaun Gash, a wheelchair-bound paraplegic who, with the help of his team, pushed his way through the full 54-miles in a specially adapted wheelchair.
There was former Black Watch sergeant, Arbroath bus driver Bob Reid.
There was a group of wounded US military services personnel including representatives from the Marines, the US Air Force, the US Army and the US Special Operations Command. They'd all been wounded in the line of duty and carry injuries such as traumatic brain injury, amputations, partial paralysis, blindness and post traumatic stress disorder.
If only I'd had more time to hear all their stories.
Finally, as 10pm approached, I could see the twinkling lights of Kirkton of Glenisla and I put on a bit of speed.
I clocked in at 10.08pm – pretty much 14 hours since I'd set off in the morning.
There to greet me was the legendary Micky Yule, the 2016 yomp ambassador.
After a quick chat, I made for the massage tent, where a wonderful woman worked her magic on my calves and glutes.
Back home, I enjoyed a celebratory glass of wine while bracing myself for the moment I'd remove my boots.
Despite the wet socks and epic mileage, I had only one blister, albeit a huge one, on my heel.
When I went to bed at around 2am, feeling a huge sense of achievement, I thought of all the yompers going for gold, many of whom would be walking for hours yet. Unfathomable.
Would I consider doing the 54-mile route in 2017? We'll see.
If you're debating whether to sign up for Yomp 2017 – just do it.
You'll experience some of Scotland's most stunning scenery while raising vital funds to support injured and sick soldiers and disadvantaged youths.
Over six years, the Yomp has raised £2.35 million for the Soldiers' Charity million and grown to become Scotland's largest endurance fundraising event.
The 2017 event takes place on June 10 and 11. Sign up now at www.soldierscharity.org/events/the-cateran-yomp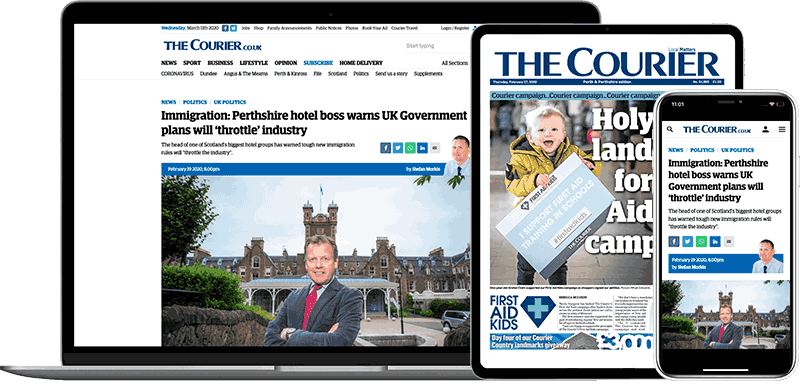 Help support quality local journalism … become a digital subscriber to The Courier
For as little as £5.99 a month you can access all of our content, including Premium articles.
Subscribe