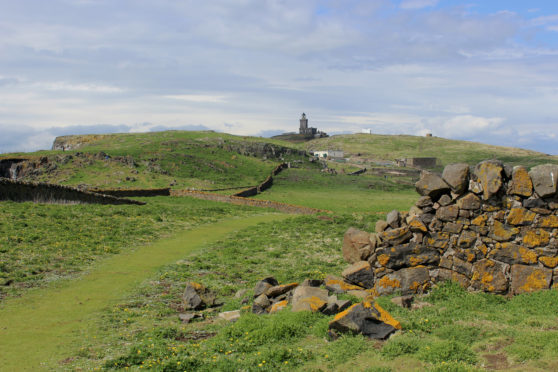 Isle of May, Anstruther, Fife.
Aiming to fulfil a long-held ambition to see puffins in the wild, I stepped aboard the May Princess at Anstruther harbour, full of anticipation.
During the summer months, the boat sails daily to the Isle of May, a sliver of land in the Firth of Forth, where the chances of spotting these unmistakable seabirds, with their black and white plumage and brightly coloured beaks, are a fairly safe bet.
Tens of thousands of puffins return to the exposed outcrop in the Spring and remain there until August, raising chicks in shallow burrows before they head back out to sea for the winter.
A national nature reserve cared for by Scottish Natural Heritage (SNH), the Isle of May is one of the best places in Britain to see puffins and, as we left the sheltered Fife harbour, it was clear that most of my fellow passengers held the same desire.
The five-mile crossing takes less than an hour and, after circling below high, guano-encrusted cliffs, we landed at Kirkhaven, a slender natural harbour towards the southern end of the island.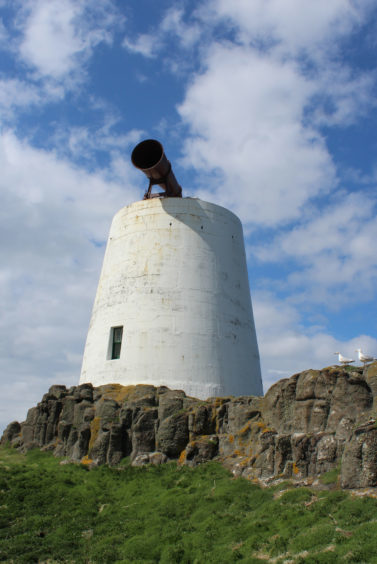 While puffins are undoubtedly the main attraction for visitors, the isle attracts vast colonies of gulls, kittiwakes, shags, guillemots, razorbills, fulmars and terns. At the peak of the breeding season, a quarter of a million seabirds congregate on just 140 acres of land.
Stepping ashore, we were greeted by the reserve manager and, after a short pier-side briefing, were free to explore a place often described as the 'jewel of the Forth'.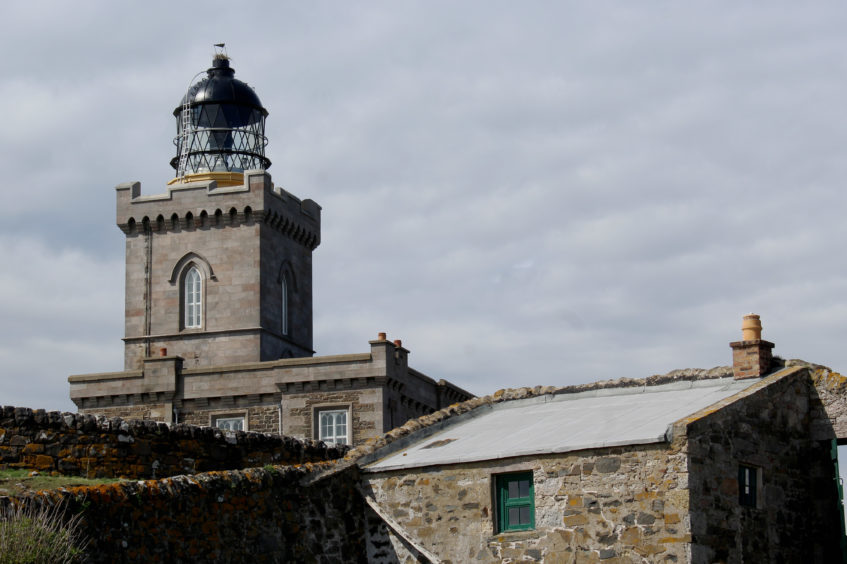 There is an excellent path network, marked out in places with blue posts, linking viewpoints and places of interest along the way and visitors are asked to stick to the trails to avoid encroaching upon nesting sites or damaging the numerous fragile burrows that lie underground.
I headed south along Lady's Loan (the tracks and paths are all named), past the site of a priory established in 1153 but abandoned by its monks in the 14th century, towards Lady's Bed where vertical cliffs plunge towards the frothing ocean.
Squawking seabirds congregating on narrow ledges below me, I detoured out to a viewpoint perched atop the crags where, just minutes after landing on the isle, my mission was accomplished.
A few metres away, on a crown of rock, a dozen or so puffins perched, a spectacular line up, members of the troop occasionally taking to the skies, flying overhead before returning to join their colleagues. It was a marvellous sight and one that spurred me on to spot more of these charming, characterful creatures.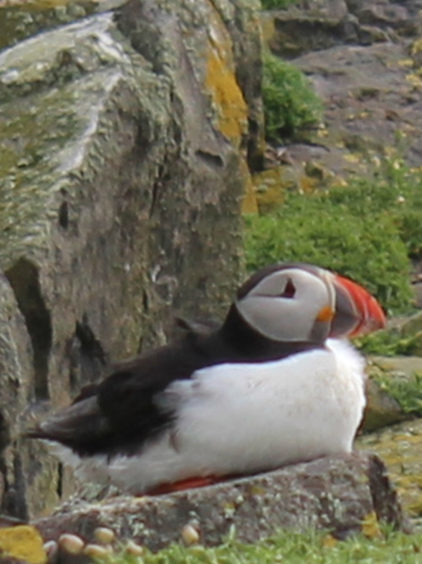 Climbing to a redundant fog horn, I wandered north along the cliff-tops, dipping past the pebble beach at Pilgrim's Haven, before enjoying an airy round of the south plateau where gulls sat amid the tussocks.
Human life revolves around Fluke Street, once the home of the lighthouse keepers, and a path climbs steeply from their former digs to the main light. Sitting atop the island's highest point, the current structure dates from 1886. It was automated in 1989.
Onward from here, there were puffin sightings aplenty, out at Bishop's Cove, on craggy banks towards the northern end of the island, and on grassy slopes dipping seaward between the lower lighthouse – now a bird observatory – and SNH visitor centre.
With puffins soaring above my head, I returned to the boat a happy man.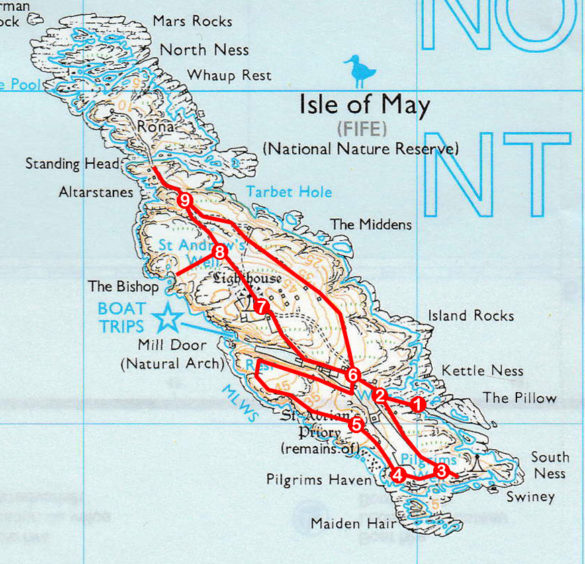 ROUTE
1. Ascend pier then path to junction.
2. Turn left and follow Lady's Loan path south-east.
3. Detour through gateway in wall to viewpoint then ascend to south foghorn.
4. Follow path north-west above Pilgrim's Haven to next junction.
5. Turn left, ascending path before curving right over South Plateau then descend above loch to picnic area.
6. Bearing left, ascend Fluke Street to loch then go right by wall up Palpitation Brae to main lighthouse.
7. Descend north-west along High Road path.
8. Detour left to The Bishop viewpoint before continuing north to Burnett's Leap.
9. Turn right and follow Low Road towards Low Light. Pass through arch to right of lighthouse and follow Holyman's Road path south-east then south to visitor centre before returning to pier.
INFORMATION
Distance: 4km/2½ miles
Ascent: 100m/330ft
Time: 1-2 hours
Grading: Easy island walk. Stick to paths and take great care above sea cliffs where there are steep, unguarded drops. Pack warm clothing and waterproofs and wear stout footwear
Start/finish: Kirkhaven Pier, Isle of May (Grid ref: NT 659991)
Map: Ordnance Survey 1:50,000 Landranger sheet 59; Ordnance Survey 1:25,000 Explorer sheet 371
Tourist Information: St Andrews iCentre, 70 Market Street, St Andrews KY16 9NU (Tel 01334 472021)
Public transport: May Princess (www.isleofmayferry.com) and Osprey (www.isleofmayboattrips.co.uk) sail from Anstruther harbour to Isle of May daily from April 1 to September 30. Advance booking recommended