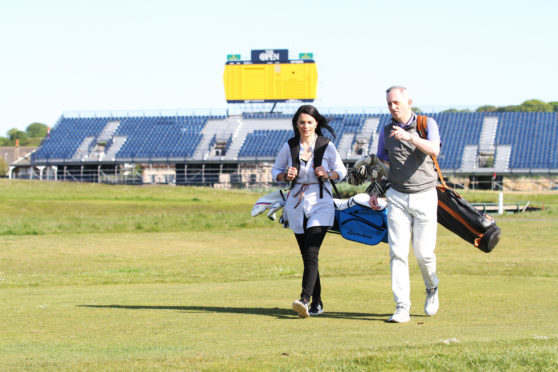 The world's attention is on Carnoustie with The Open kicking off on the famous golf links next week. Gayle gets into the spirit of things during a lesson with the course's head professional…
Golfers of the world unite! Right now, Courier Country is THE place to be for lovers of the elegant game.
Over the next few days, top players including Tiger Woods, Rory McIlroy, Dustin Johnson and Justin Rose will be arriving in the Angus town and practising on the course, ahead of the event kicking off on July 19.
Having had a couple of golf lessons in my lifetime – one at Gleneagles and one at Glenrothes – I felt it was time to sharpen up my skills with a session at Carnoustie.
Head professional Colin Sinclair is happy to oblige and after an initial chat about my experience, he decides we'll go back to basics, starting off in the swanky new indoor performance centre.
This houses seven simulator bays, complete with "launch monitors" which analyse your swing, and camera analysis technology.
"The indoor centre is a great practise facility for all abilities, whether you're a beginner or an elite player," says Colin.
"Getting the set up right is very important and this is the perfect place to work on that."
After showing me how to grip the club, we move on to posture.
"Your spine should be at 45 degrees, your arms hanging loose and relaxed, your knees flexed and your backside slightly sticking out," says Colin.
"Your weight should be evenly distributed on each foot. Your shoulders, hips and feet should be parallel to the 'target line', an imaginary line from the target through your ball to you."
We spend a good amount of time working on this until it comes naturally (or as naturally as I can muster), but I can't help feeling that I look rather ridiculous with my bum shunting into the air.
"Is this definitely right?" I plead. Colin nods and smiles so it must be.
Switching on a laptop, Colin then uses state-of-the-art camera analysis technology to show me just how unevenly my weight is distributed. I'm surprised, because I don't feel unbalanced at all.
By shifting more weight onto my right leg, I manage an almost 50-50 balance, but it's tricky and feels weird.
Colin also tells me I'm standing slightly squintly, my left shoulder further back than it should be. This could be a result of enduring a broken shoulder in 2007 – who knows.
It's good to be aware of these "failings" and, as Colin assures me, everybody is different; it's a rare occasion that someone has the perfect stance without a bit of tinkering and experimentation.
We then work on perfecting two types of swing – the back swing and the downswing.
"Turn your torso towards your target and always remember – swing the club; don't hit the ball," says Colin.
I find this comment rather surprising. Don't hit the ball?
The point, Colin explains, is to take focus off "killing" the ball, and instead, to concentrate on developing a great swing.
At the end of our session, Colin tells me to go away and practice the stance every day for 10 minutes.
Then when I return for a second lesson, it will come to me naturally and I'll have more success hitting balls.
His words of wisdom prove worth their weight in gold when I return a fortnight later and after a short refresher session, we head outdoors.
I wouldn't say I'm amazing, but I do manage to hit a few balls fairly successfully and for some distance.
"It's all about practise," encourages Colin. "Your muscles react to repetition so the more you do something, the more naturally a movement will come to you. I'd say you need to repeat a movement at least 10,000 times to see progress."
Colin is keen to encourage everyone to try golf but recommends having instruction from a PGA Professional.
"I see too many golfers who regard taking a lesson as sign of weakness but the truth is, your game will improve with correct instruction," he says. "But most importantly, don't forget to have fun!"
info
The 147th Open will bring top golfers from all over the globe to Carnoustie Golf Links. It runs from July 19 to 22.
The indoor performance centre features seven new golf simulators allowing visitors to play 3D reconstructions of some of the world's most famous golf courses, and you can choose whether it's raining, windy, full-on sunshine or a combination of all types of weather!
A shop, bar and restaurant have also been added. The brand new world-class facilities aim to make golf as accessible as possible to everyone. www.carnoustiegolflinks.co.uk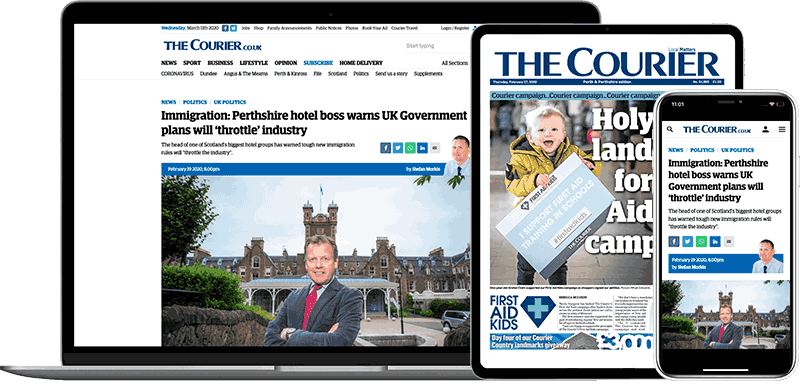 Help support quality local journalism … become a digital subscriber to The Courier
For as little as £5.99 a month you can access all of our content, including Premium articles.
Subscribe